06-03-2023, 11:57 AM
Fiat Topolino returns as retro take on Citroen Ami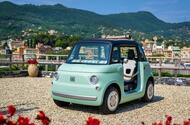 The Topolino will be one of the cheapest four-wheeled road vehicles on sale in Europe
Fiat's second EV takes inspiration from original Fiat 500 to "make young people fall in love with cars again"
The new Fiat Topolino is a Citroën Ami-based electric quadricycle that references the Italian firm's heritage and marks another step in its push towards electrification. 
Fiat's second EV is named after the seminal city car that it produced from 1936 to 1955 and was also designed to "encapsulate the coolness" of the original Fiat 500.
Shown here in the same teal colour available on the Fiat 500 when it arrived in 1957, the Topolino has a retractable roof in brown cloth, cream leather upholstery and open sides like the old beach-ready 500 Jolly. 
Aiming to "make young people fall in love with cars again", the Topolino majors on sustainability while keeping "joy, optimism and fun" as some of its main production principles. 
Fiat also hopes the two-seater will play a role in promoting electric cars for use in cities and among young families in its push to provide sustainable transport "suitable for everyone".
It isn't expected to come to the UK but will be one of the cheapest four-wheeled road vehicles on sale in Europe.
Sharing its drivetrain with the pint-sized Citroën (and the technically identical Opel Rocks-e), the Topolino is limited to a top speed of 28mph and has a range of 46 miles. 
Fiat is targeting an all-electric line-up by 2027, as its CEO Olivier François explained: "We're decisively betting on electric for Europe. We will ramp up with electric versions on every new car and at some point make a switch. Fiat should be the people's Tesla: electric for all."
https://www.autocar.co.uk/car-news/new-c...itroen-ami