06-25-2021, 08:45 PM
First drive: 2021 Vauxhall Astra prototype review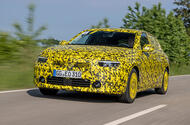 Reinvented hatchback brings bold restyle, new platform and the choice of petrol, diesel or PHEV power
Vauxhall is keenly aware it needs to get this one right. The Astra has long been one of the company's best-selling models, and arguably its most recognisable over the years, too.
Despite the rising importance of SUV models across its line-up and the increasing inroads being made by pure-electric rivals on the back of generous government incentives in some markets, the traditional combustion-engined hatchback still makes up a 14% share of the company's overall sales – a figure it expects to remain constant up to and beyond 2030.
To see what Vauxhall has in store for the new Astra, we were invited to drive a series of prototypes of the sixth-generation model in the final stages of a two-year development programme currently being carried out in Germany. They are early hand-built examples fitted with various data loggers, as is usual at this late stage of testing, but they are nevertheless representative of what we'll see here when sales begin in September.
In a move similar to that already undertaken with the latest Corsa, the new Astra has been comprehensively re-engineered under the guidance of Vauxhall's parent company, Stellantis. At the centre of its long list of changes is the adoption of a brand-new platform: the third-gen iteration of the EMP2 architecture originally introduced by Peugeot-Citroën in 2013.
The adoption of the new platform is a significant shift for Vauxhall, netting greater economies of scale through increased material procurement and component sharing with other Stellantis-run brands, including with the new Peugeot 308, alongside which the new Astra has been developed. As is now the case, all models will be offered exclusively with front-wheel drive.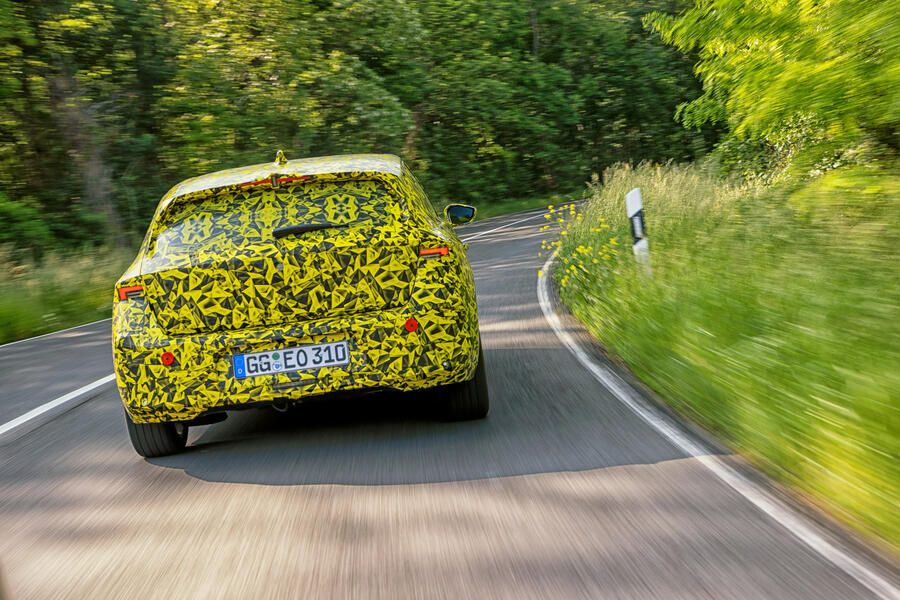 The new platform also brings a claimed 14% increase in torsional rigidity compared with the General Motors-developed Delta platform of the outgoing Astra. "We have done a lot of simulation work to give it the sort of front-end stiffness we consider crucial to our particular chassis tuning, and the way we like to set up our cars with greater roll stiffness [than Peugeot and Citroën]," said Andreas Holl, head of vehicle dynamics. "We started off with the EMP structure, but the extent of the changes means it could be considered a whole new platform."
We're still some weeks away from seeing the new Astra unwrapped, but it is already clear this new model departs quite a lot from its six-year-old predecessor in terms of styling. There are hints of Vauxhall's latest Vizor design underneath the plastic wrap, most notably at the front where it appears to receive a similar headlight and grille treatment as the second-generation Mokka.
What stands out the most on the prototypes, though, is the change in profile. The bonnet is much flatter and the windscreen less heavily raked. The plunging roofline, a design element long established on the Astra, remains, though the tailgate is more upright than before.
There are new optional Intellilux LED headlights now featuring 84 pixels per unit rather than the eight of the outgoing Astra, while the wheelhouses have been enlarged to accommodate wheels ranging from 16in to 18in in diameter. There are also new badges at the rear with the model name spelled out across the width of the new plastic bootlid.  
At 4374mm in length, 1860mm in width and 1470mm in height, the new Astra is 4mm longer, 5mm wider and 15mm lower than its predecessor. It also rides on a wheelbase that has grown by 13mm to 2675mm.  
They are subtle increases that Vauxhall claims provide greater interior space and increased boot capacity - the latter of which has grown by 52 litres to 422 litres thanks, in part, to a new adjustable floor layout made possible by the adoption of the EMP2 platform. The width of the boot has also increased, if only by 19mm at 1020mm, adding to the overall practicality.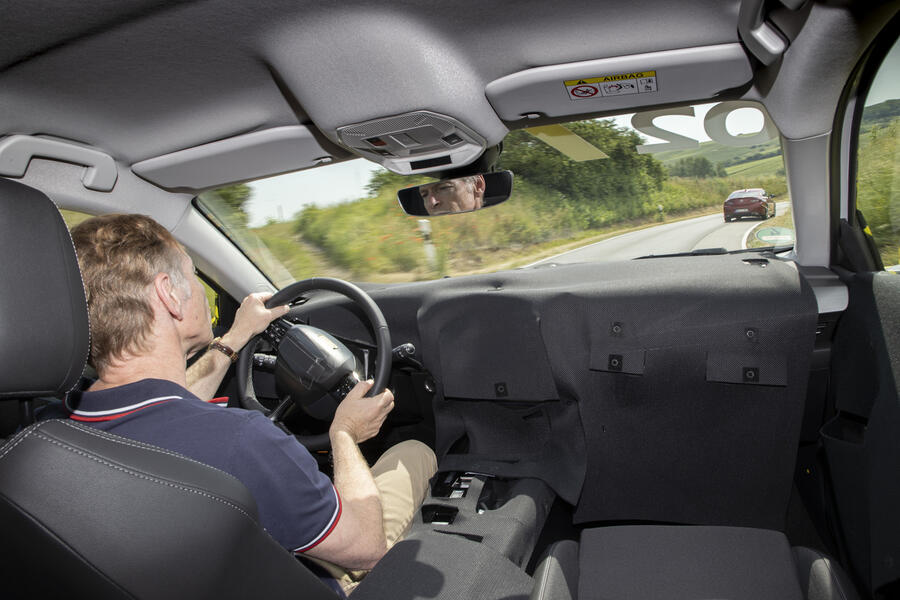 We can't show you much of the interior, which remains under wraps for now, but we can tell you the new Astra receives a different driving position to the old model. The driver's seat is mounted 12mm lower than before. It doesn't sound like much, but you definitely feel more enclosed with the window line set higher in relation to the seat squab than before. The front seats offer greater support, too.
Overall, the cabin hints at a much more premium experience with a far greater emphasis on digital functionality than with the outgoing Astra. The dashboard was fully disguised in the prototypes we drove, but expect a similar set-up to the new Mokka with Vauxhall's new Pure Panel treatment with two free-standing digital displays – one for instruments and one for the infotainment functions – both of which will be available in a full glass optic. There is also a new thick-grip steering wheel with multi-function controls.
The fascia is not completely devoid of buttons, unlike in some rivals. However, it does adhere to the latest trend of using a slider mechanism for gear selection in automatic models on a wider centre console, which houses three separate oddment bins, including one that acts as a drink holder.
To help it keep up with the competition, both Android Auto and Apple CarPlay will be standard on models sold in the UK. There's also an optional head-up display unit. The new platform also brings a more advanced electric architecture, and with it updated driver assistance functions, including semi-autonomous adaptive cruise control with lane assist and automatic stop/start functionality in traffic jams, long-range blindspot detection, rear cross-traffic alert and a 360deg camera to assist parking.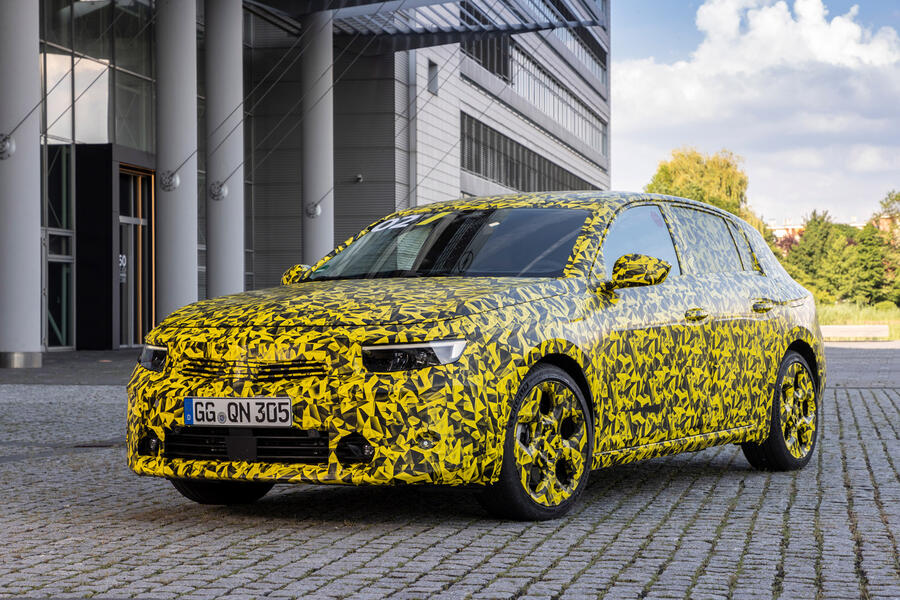 Vauxhall plans three different drivetrains from the start of new Astra sales in the UK – all shared with the new Peugeot 308.
Included is a base turbocharged 1.2-litre three-cylinder petrol engine with either 108bhp or 128bhp as well as a turbocharged 1.5-litre four-cylinder diesel with 128bhp. Both come mated to either a standard six-speed manual or optional eight-speed automatic gearbox.
Of greater significance, though, is the availability of a plug-in hybrid drivetrain for the first time. As in the Grandland, it comes in two flavours, with either a 148bhp or 178bhp turbocharged 1.6-litre four-cylinder petrol engine running in combination with a 109bhp gearbox-mounted electric motor for respective outputs of 178bhp and 222bhp. Both feature a standard eight-speed automatic gearbox and 12.4kWh lithium ion battery.
Our time with the Astra was limited to running in a controlled convoy over a variety of roads, including autobahns and a particularly challenging country road used by Vauxhall engineers to provide feedback on various chassis set-ups.  
The 128bhp version of the petrol engine serves up strong flexibility if a somewhat gruff exhaust note in combination with the six-speed manual gearbox. The three-cylinder unit revs freely, giving the new Astra a reasonable turn of in-gear acceleration once you've tapped into the mid-range, where it is clearly at its strongest. It doesn't endow the Astra with scintillating speed, nor does it pretend to, but rather allows you to percolate along with adequate performance in everyday driving conditions thanks to its well-judged gear ratios. Combined cycle fuel consumption that is claimed to better that of the old Astra should also make it quite economical to run, too.
The more powerful of the new plug-in hybrid drivetrains, with a combined 222bhp, is predictably more energetic and refined. In electric mode, it starts silently and can leave the engine to rest for around 31 miles when fully charged. Performance on the electric motor alone is reasonable for city driving, with punchy step-off and acceleration up to typical urban speed limits. It is more convincing in hybrid mode, though, where the added reserves of the petrol engine give it quite spirited performance in combination with smooth operation from the electric motor. The action of the automatic gearbox is impressive, too, with fast and crisp shifts.
Charging time on regular household electricity is put at over seven hours. 3.7kW single-phase charging is supported as standard, allowing the battery to be recharged in under four hours. A 7.4kW on-board charger is set to be available as an option; plugged into a wallbox, recharging takes less than two hours.
It is the bid for maximum economy from the drivelines that also defines the new Astra's dynamic qualities. The new hatchback has been developed specifically with low rolling resistance tyres. They're not the last word in adhesion but contribute to vastly improved rolling refinement.
The suspension is a development of that used by the old Astra with a combination of MacPherson struts up front and a torsion beam arrangement at the rear on both the petrol and diesel models, with the plug-in hybrid receiving a unique four-link rear set-up. It's a passive set-up that goes without the option of adaptive damping, as offered by various rivals.
Vauxhall said a lot of work was focused on the front end to give the new model the sort of roll stiffness the Astra has been renowned for in recent generations. The steering has also been made more direct with a 15:1 ratio in place of the 16:1 of today's Astra. "The goal was to retain the reassuring linearity of the steering we have today with greater response," says Holl. "We don't want a go-kart, but we have tuned it to provide a more responsive feel."
Although the steering system is largely shared with that used by the new Peugeot 308, the Astra receives unique tuning, including its own specific steering damper.
Running on 225/40 R18 Michelin Primacy tyres, the prototypes we drove were in differing stages of development. The three-cylinder petrol model felt well sorted with a light but direct steering action, well-controlled body movements and noticeably improved roll and pitch behaviour. Although lacking for outright feedback and any real feel, the lightest of all new Astra models offers outstanding ease of driving, with agile qualities that make it enjoyable to drive, both around town and out on the open road.
The heavier plug-in hybrid wasn't quite as convincing. Its steering delivered the linear qualities and immediate response Holl told us were high on the engineering priority list, but it was also overly light and devoid of any feel at all. "It's not signed off yet. We're still working on it," said the long-time Vauxhall engineer. The petrol-electric model offers predictable handling, but at this stage of development it lacks the precision of its petrol sibling.
It was a similar story with the ride; the petrol model proved more compliant than the plug-in hybrid over a variety of different surfaces.
We'll need more time behind the wheel of production versions to know for sure, but from what we've experienced so far, the new Astra is a far more convincing proposition than today's six-year-old model. Its similarities with the new Peugeot 308 cannot be denied, but it is clearly a more mature and contemporary car with the sort of digital interior features, performance and driving characteristics that wouldn't be out of place on more premium-priced offerings.
The best news, however, is that despite the clear focus on efficiency with the standard models, Vauxhall is also developing a successor to the Astra VXR. The new four-wheel-drive model is planned to receive a powered-up plug-in hybrid drivetrain developing in the region of 300bhp, though don't expect to see it until this time next year at the earliest.
READ MORE
First drive: 2021 Peugeot 308 Hybrid 225 prototype review​
New 2021 Vauxhall Astra: first official images hint at new design​
https://www.autocar.co.uk/car-news/new-c...ype-review