05-16-2022, 04:18 PM
First drive: 2022 BMW XM prototype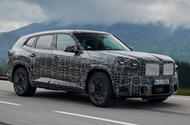 M division presents its second stand-alone production model, albeit in work-in-progress form
Despite BMW M division's lofty standing, it has only ever made one truly stand-alone production model: the BMW M1. The low-slung 3.5-litre six-cylinder mid-engined supercar was built in a limited run of 453 between 1978 and 1981.
Over the years, many concepts have hinted at a modern-day resurrection of the M1. But in a sign of just how diversified the BMW M line-up has become, and perhaps an even more pointed indication of where its future focus lies, it has followed up its original supercar with the car you see here in prototype form ahead of a planned launch in March next year: the new XM.
Initially previewed in concept guise in November last year, the XM is based on the recently facelifted BMW X7, alongside which it is set to begin production at parent company BMW's Spartanburg plant in the US state of South Carolina in December.
Unlike the X7, though, the XM is planned to be sold exclusively as an M model using the company's first-ever petrol-electric plug-in hybrid unit delivering up to 740bhp.
"It is logical to do an SUV," says Frank van Meel, CEO of BMW M. "The performance SUV segment is now the biggest globally, and it has lots of potential for further growth."
The XM complements BMW M's growing line-up of pure-electric M Performance models, including the BMW i4 M50, the BMW iX M50 and, more recently unveiled, the BMW iX M60.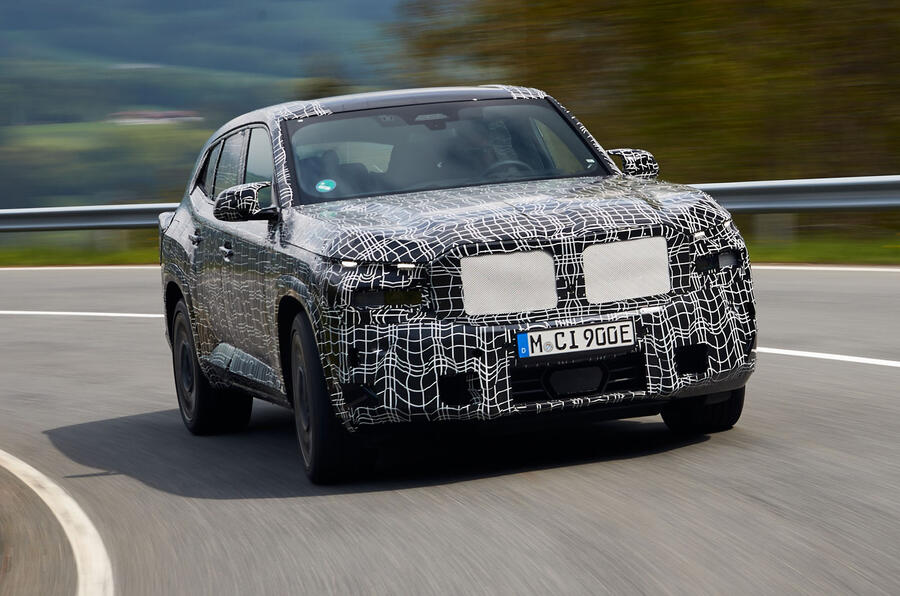 The first surprise when we see it up close in the paddock of the Salzburgring in Austria for the first time is that it is actually smaller overall than the X7. Not by much, a centimetre or two at best in overall length and height, but those expecting it to trump BMW's largest SUV on size need to think again.
That is not to say it lacks visual boldness in any way. The new SUV clearly sets the tone for a far more distinct styling lineage at BMW M.
While the prototype is heavily disguised, the earlier concept revealed it will receive a large and uniquely shaped kidney grille set within a heavily structured bumper, giving it a purposeful look from straight on. As on the new 7 Series and facelifted X7, the headlights are split, with slim LED units above and main/dip beam lights below.
The sporting intent of the new model is reflected in a plunging roofline angling down towards the rear and which van Meel describes as being every bit as individual in terms of styling as the front end.
Four doors, each with generously sized apertures, and a large tailgate help provide the XM with plenty of everyday practicality. The prototype we drove was mated with 21in wheels, although BMW M will also offer both 22in and 23in wheels.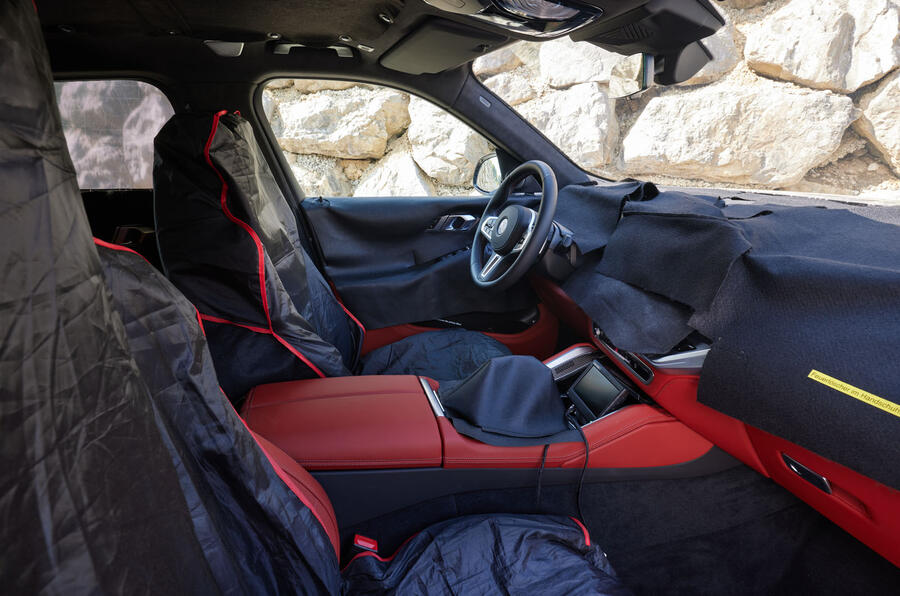 A charging port is located in the left-hand front wing. Under its large bonnet, the new M model marries the latest evolution of BMW M's twin-turbocharged S68 4.4-litre V8 petrol engine with an electric motor mounted within the front section of its ZF-produced eight-speed torque-converter automatic gearbox, which has its own individual software mapping.
Buyers will be able to choose between two different outputs. As with the prototype driven here, the standard XM is set to offer 643bhp and 627lb ft. For those who consider that a little lacking, there will also be a more potent model with 740bhp and 738lb ft, as hinted at by the concept.
Fittingly, this makes the XM the most powerful road car yet to wear the M badge, usurping the M5 CS to the tune of 114bhp in the process.
By comparison, the Lamborghini Urus serves up 641bhp and 627lb ft and the Porsche Cayenne Turbo
GT gets 631bhp and 627lb ft, while the BMW X6 M Competition offers 617bhp and 553lb ft – all without the assistance of an electric motor.
The combustion engine, which revs to a peak of 7200rpm, receives the same updates as those brought to the recently unveiled X7 M60 xDrive, including a modified crankshaft, new oil pump and revised turbochargers, while the electric motor has been developed specifically for use in the XM.
The reserves are sent through BMW M's xDrive four-wheel drive system with fully variable apportioning of power front to rear. Performance figures have yet to be revealed, but van Meel hints that the XM has not been conceived to take a back seat to the Lamborghini Urus, which has a 0-62mph time of 3.6sec and a 190mph top speed.
"It's pure M," says van Meel. "But with electric capability it also brings a new dimension to our line-up."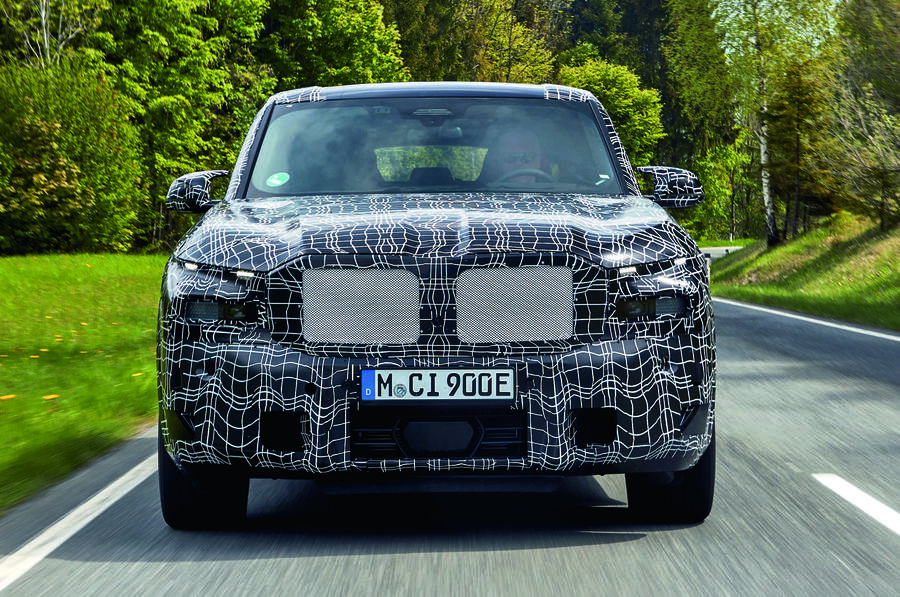 The electric motor draws its energy from a lithium ion battery with a capacity of "around 25kWh" mounted in three separate elements beneath the rear seat (see separate story, right).
It is produced exclusively for the XM, providing a claimed electric range of up to 50 miles at speeds of up to 80mph in electric mode. Charging of the battery can only be achieved on an AC system at up to 7.4kW.
As with the exterior, much of the interior of the XM prototype we drove was heavily disguised. As such, we can't tell you much about its design or architecture at this stage.
What is clear, though, is that certain elements are shared with the recently unveiled X7 M60, including its multi- function M-Sport steering wheel, sections of its dashboard, various controls and switchgear and, most noticeably, a curved digital display with BMW M-specific instruments and infotainment graphics.
The front seats are shell-style items with firm cushioning, substantial side bolstering and a good deal of electronic adjustment. The driving position is excellent – nominally lower-set and more sporting than most performance SUV rivals.
The placement of major controls, including an electronic gear lever set high on the middle console, is spot on.
There is lots of space up front, giving a pleasantly airy environment. Second-row occupant comfort is also very good. The rear bench receives softer cushioning and is more rounded in form than the front seats. There is plenty of rear leg room, but the sloping roof does limit headroom.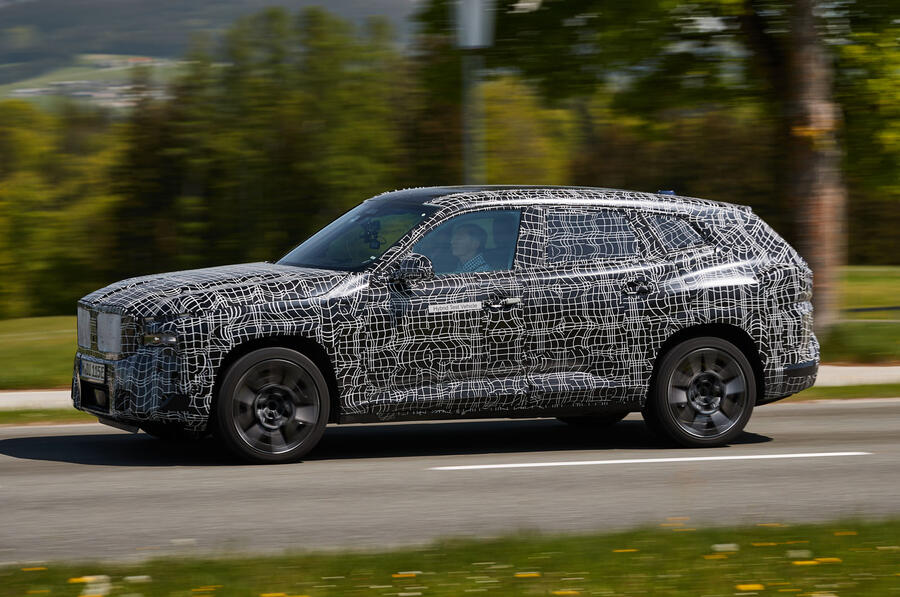 Although covered for our drive, we are told production cars will receive as an option the illuminated prism roof showcased by the Vision XM concept. The boot, meanwhile, has a flat floor, although the packaging of the fuel tank means the loading lip is higher than on any other BMW SUV.
First impressions are all about drivetrain refinement. In Electric mode, the XM starts and then sets off in silence. There is a faint whine under load, but the overriding source of noise at lower speeds is the rumble of the generously dimensioned tyres. BMW M has yet to provide details, but the electric motor is certainly sufficient to provide strong step-off and ample flexibility up to typical motorway cruising speeds.
With a sizable battery, the new M car also promises to deliver an extended electric range – the sort van Meel says will allow most owners to commute without ever requiring the combustion engine.
Still, XM buyers will probably want to use the newly configured V8 every chance they get. With a combination of Hybrid and Sport modes, the XM's performance is mesmerising and intimidating in equal measure.
Electrification has brought a very crisp quality to the power delivery without any detriment to the wonderful high-rev character of BMW M's twin-turbo 4.4-litre V8. Step-off is fantastically sharp, with huge thrust between each upshift.
You would need an unrestricted autobahn to fully explore its true straight-line potential. On the country roads around the Salzburgring, it felt as responsive and fast as you would want any car to be. The eight-speed automatic gearbox can be programmed to deliver varying shift speeds across three settings.
It is fine in the first two settings, but BMW M clearly has some work to do to ensure a smoother deployment of torque in the third setting.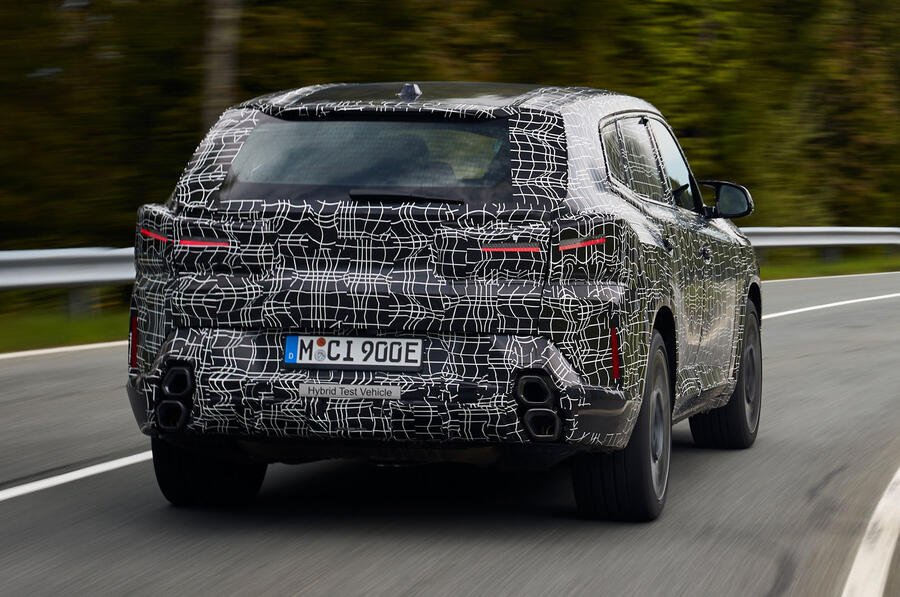 Even with a good deal of development to come, the XM steers with the weight, precision and feel of a well-sorted sports saloon. It is genuinely athletic in character, turning into corners with great agility and involving the driver on a level unmatched by any other M-badged SUV. Despite its size, it can be positioned with outstanding accuracy and confidence. It masks its bulk with great success, feeling every bit as wieldy as cars half its weight.
The most impressive aspect of its dynamic ability, though, is the way it controls body movement. The secret here is a new 48V electric roll stabilisation system employed in the XM for the very first time. It replaces the previous 12V system and has a faster and more precise action. There is some roll in faster corners, even
in Sport Plus mode, but it is never excessive, even when pushing hard. Pitch and dive are also terrifically well resolved.
Mounting the battery beneath the rear seat has helped to lower the ride height and centre of gravity compared with the X7. It changes direction with great enthusiasm, aided by the Integral Rear Steer system, which receives its own unique software mapping but retains the same 2.0deg turning angle of other BMW models.
There is an agreeable immediacy to the steering off-centre, and quite a bit of feedback. It exudes a high degree of technical competence in the way it operates. With the latest evolution of BMW M's fully variable xDrive four-wheel drive system and a combination of 275/40 ZR22 front and 315/35 ZR22 rear Pirelli P Zero tyres, grip is exceedingly high, as is traction. With torque- vectoring properties to the rear axle, the XM romps out of corners with tremendous enthusiasm on a heavily loaded throttle.
There is a general firmness to the underpinnings, a combination of air springs both front and rear. But it is matched with impressive shock absorption and overall control. The prototype we drove was a little fidgety over high-frequency bumps and coarser road surfaces in Comfort mode. However, the variable damping is quick to adapt to changing road conditions, ensuring unwanted jostle is smoothed out before it affects progress. And with another six months before production, there is still time to adjust the bushings and other important areas.
Van Meel points to the US, China and Middle East as being the key markets for the XM, but he also expects to see strong demand from the UK. Prices have yet to be announced, but expect a sizeable premium on the X6 M Competition, which starts at £121,620 in the UK, when sales begin next March.
Questions remain unanswered, but the performance and driving character of this particular XM prototype leave us in little doubt that it will be a resounding success.
https://www.autocar.co.uk/car-news/new-c...-prototype