04-07-2022, 06:03 PM
First drive: 2022 BMW i7 prototype review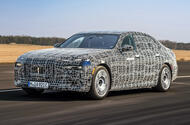 Big electric-powered BMW saloon impresses with its brisk performance, overall agility and outstanding refinement. Still, there's a lot here to still to learn
The i7 is the technological spearhead of the upcoming Mk7 (G70) 7 Series and BMW's largest and most luxurious electric car to date.
Related models are in the pipeline, including mild-hybrid diesels and petrol-electric plug-in hybrids. However, it is the advanced i7, with a 500bhp-plus dual-motor electric drivetrain in the initial four-wheel-drive model, that will kick off sales of BMW's new flagship four-door in November, promising a range, we're told, of close to 400 miles on the WLTP test cycle.
To learn more about the upcoming Mercedes-Benz EQS rival, Autocar joined a round of i7 shakedown tests with a team of BMW engineers in Germany before the car's unveiling later this month.
As the photographs here show, the prototype we drove on public roads was fully camouflaged, so there is not a lot we can tell you about the detailing within the exterior, other than at around 5400mm in length, it is the largest BMW model to date. It is over 100mm longer than today's sixth-generation BMW 7 Series.
The interior was also covered up but it's clear certain elements are taken directly from the BMW iX, the electric SUV with which the i7 also shares its drivelines and lithium ion battery, among other key components.
This is a big car, more presidential limousine than your typical European luxury saloon in terms of visual boldness, with an upright silhouette, traditional three-box proportions, large framed doors that open and close automatically and, thanks to a wheelbase stretching to over 3000mm, luxurious and accommodating rear quarters.
Unlike the EQS, which is based on a dedicated EV platform, the i7 builds off the same CLAR structure used by ICE-powered 7 Series models.
As a result, the interior floor is not completely flat, with a transmission tunnel running backwards through the cabin. BMW has also modified the floorpan to house the 111.5kWh battery, which operates at 400V and can be charged at up to 195kW.
The i7 still needs some development work before a final sign-off and a start to production. The drivetrain of the prototype driven here mirrors the iX's, with one electric motor up front and a larger, more powerful motor at the rear.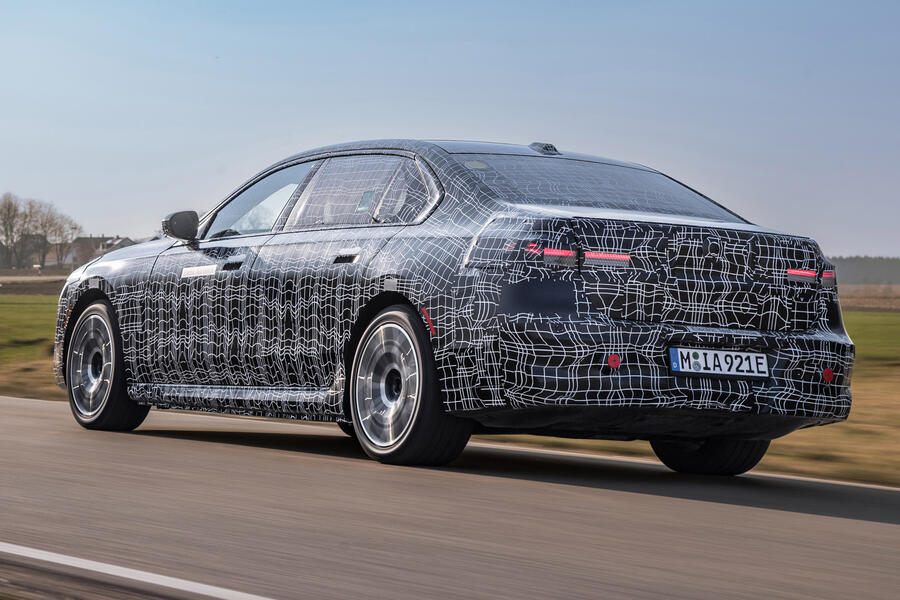 Impressions are positive. This initial i7 model is imbued with effortless urgency despite a kerb weight of well over 2000kg. The official output has yet to be revealed, but BMW says it extends beyond the 516bhp and 564lb ft of the iX xDrive50. As a point of reference, the EQS 580 4Matic's dual-motor system develops 516bhp and 630lb ft.
As with the iX, there are three main driving modes: Personal, Sport and Efficiency. The instant-on torque makes for rather rabid response in any of them, especially with the ability of the electric motors to apportion power to the wheels with the most traction. As with all of BMW's electric-powered models, drive is sent through a single-speed gearbox on each motor. We'll have to wait another few weeks before official performance claims are revealed, although you can expect a 0-62mph time of under 4.5sec.
The strong performance is combined with an ultra-smooth driveline, making for brisk yet inherently calm cruising out on the open road. We achieved 150mph on an autobahn, at which it felt very resolved and terrifically stable.
BMW's aim was to give the i7 similar dynamic properties to today's 7 Series and it has mostly succeeded. The front steering system, which receives a variable-ratio rack, is nicely weighted. It is not exactly overloaded with feedback, but there are arguably greater levels of communication than in most rival upmarket saloons.
The rear steering system – or Integral Active Steering, as BMW calls it – operates in a traditional manner, albeit at a greater angle than the earlier system used by the existing 7 Series, to boost low-speed manoeuvrability and higher-speed stability. It works a treat. The i7 is a very big and heavy car yet it feels as agile, if not quite as fluid, as today's smaller and lighter 7 Series.
The i7 is eager to change direction. It also develops plenty of grip on the 255/45 R21 front and 285/40 rear Yokohama Advan Sport tyres worn by the prototype. If there is a concern, it is the car's width, especially on narrow country roads. We've yet to see official figures but there is no doubt it has grown quite appreciably in this respect.
The air suspension, similar in set-up to that used on the Rolls-Royce Ghost, provides an agreeable balance between ride comfort and body control. It uses a combination of double wishbones up front and multi- links at the rear. The air springs and variable dampers provide excellent composure and comfort. Shock absorption is particularly impressive.
The electrically operated anti-roll bars, part of BMW's Executive Drive Pro, also do an admirable job of countering lean.
There is nice progression to the brake pedal but it does lack for feel. Put this down to the i7's sophisticated energy recuperation system. It offers three modes and is claimed to contribute handsomely to the new BMW's overall range, which is said to be better than the iX's thanks to superior aerodynamics, with overall energy recuperation of up to 208kW when you get hard on the stoppers.
BMW is not giving too much away just yet, but a range of i7 models is planned. Expect them to wear similar designations to the iX's, with an xDrive40, xDrive50 and M60.
For those not ready to go electric, BMW will continue to offer the new 7 Series with a range of ICE units in the UK. These include a mild-hybrid turbocharged 3.0-litre inline six-cylinder diesel in the 740d. We're told the turbo 3.0-litre inline six-cylinder and turbo 4.4-litre V8 petrol engines in the new 740i and 750i will not be offered in European markets. They will be indirectly replaced by a pair of plug-in hybrid drivetrains, details of which remain under wraps.
So there are still a lot of questions that need answering. However, it is clear BMW is aiming further upmarket with its new range-topping saloon than at any time in the past. Its size alone tells you that it is not only the Mercedes-Benz S-Class and EQS that are targeted here. The new 7 Series is also aimed at cars further upmarket, including the Ghost as well as newcomers like the Lucid Air.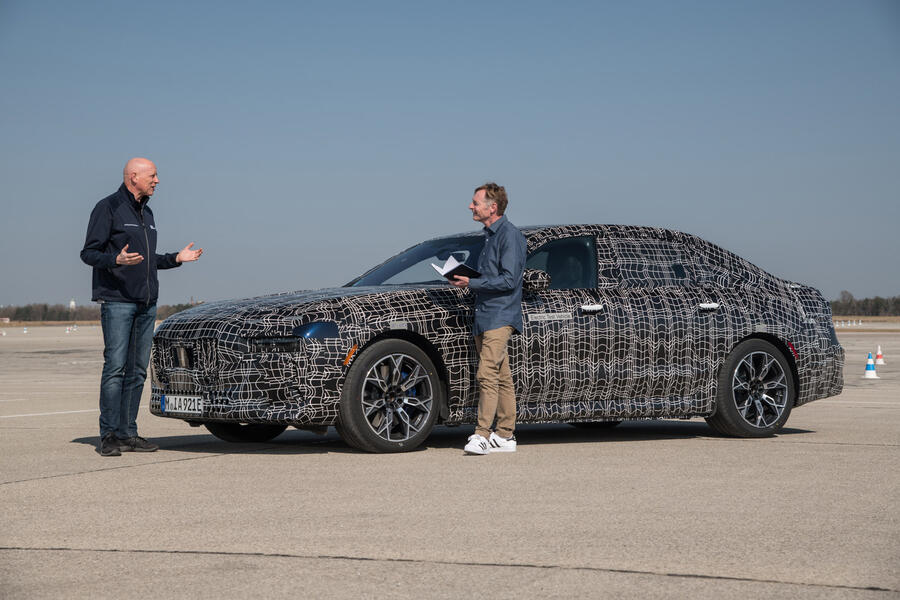 The i7 may share its platform and underpinnings with ICE-powered 7 Series models, but any compromises in its execution are exceptionally well hidden.
BMW says the i7 has been conceived primarily for China and North America, but its performance, dynamics, ride quality, refinement and overall solidity should ensure it continues to appeal to European buyers as well.
BMW i7 prototype specifications
Price £120,000 (est) Engine Two electric motors Power 536bhp (estimated) Torque 590lb ft (estimated) Transmission single-speed automatic, all-wheel drive Kerb weight 2300kg (estimated) 0-62mph 4.3sec (estimated) Top speed 124mph (estimated) Battery 111.5/105.0kWh (total/usable) Range 400miles (estimated) Economy 3.8mpkWh CO2 0g/km Tax band 2% Rivals Audi A8, Mercedes EQS
https://www.autocar.co.uk/car-news/new-c...ype-review