11-17-2021, 04:36 PM
First drive: 2022 Toyota GR 86 review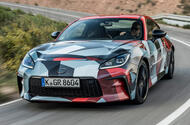 Can this new rear-driven sports coupé live up to the incredibly high standards of its GT86 predecessor?
The Japanese have a particular phase to describe the feeling of anticipation you get before doing something exciting. It might be performing on stage or jumping out of an aeroplane, but it's also commonly associated with driving a great sports car.
They call the concept 'waku doki'. It's a sort of spine-tingling sense of the fun you're about to have. Japan, like Britain, clearly remains a sports-car-loving island; and the Toyota GT86 was, and remains, a waku doki kind of sports car.
Toyota hopes we will get the same tingle from the GT86's replacement, which starts production at joint venture partner Subaru's Ota plant this year, and is set to come to the UK in May 2022.
Will the wider world embrace the GR 86 any more than its predecessor though, I wonder? The GT86 wasn't the greatest commercial success, after all. Right now, who can say? But it deserves nothing less. This is an improved operator in lots of ways. Not a hugely different car to drive, but a brilliant one all the same – and one of a more complex, versatile, raw and absorbing character than its forebear, too.
This time it's a GR 86 we're getting and not a GT86 because Gazoo Racing has had a lead hand in the car's development, just as it did with the GR Yaris and GR Supra.
Like its predecessor, the car is a lightweight, rear-driven, compact 2+2 coupé with a high-revving atmospheric boxer engine and an affordable price tag that's likely to start with a two when UK prices are announced next month. But there's an all-new 2.4-litre flat four under the new car's low-rising bonnet, whose cylinder bore has expanded from the perfectly square 86mm dimensions of the old car to 94mm of bore.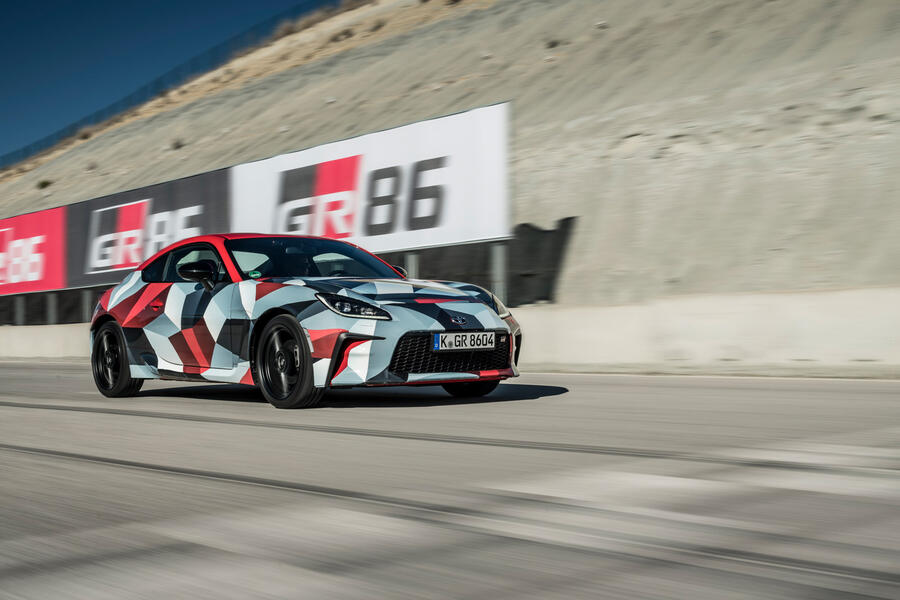 Judging by the memory of the GT86's driving experience, you might have said that it was accessible torque that this car really needed more of, but it's not easy to add torque-giving piston stroke to a car with a horizontally opposed engine already so wide, at 2.0 litres of swept volume, to have influenced car's front axle design (both GT86 and GR 86 use MacPherson struts up front because double wishbones won't fit). So Toyota went 'big bore' instead, while also enlarging the engine's intake valves and revising its valve timing.
It has created a motor that revs to higher crankspeeds than the old 2.0-litre did but that also produces 20% more torque, the latter being made more accessibly too (peak pulling power in the old 2.0-litre lump didn't arrive until 6500rpm).
Because of the nature of this car, owners are unlikely to be too concerned about things like interior equipment specification or material fit and finish – which is handy, because our later validation prototype test cars didn't have fully finished dashboard mouldings or door trims (not that any looked or felt particularly rough or cheap).
Just as in the GT86, you sit low at the steering wheel, Toyota claiming to have lowered the car's hip point and roofline just a little, in an pretty compact but comfortable seat that offers adequate lateral support and decent touring comfort. There's plenty of room for taller adults in the front row; enough really only for kids and bags in the occasional back seats. But those rear seatbacks do fold down in order to expand the car's boot space, which is usefully large by sports-car class standards.
Visibility from the driver's seat is great looking forwards thanks to the car's low bonnet and scuttle; to the rear, it's more typical of a low-roofed coupé but better, certainly, than you might get from a mid-engined car.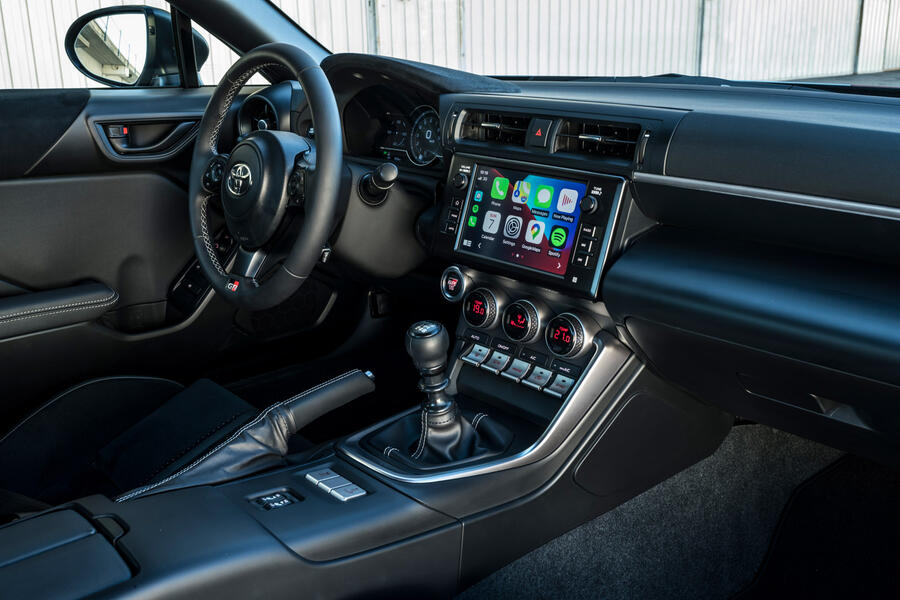 The new 2.4-litre engine starts and idles much like the old 2.0-litre, but get it revving even to middling crankspeeds and it delivers quite differently.
The lead technical manager for the car's development, Herwig Daenens, told me that they had worked hard with dedicated sound tuning and under-bonnet resonance structures to create an even more evocative boxer sound for this motor, which is all natural rather than speaker-enhanced. It's even more mechanically authentic and interesting on the ear than the old 2.0-litre; louder, better-defined and more raw as well, and while also typically tremulous and buzzy, still fizzingly addictive beyond 5000rpm.
There's a weighty, well-defined connected feel about the gearshift quality, too, and a likably unfiltered matching sense of connection about the engagement of drive (it can shunt just a little at low speeds if you're hurried with the pedals).
But there's also that extra torque. The GT86 was a pretty slow modern sports car; rather than getting in the way, for us that fact gave it clearer mission statement, which was all about having fun without necessarily going that fast. The GR 86 is only about a second quicker to 62mph from rest in outright terms, and it remains a car with an engine you need to wring right out if you want to get up a proper head of steam – which is exactly as it should be.
But having that fatter torque curve makes a noticeable difference to the accessibility of the car's performance on the road. You don't necessarily feel like gear choice is so critical for every successive bend, because the engine will pull strongly enough from 3500rpm in third (although stronger still, of course, from 5000rpm in second). And that frees up a little more of your attention to lavish on what the chassis, suspension and steering are each doing.
Toyota makes no apologies for the marginally more serious suspension rates of this car than of the GT86, nor for the slight dynamic repositioning that comes with them – and perhaps it needn't. It has used higher-grade steels and new reinforcements to add 50% to the torsional rigidity of the chassis, and that fact alone ought to allow the car to 'wear' firmer suspension without any deterioration to ride quality.
Springs, anti-roll bars and bushings have all been firmed up a little (the GR 86's kerb weight has actually dropped by 20kg from that of the GT86). 17in alloy wheels and those famous Michelin Primacy 'Prius tyres' still come as standard on entry-level models, but upper-level models (one of which we drove) now get 18in rims and Michelin Pilot Sport 4 performance rubber.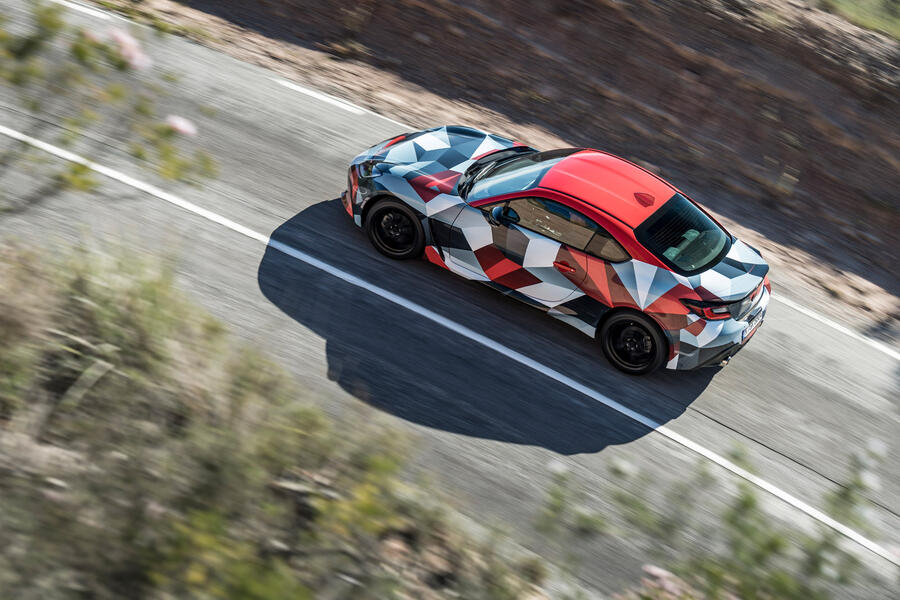 We tested the car on fairly smooth winding country roads west of Barcelona, on which the ride showed only occasional hints of fidgeting body control, but mostly coped well. It's easy to appreciate the extra agility and lateral body control that Toyota has added; the car feels notably keener to turn into faster corners than its predecessor was, but also a shade grippier, more secure and more 'grown up' when carrying bigger speeds.
Does that make it less fun? I wouldn't say so. On the road, you have to work a shade harder to find the margins of the car's adhesion – but certainly not so hard to adversely affect how engaged you feel. The car's steering is both quicker and weightier than in the GT86, but remains intuitively paced and feels natural. And on track it still has that wonderful party trick of being so blissfully easy to manage when the car does start to slide – which it will do a lot if you allow it to.
The GT86 was a car that oversteered incredibly benignly, with your foot buried deep in the carpet and corrective steering applied so simply. Go in on a trailing throttle and with plenty of revs showing; gas the car once the front axle has settled; and then manage its angle solely with the wheel, like a pilot on final approach trimming the attitude of his Cessna with the rudder. If you want more angle, take some lock off. If you want to tidy it up again, dial it right back. It couldn't be easier. At all times, just keep your foot in – and try not to die laughing.
Amazingly and despite its firmer set-up, the GR 86 has the same indulgently playful and ever-forgiving track handling character; except, thanks to those greater grip levels, it can also be driven more quickly and precisely before you find its limits. Yet somehow, because it has more accessible mid-range torque, it ends up being even more throttle-adjustable, not less, once you have.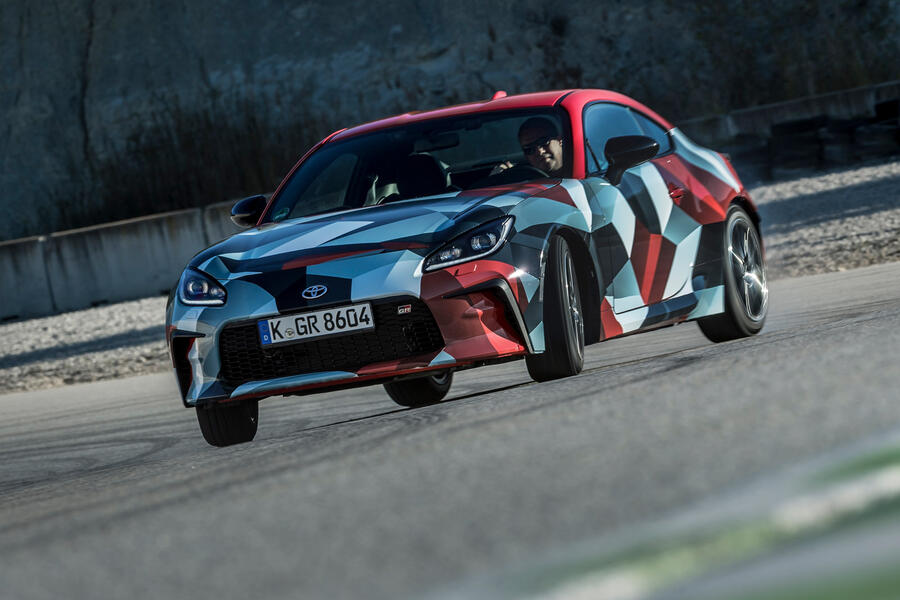 It sounds better, it goes harder, it feels more serious about its performance ambitions; and yet it's even more hilariously well-balanced and drift-happy when the occasion presents. The GR 86 is really absorbing on track as a result, but is also that bit more compelling than its forebear on the road.
Toyota, then, would seem to have made what may turn out to be one of the very last great truly affordable sports cars even better. Could it be another five-star 'GR' fast Toyota? We will keep the champagne on ice for now; but with a confirmed price, and after an equally impressive right-hand drive UK test, I would say that's very likely indeed.
https://www.autocar.co.uk/car-news/new-c...-86-review