05-01-2023, 08:16 PM
First drive: 2023 BMW i5 prototype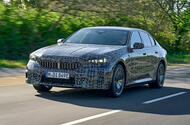 BMW's next-generation 5-Series is set to take its place among Munich's all-electric models, and to bring BMW-typical pace and dynamism to the zero-emissions executive car segment.
BMW wants to offer an electric variant of each of its traditional volume-sellers. So as a key part of the new eighth-generation 5 Series line-up, it has created the BMW i5 all-electric saloon.
Project leader Andreas Holzinger says his team worked to four tenets: traditional design, contemporary digital functionality, a flexible drivetrain architecture and a balanced driving experience. "We want to ensure that when you buy a BMW 5 Series, you get a 5 Series," he says, "be that an EV or a more traditional ICE car. Our goal was to make them as similar as possible."
As such, the i5 retains the 5 Series' traditional three-box silhouette, with a long bonnet, a relatively flat roofline and a sloping bootlid. Holzinger confirms that, under its camouflage, the i5 shares its body with the ICE 5 Series, although there will of course be subtle visual differentiators, including the grille and more aerodynamic wheels.
Despite the covers inside, it's clear the i5 adopts a dashboard similar to that of the larger BMW i7, with a freestanding curved digital panel housing the driving and infotainment displays and a thick multifunction steering wheel. It also receives the 'v8.5' version of BMW's iDrive operating system. Developments include capacity for over-the-air updates and, optionally, a hands-off lane-changing system.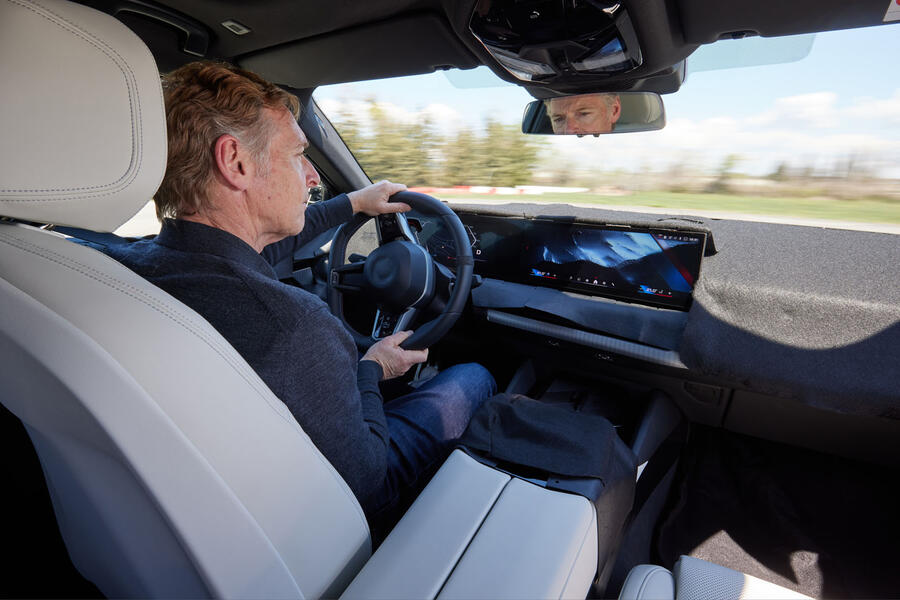 The BMW i5 sits on a new version of the Cluster Architecture used by the ICE 5 Series. Modifications include a new floorpan to house the 81kWh battery pack, which offers up to 321 miles of range and can be charged at 200kW by a DC charger. There is, however, still a transmission tunnel in the cabin, giving the i5 the same driving position as the 5 Series but also compromised rear-seat room.
There will be two i5 models from the start of sales: the dual-motor, four-wheel-drive i5 M60, packing 590bhp, and the single-motor, rear-driven i5 eDrive40, with 335bhp.
Naturally, the M-lite car steals the show, with performance and dynamics to challenge the best of the competition, as I discovered on handling tracks at a BMW test site. Power delivery under gentle throttle loads is exceptionally smooth and linear. Response is instant, with real urgency from rest, before the car gains pace with effortless grace and great flexibility.
It's all achieved with outstanding drivetrain refinement and in near silence. You can hear a synthesised noise, meant to mimic the exhaust roar of an ICE BMW, but let's just say it's a matter of personal taste.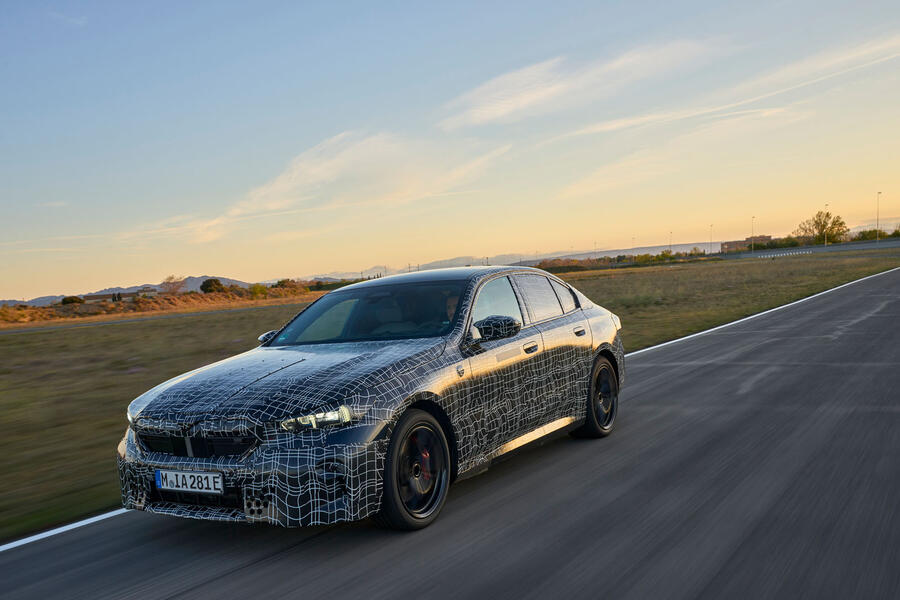 It's what happens when you tap on a steering paddle marked Boost that really gets your attention. It unleashes all 590bhp for up to 10 seconds, with a countdown showing in the instrument panel. The result is explosive acceleration that leaves you breathless, the pick-up intense and the mid-range very muscular.
Does quick also mean fun to drive in this instance, though? The i5 M60 has BMW's Adaptive M Suspension Professional package, with steel springs up front, bespoke air springs at the rear and variable dampers. Our test prototype also featured the Dynamic Drive option, which adds electromechanical stabilisation of body roll.
In Sport mode, the handling balance is terrifically neutral, with strong front-axle grip and a low centre of gravity giving it great agility. You can therefore confidently carry high speeds through open-radius corners without premature understeer spoiling the fun.
Excellent purchase at the rear and superb traction also allow you to deploy that instantly arriving power early for romping exits. The variable-rate steering, well weighted in the best of BMW traditions, has good off-centre precision, if not the last word on feedback.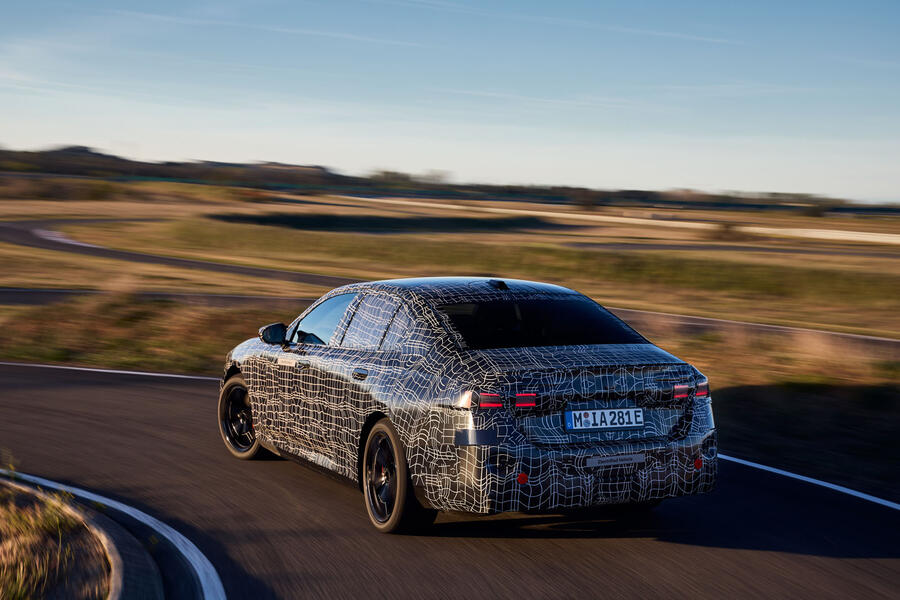 Still, with the active rear steer system helping to rotate the rear, there's enough communication to give the M60 engagingly fluid dynamic properties and a secure feel, even over challenging roads.
Slackening the stability control brings distinctly more rear-biased qualities, much in the character of BMW's existing xDrive models. You can use this to entertaining effect out of tighter turns, a surfeit of torque overcoming the otherwise excellent adhesion for graceful drifts when circumstances allow.
The mixture of heavy damping and active stabilisation provides excellent suppression of pitch and roll, plus quick settling over undulations and humps at speed. The ride feels firm, but excellent shock absorption means the M60 rarely needs more than one compression-and-rebound stroke to dispatch bumps and potholes. There is some lingering road roar on coarse surfaces, but it never became excessive during my limited time behind the wheel.
As convincing as the M60 is, though, the eDrive40 is likely to find favour with a greater majority of buyers. At 335bhp, there's still plenty of performance, but it'smore restrained in character.
Without a front motor, it also steers more precisely and, despite its passive dampers, rides with greater composure. The rear-wheel-drive layout also gives it enhanced efficiency and a longer range.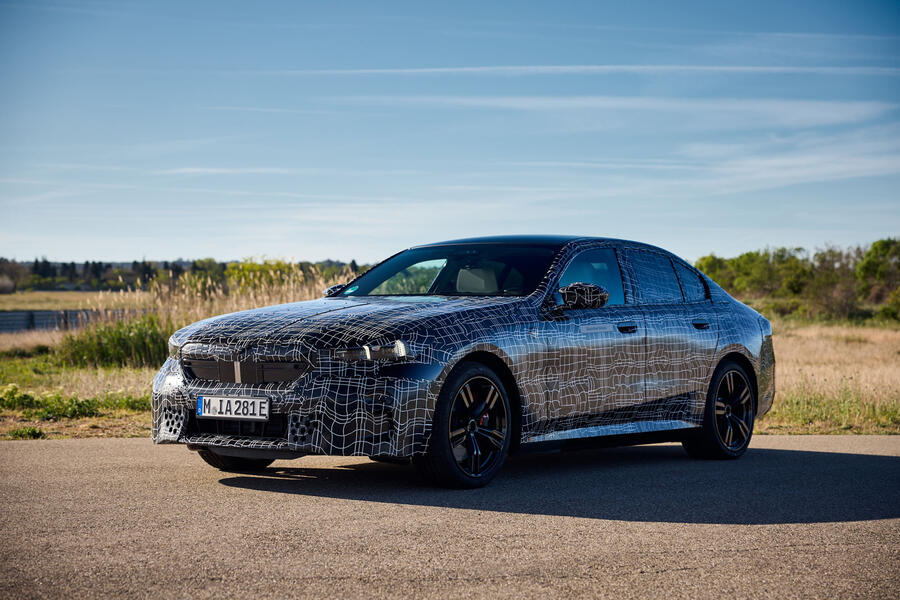 Some compromises are obvious in the BMW i5 sharing its platform with the ICE 5 Series; but in terms of performance, dynamics, ride, refinement and efficiency, there's a lot to like here. We will know more when we get to drive the definitive production model later this year, but for now BMW seems to have nailed the electric 5 Series brief.
Technical specifications: BMW i5 M60
Price: tbc, Motors: 2x AC synchronous, electrically excited, Power: 590bhp, Torque: tbc, Gearbox: single-speed, per motor, Kerbweight: tbc, 0-62mph: tbc, Top speed: tbc, Battery: lithium-ion, 81kWh, Range: tbc, DC rapid charging rate: 200kW.
https://www.autocar.co.uk/car-news/elect...-prototype