08-23-2023, 12:16 PM
First drive: Inverted Range Rover Classic
New electromodder sets out stall with 450bhp interpretation of classic off-roader
There appears to be one main guiding principle for whether converting a classic car to electric is acceptable to the purist: did it have a good engine in the first place? A Citroën DS? Fetch the engine hoist. A V12 Ferrari Daytona? Boo, hiss etc.
So what about a classic Range Rover? Sure, the V8 burble is nice, but is it integral to the car's character? You will perhaps be comforted to know, then, that this particular Range Rover exited the factory in 1990 as a diesel. Inverted's conversion follows the now well-trodden path for a high-dollar electromod: take one carefully restored shell and add low-mileage Tesla bits.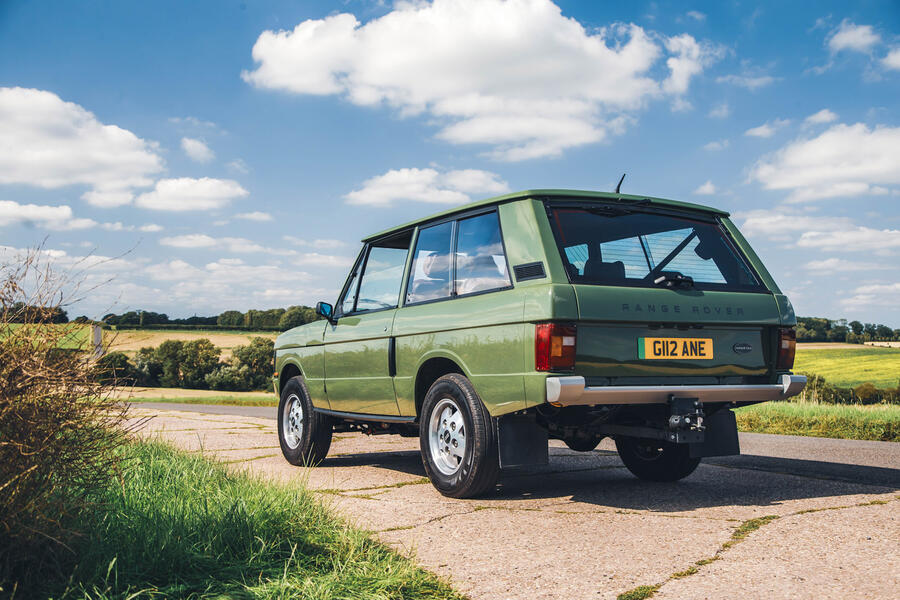 Charge comes from an 80kWh Tesla Model S battery pack that has been split up so that nine of the modules live under the bonnet and six go in the boot (which is now quite a bit smaller as a result). Inverted reckons you could do 200 miles as long as you stay away from the motorway. If true, that's pretty decent for something very vintage aerodynamics. While it no longer works like a Tesla when you arrive at a supercharger, it can be rapid charged, but at a slower speed – 75kW.
While a lot of electric conversions still drive through the original gearbox, Inverted puts a single Tesla motor roughly where the gearbox and transfer case used to be. Because it's now oriented longitudinally, instead of driving two wheels through its reduction gearing and limited-slip differential, it can drive the propshafts going to the front and rear live axles. These have been reconditioned and beefed up to handle the motor's 450bhp.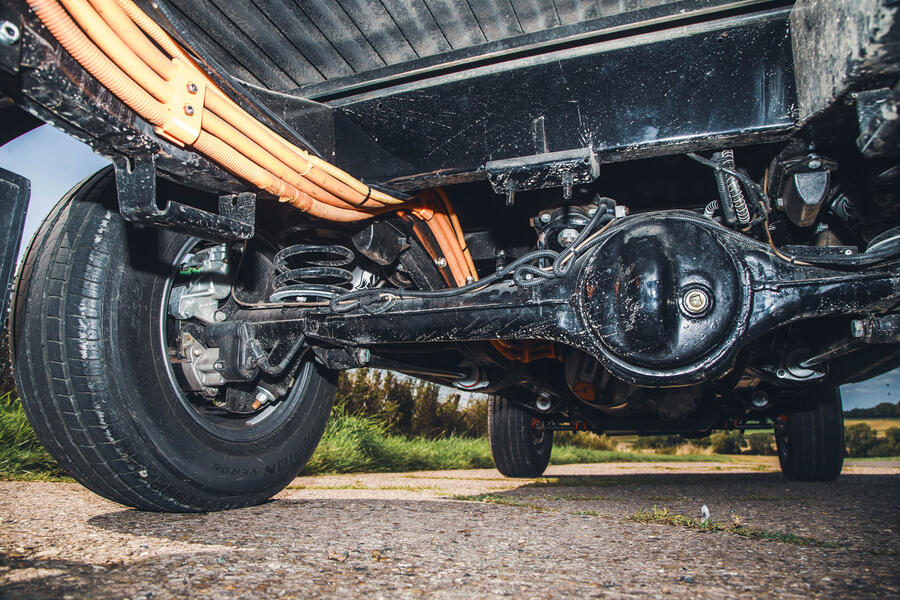 The chassis has received a few upgrades, too. The rear springs are stiffer to handle the weight of the battery, and the dampers are adjustable items from Fox – of Ford Raptor fame. Rear brakes are standard, but the fronts are four-pot calipers and discs from Alcon.
A lot of ancillaries come from either a donor Tesla (such as the brake booster) or off the shelf from aftermarket suppliers (like the battery management system).
That's probably why, despite this being Inverted's first project, it feels nicely driveable – once you select the right setting. Standard mode has a load of dead travel at the top of the throttle pedal and no regen. Counterintuitively, if you select Off-Road mode, it feels much like a Tesla: the dead spot is replaced by regen, but the brake pedal still only acts on the friction brakes. Inverted says it can tweak the amount of regen to customers' preferences, anyway.
Unlike in a Tesla, power isn't instant: you have to keep your foot in for a long time as power ramps up. That sounds bad, but there's always enough and it adds a bit of engagement – and just contemplate the thought of unleashing 450bhp on a '70s off-roader. Sport mode is more direct but still gradual enough.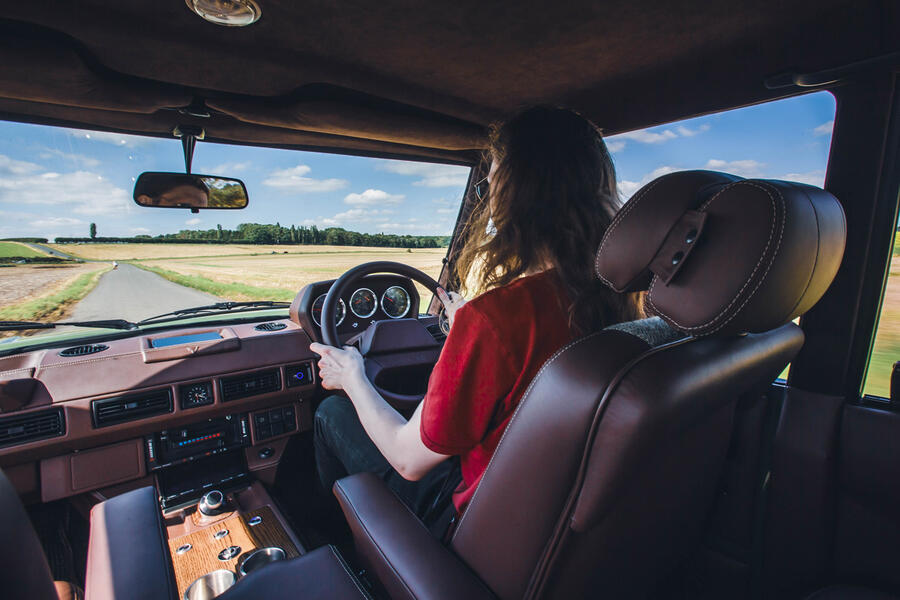 Inverted says the motor has 600bhp potential, but frankly 200bhp would be enough. This clearly isn't a car in which to go fast. The modest grip level, generous body roll and both slow and hilariously vague steering, which doesn't self-centre, see to that.
Removing the engine lets you hear more of the axles clonking and diffs whining, but it also means you can drop the windows and listen to the environment as you cruise through the countryside or check on the crops without startling the cows. It's a rather pleasant way to bimble about, particularly as the tweed seats are comfy and the Fox dampers ensure a plush ride.
Inverted's demonstrator is a prototype that still has some rough edges. At one point, the many three-point turns needed for the photography overheated the electrohydraulic power steering, and various things weren't working, such as the air-con and the passenger door handle.
Inverted says all this will be fixed for customer cars, and you would hope so for £294,000. That clearly is an enormous amount of money, but then so is something like a Kingsley Range Rover, and this feels no worse to drive. Yes, you lose the V8 burble, but gone too is the archaic slushbox and prodigious thirst.
Engine Permanent magnet synchronous motor Power 450bhp Torque 443lb ft Gearbox 1-spd reduction gearing Battery 80/77kWh (total/usable) Kerb weight 2100kg (est) 0-62mph 5.3sec Top speed 100mph Range, economy 200 miles, 2.6mpkWh CO2, tax band 0g/km, na Rivals Kingsley ULEZ Reborn Range Rover Classic; Rolls-Royce Spectre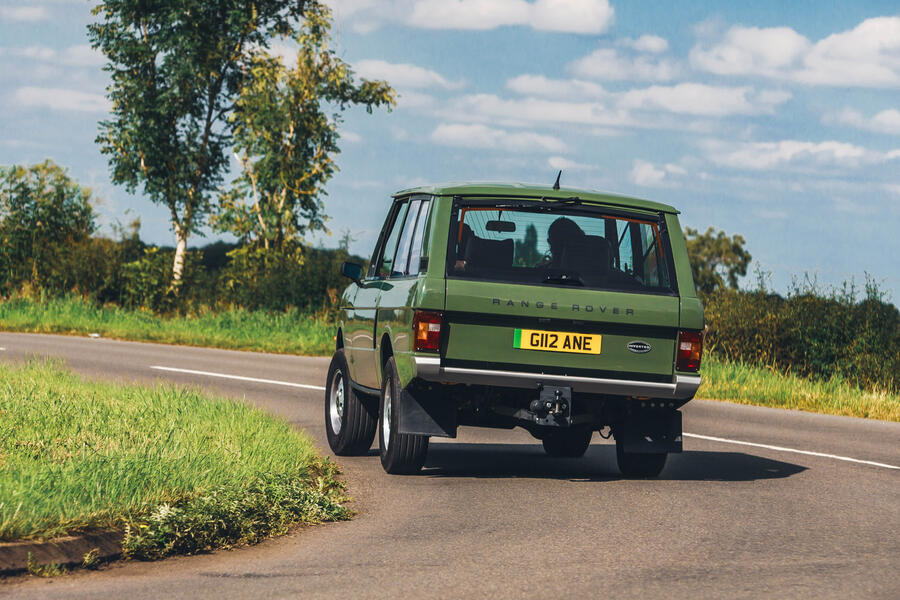 https://www.autocar.co.uk/car-news/new-c...er-classic