04-03-2021, 05:08 AM
First ride: 2021 Mercedes-Benz EQS prototype review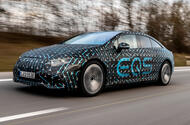 Firm's first bespoke EV is luxury limo that offers 516bhp and a range of 478 miles
The all-new EQS is hugely significant as Mercedes-Benz's new flagship luxury saloon and the first model based on its Electric Vehicle Architecture (EVA) platform.
The German manufacturer's first three EQ electric models (the EQC SUV, EQV MPV and EQA crossover) use adapted versions of conventional platforms, making the EQS the first ground-up Mercedes EV.
Holger Enzmann, who heads the EQS test programme, calls it "a new beginning" – and now we've had our first taste in a near-production prototype.
The aluminium-intensive EVA platform is key to the distinctive shape of the EQS, with its smoothly surfaced body also made exclusively from the metal. The differences from combustion-engined Mercedes are clear, with an optional panel 'grille' featuring small three-pointed star motifs and a new bonnet giving it a distinctly new-world look.
You can't help noting the sheer size and presence of the EQS as you approach it. At 5210mm long, it is only slightly shorter than the long-wheelbase S-Class, and with 21in wheels our test car looks much bolder than in the photos.
You enter through large frameless doors, revealing an interior that blends traditional design elements with new high- tech ones, including Mercedes' Hyperscreen dashboard, which groups three expansive digital screens and most of the EQS's controls within a single panel.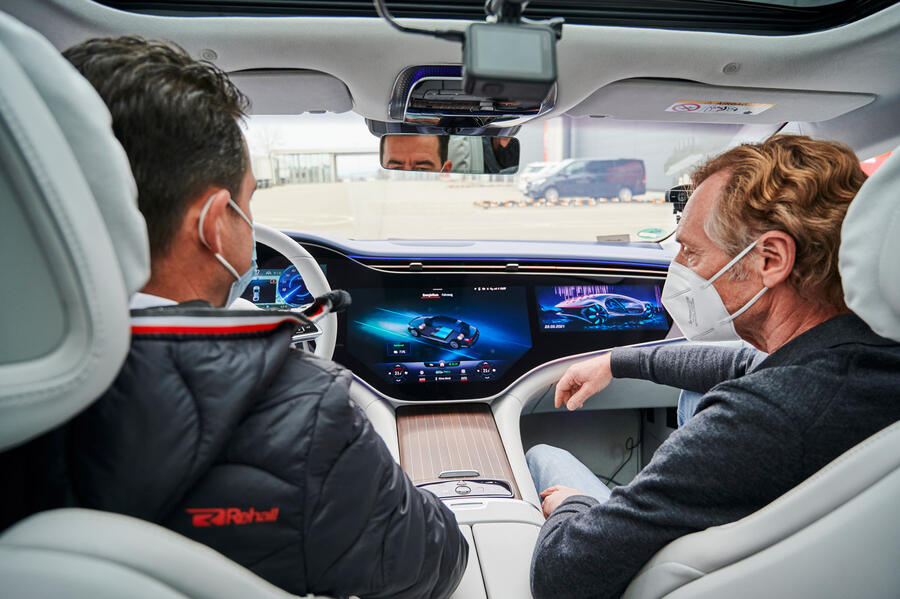 The EQS has an extremely long wheelbase of 3200mm, making it more commodious than even the S-Class, helped by a near-flat floor without a central transmission tunnel. It is impressively lavish, too, with high-grade materials and excellent build quality fully befitting the EQS's upmarket positioning.
It has a new driveline featuring AC synchronous motors from Bosch. Buyers will have two options: a 329bhp single-motor, rear-wheel drive set-up in the EQS 400 or a 516bhp dual-motor, four-wheel- drive set-up in the EQS 580. Our prototype ride comes in the more powerful model.
The EQS majestically glides away, feeling every bit as stately as an S-Class from the broad expanse of the passenger seat.
It's the overall strength of performance that makes an impression, offering fleet- footed qualities despite its generous size and kerb weight that's "well beyond 2500kg".
The EQS 580's rear motor is responsible for the majority of its propulsion. With up to 611lb ft of torque, step-off is on par with the top four-door AMG models, and it keeps building with intense acceleration until we're past the 100mph mark. Mercedes isn't making any official claims yet, but expect a sub-5.0sec 0-62mph time. Top speed is limited to 131mph.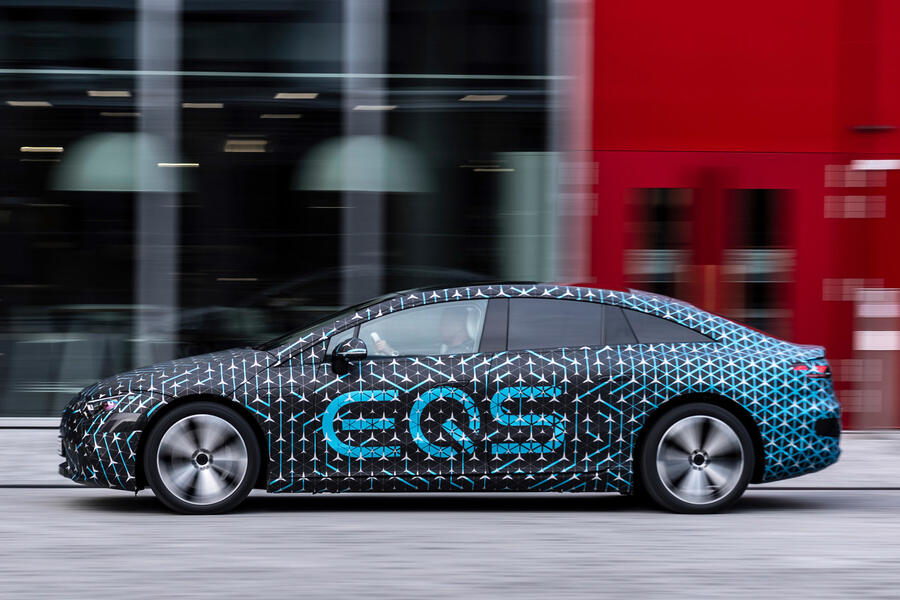 There are four driving modes: Electric, Comfort, Sport and Individual. The first allows for one-pedal driving with adjustable energy recuperation. Enzmann says that the EQS can harvest up to 293kW of energy from a good nudge of the brakes.
Similar to that used by the S-Class, the standard Airmatic suspension has three-channel plungers at each corner and a self-levelling feature. At speed, the ride height is reduced to boost aerodynamic efficiency.
Also in line with the S-Class, EQS buyers can add one of two all-wheel-steering systems, which offer 4.5deg and 10deg of rear-steering assistance. From the passenger seat, the EQS feels unusually agile for such a big and heavy car. There is a degree of body roll, but movement is progressive even when the driver pushes hard in tightening corners.
Most impressive are the grip and traction, aided by the Torque Shift function that balances drive between the axles faster than Mercedes' mechanical system can.
Enzmann claims that the EQS is unparalleled in terms of refinement, and we wouldn't argue: it's whisper-quiet and exceptionally well settled, with the slippery shape contributing to extremely low levels of wind buffeting at high speeds. The suspension delivers impressive absorption: you feel impacts but don't hear them. And on the 265/40-profile 21in winter tyres worn by our prototype, road noise is terrifically well suppressed.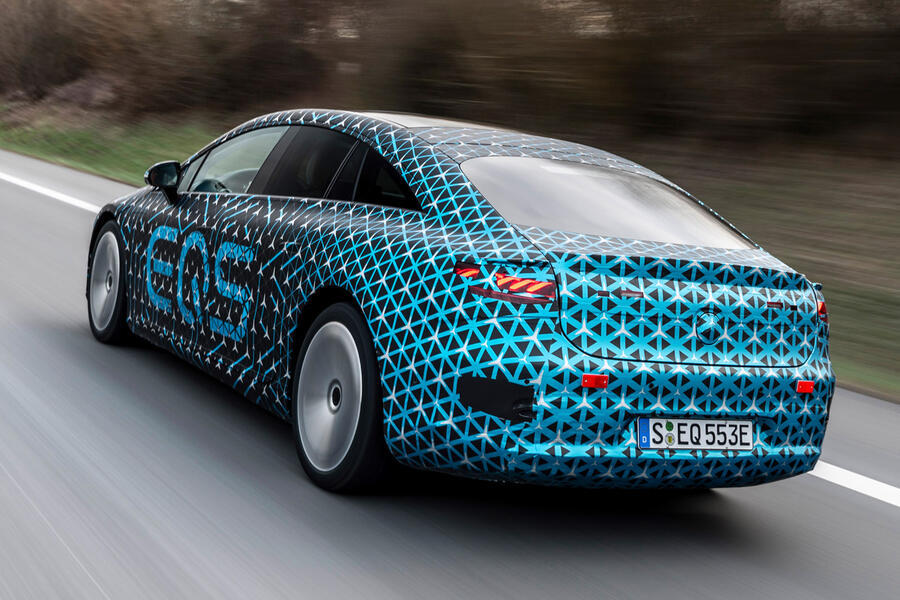 For those who yearn for acoustic feedback from their electric car's driveline, a sound generator offers three themes, including one that's meant to mimic the sound of an engine.
The EQS will be sold with two different batteries: the EQS 400 receives a 90kWh pack, the EQS 580 a 107.8kWh pack. Both operate on a 400V electrical architecture, and Mercedes claims a maximum range of 478 miles. An 11kW AC on-board charger is standard, while 22kW AC and 200kW DC systems are optional. The latter is said to enable 186 miles of range to be added in just 15 minutes.
There's a feeling of overall completeness to the EQS that has so far been lacking in Mercedes' electric models. You can sense the depth of engineering and the attention to detail lavished on it during its three-year development.
It may have taken Mercedes nine years to counter the Tesla Model S, but the result, on first impression, is rather spectacular: a technologically advanced limo combining all of the firm's expertise with its traditional style and quality. We can't wait to drive it.
READ MORE
New Mercedes EQS packs S-Class tech, is most aero-efficient car
New 2021 Mercedes-Benz EQS unwraps ahead of imminent reveal
https://www.autocar.co.uk/car-news/new-c...ype-review