04-20-2022, 01:11 PM
Ford Bronco vs Land Rover Defender: US and UK 4x4s face-off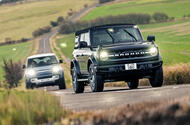 Ford has claimed the GOAT acronym for the new Bronco, but in terms of reborn 4x4 icons, is it really?
Browsing the new Bronco section of Ford's US website is a remarkably diverting way to spend time.
Ford's reborn all-American off-roader comes in the kind of specification that made it famous in the 1960s and 1970s: with two doors, a removable hard roof and a chunky appearance that rather suits balloon tyres and bold colours. It's a range tinged with nostalgia and even some humour: there's a paint called Area 51.
However, unlike the original Ford Bronco, the new model is also offered in different styles – ones that give it the kind of practicality that it lacked in the 1990s and ultimately cost it its place in Ford's model line-up at the time.
So here's one with four doors. It has a soft top that can be half or fully removed, but a removable hard top is offered too. The doors also come off and it is a genuinely rugged 4x4, with a chassis beneath derived from the Ford Ranger pickup truck. This variant is a mid-spec Outer Banks 4dr. I'm not sure it totally nails the perfect Bronco aesthetic, but a few aftermarket additions would sort that.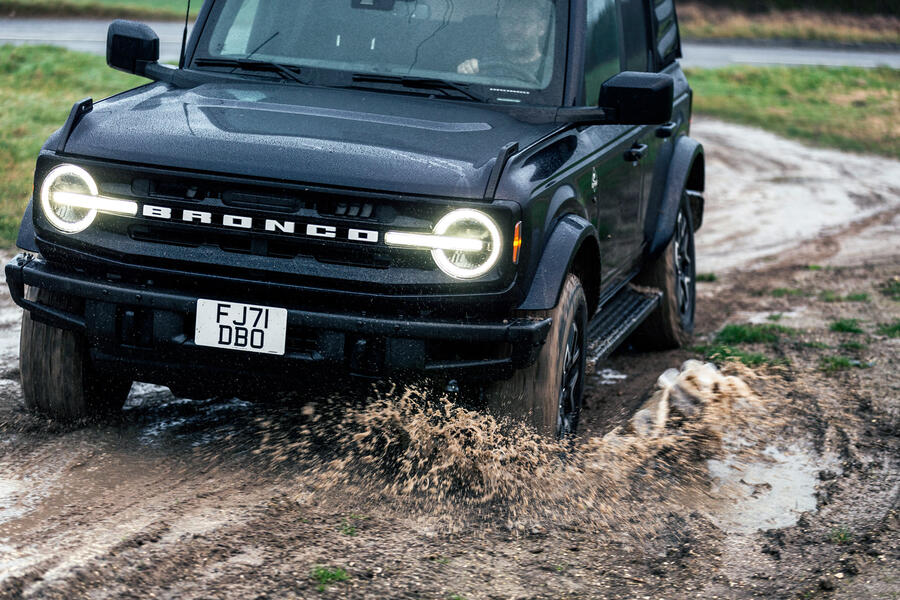 In its most direct terms, it's a car designed to go up against, in its American homeland, the Jeep Wrangler – and prices reflect it.
The Jeep was originally designed as a military 4x4 but is one that, with the addition of different bodystyles and practicality and versatility, has kept pace with its surroundings in a way that the original Bronco generations didn't.
By the time a new Bronco makes it to the UK, though, taxes, duties and getting it through the Individual Vehicle Approval test means that it has left the Wrangler behind in terms of pricing.
London-based dealer and American car import specialist Clive Sutton has this Bronco up at £75,000, which puts it above top-end Wranglers and against a car with a not-dissimilar backstory to the Bronco.
The original Land Rover was a late-1940s creation in the mould of the Jeep: light, cheap to make and unstoppable off road. It was developed and enhanced and grew in size and versatility over the decades but, like the Bronco, didn't keep pace with the world around it. By the time production finished at the beginning of 2016, it was too labour-intensive to build, too thirsty to run and too dangerous to crash. And as with the Bronco, it was reborn for the 2020s as a very different machine.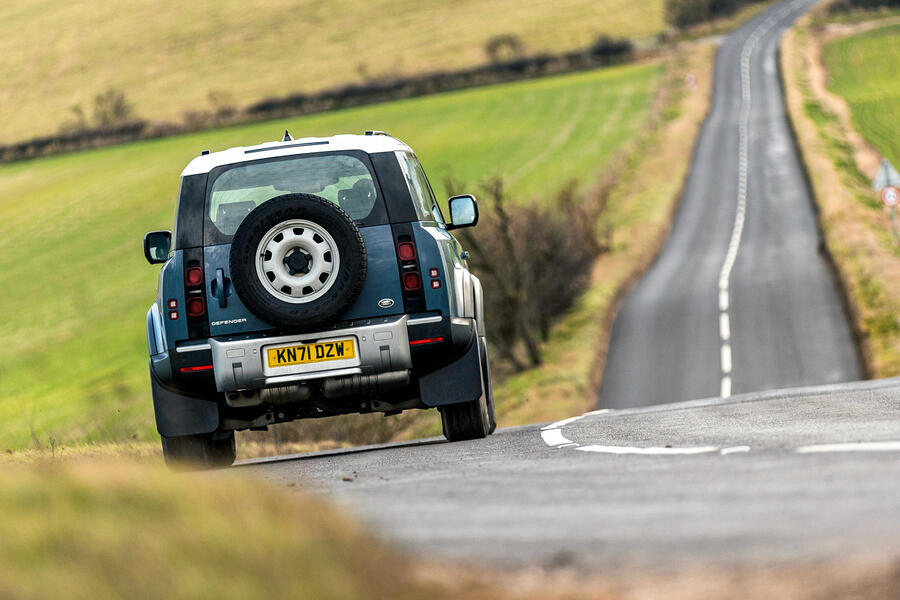 They don't quite do the same thing, these two cars, particularly because the Land Rover Defender we're using is a short one – editorial director Jim Holder's current daily wheels, a 3.0-litre diesel with 245bhp. The Bronco is a 2.3-litre turbocharged petrol with 270bhp.
But the ranges overlap on price (the Defender starts at £45,675, but you can spend six figures) and on abilities. Both are 4x4s to the core. The Land Rover doesn't, however, have an RAF Rudloe Manor (reputedly the UK's equivalent of Area 51) colour option.
They are both proper off-roaders, guv'nor: four-wheel drive (permanent in the Defender, switchable in the Bronco), low ratio, variable driving mode systems, the works.
The mode system is called Terrain Response in the Land Rover, GOAT (Goes Over Any Type of Terrain) in the Ford. Manual Broncos get a trick crawler ratio that this 10-speed automatic does without, while the Defender is an eight-speed auto.
Which is best off road? This, alas, I can't tell you with absolute certainty. Partly because this Bronco is already sold, so we couldn't take it that far into the rough, but also because what works in one bit of rough might not translate to another and because the cars' tyres aren't the same.
The base numbers only tell you so much. Take, for example, a short section of mud: the Defender has independent rear suspension so avoids having a differential hanging between its wheels – an obstacle in deep ruts. But the Bronco is narrower and lighter, so might more (or less) easily avoid those or not sink so deep. On any stretch of 20-metre terrain, their respective willingness to make progress may vary. You could spend a day in both and have them variously do one thing better than the other.
On the road, it's less of a contest. The Defender immediately wins the interiorambience test. This is the cabin of an executive car, not a utilitarian off-roader. It still retains some chunky switches that you can operate with cold fingers or gloves and bolts are visible on the doors and such, but material quality is high. The Bronco is ergonomically sound but lower-rent, with harder plastics.
The soft top doesn't help the Bronco's isolation, it must be said. But on a spring day in a Californian desert, doors off too, I probably wouldn't mind that. The Bronco can take you outside in a way that the hard roof-only Defender can't. In February rain in Wiltshire, I will take every bit of isolation the Defender has to offer. And there's a lot of it.
This Defender is a diesel to the Bronco's petrol yet is easily its match in terms of engine quietness. The big six-cylinder mooches around making 420lb ft from just 1250rpm. It always sounds a long way away, and most of the time you won't hear it at all, even though it's working to haul 2303kg.
Better still is its imperious ride quality. Few cars are so impressively removed from lumps and bumps, and, I swear, if there's a reason why people who don't necessarily need SUVs keep buying them, it's this exceptional comfort. For a great offroader, it's a fantastic motorway car.
The Bronco, alas, isn't. Its Ecoboost engine wants 3500rpm before it will make its 309lb ft (although at 2045kg, there's considerably less to haul about) and you're more aware of its gearbox making changes.
More notable, though, is the comparative lack of structural and ride refinement. You see the interior mirror of this separate-chassis car shimmy as you hit bumps and feel it through the steering wheel, too.
Driven in isolation, the Bronco is fine and in the right place – out on a trail – I could absolutely dig feeling closer to the environment. But the Defender puts it into sharp perspective here, and now.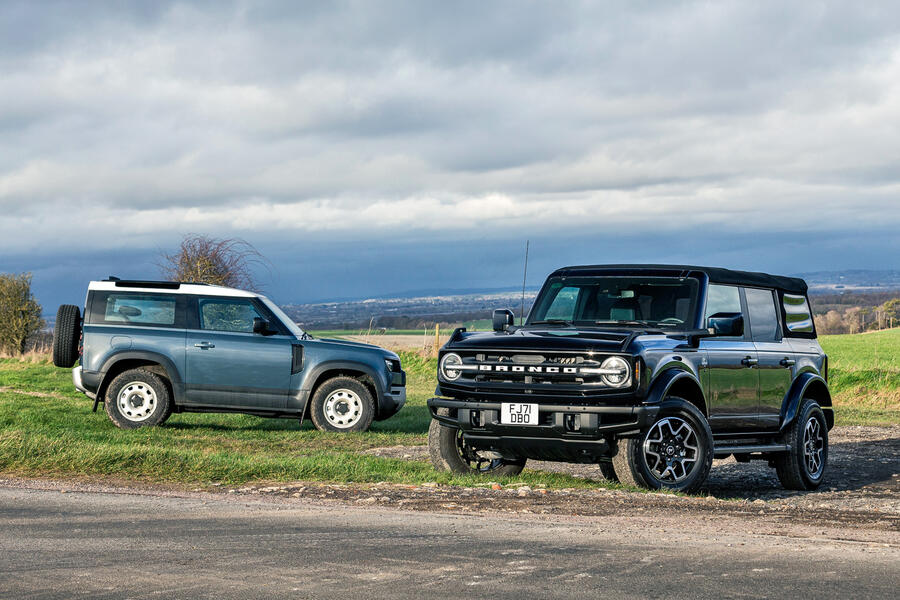 There would have been a time when these two cars were closer in ethos. I admire the position that each has adopted: the Bronco as a true off-roader in the Wrangler's heartland and the Defender as one of the world's most capable 4x4s yet with sensational isolation.
By all means opt for a Bronco. There are times when I would be absolutely chuffed that I did. But the Defender here is a class above.
History of the Bronco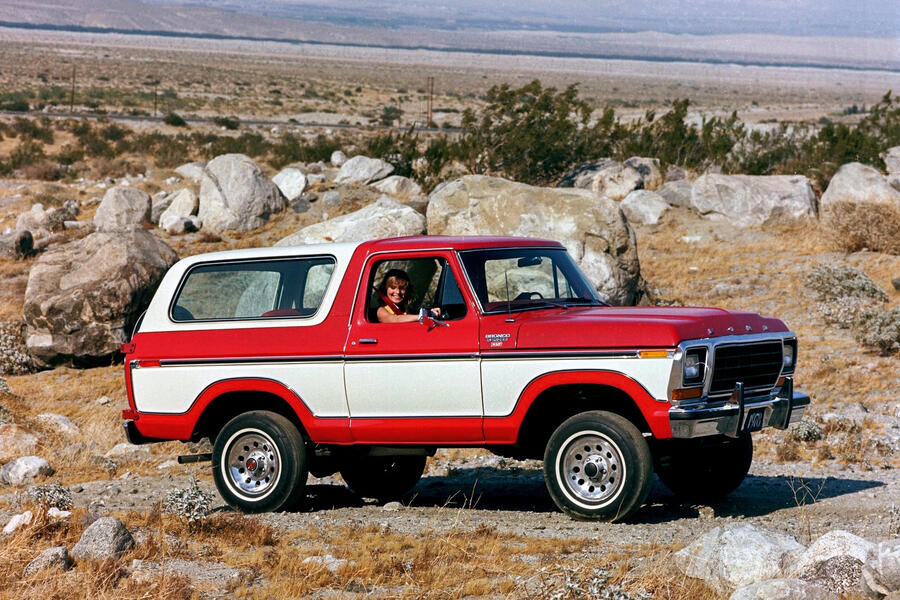 The Ford Bronco was on sale across five generations between 1966 and 1996, always as a separate-chassis two-door off-roader with a hard top. Relatively utilitarian, like a pick-up truck but with a second row of seats and a large, accessible boot, one of its defining features was that the hard top could be removed. It was a popular theme of the time: the Chevrolet Blazer did a similar job, as did the Jeep CJ-5 (which later became the Wrangler) and the International Harvester Scout.
As the market changed, a few Bronco derivatives were spawned. The Bronco II was an unrelated smaller model, and the Bronco Sport does the same job beneath the new Bronco today.
But while the Wrangler adapted to gain more doors and practicality, the Bronco didn't. It's argued that OJ Simpson's infamous low-speed televised car chase in 1994 gave a brief kick to Bronco sales, but by 1996, buyers wanted more doors and the option of more seats – a role filled by the Ford Expedition.
https://www.autocar.co.uk/car-news/featu...-4x4s-face