04-12-2023, 12:44 PM
Ford Focus ST Track Pack 2023 UK first drive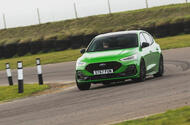 Pack centres on special suspension for ultra-agile hot hatch and more... focus
Ford has revived the – sorry about this – more focused version of the Focus ST by introducing the Track Pack. It's a more-exciting sounding set of modifications for the hot Mk4 Focus than those known from the pre-facelift ST Edition. 
As our Matt Saunders noted when he drove that in 2021, Ford might have chosen a different name for a set of tweaks that warranted more attention than 'Edition' suggested. Verily, the world's most influential car magazine speaks, and here we are now with the ST Track Pack.
In seriousness, it's a more fitting name for a set of modifications made to the movable dynamic parts of the Focus ST. As standard, this is a hot hatch that we're remarkably keen on, because while it doesn't have the power and ludicrous aero of the Honda Civic Type R, it does have that lovely Ford way of going about life, riding with composure but absorption, responding quickly to your steering inputs and being willing to cock a rear wheel as it tucks itself into a corner. 
The Track Pack gets specially developed Pirelli P Zero Corsa tyres, 19in flow-formed alloy wheels that are 10% lighter than the usual ones and front brake discs that are 10% larger than standard, at 363mm. Then there's the bit that's worth shouting loudest about: adjustable coilover suspension by specialist KW. It uses what KW refers to as its Variant 3 coilovers, which in this set-up drops the ride height by 10mm (a further 15mm is possible) and offers 12-stage adjustment for compression damping and 16-stage adjustment in rebound.
Making those changes isn't a matter of pushing a button in the cabin, nor opening the bonnet or boot – except the latter, to take out the KW tools. Then you pop the car on a jack or ramp and remove the wheels to make spring-height and compression-damping adjustments, while trim has to be removed from the boot or under the bonnet to change the rebound settings.
If I owned this car, I'm sure I would do this frequently enough to see what difference it would make. Rampless in a Welsh lay-by, though, I left everything in its default, Ford- recommended settings.
Mechanically, everything else remains the same – which is no bad thing. The engine is a 2.3-litre turbo petrol four making 276bhp, driving the front wheels through a six-speed manual gearbox.
There is a Focus ST estate and an automatic option, but gratifyingly you can have the Track Pack only as a manual hatch. It costs £3000 on the ST's base £36,950 and includes some obligatory visual changes. The roof spoiler, rear diffuser, front bumper inserts, front grille, roof and door- mirror caps are in high-gloss black. The wheels are shiny black and the Brembo brake calipers are red. And the ST badges having black rather than chrome surroundings is a geek-level detail that, so help me, I quite enjoy.
It has been a minute since I last drove a Focus ST and I never got to try the Edition, but 'Track Pack' suggested to me something much firmer than the finely controlled yet acceptably pliant road car that has arrived here. There's no harshness.
Engineers talk about the merits of expensive damping, and on the aftermarket, these KW coilovers cost around £2300 fitted. But it takes a car like this to see what they mean, creating a blend that seems to have no excess crash yet retains a level of sophisticated control that means crests and bumps are just shrugged off. It's really terrific, and Ford's standard settings hold up well on a track, too.
It's exceptionally agile, more so than the Civic Type R, resists washing wide and is consistently throttle-adjustable. It really dives into corners willingly, with steering springy and maybe over-reactive. Fast Fords didn't used to be quite so hyper, and the Type R is probably superior to the Focus ST now. They border on caricature, although more so the Fiesta ST and Puma ST; here that masks deep reserves of ability, adjustability and downright fun.
The driveline neither gets nor need changes. Sure, the Focus ST has less headline oomph than the 325bhp Type R, but a front-driven car can accelerate so quickly at road speeds, and they both have 310lb ft of torque, so there's little in it. Meanwhile, the Ford sounds brappy and its gearshift is slick.
Traction is excellent too. As standard, the Focus ST gets an electronically controlled limited- slip differential – not one of those 'brake an inside wheel' fake diffs but a proper BorgWarner device. It brings a nudge of torque steer, but I don't mind, because it reminds one that this is a powerful, fun and accomplished front-driven hot hatch. Now with a name to show it.
https://www.autocar.co.uk/car-review/for...irst-drive