04-26-2022, 02:51 PM
Ford Puma ST Gold Edition 2022 long-term review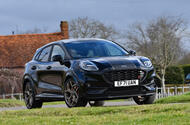 Having loved a regular Puma, our man fancies a go in the new performance version
Why we're running it: To learn if a sporty crossover can ever be as rewarding to own as a hot hatch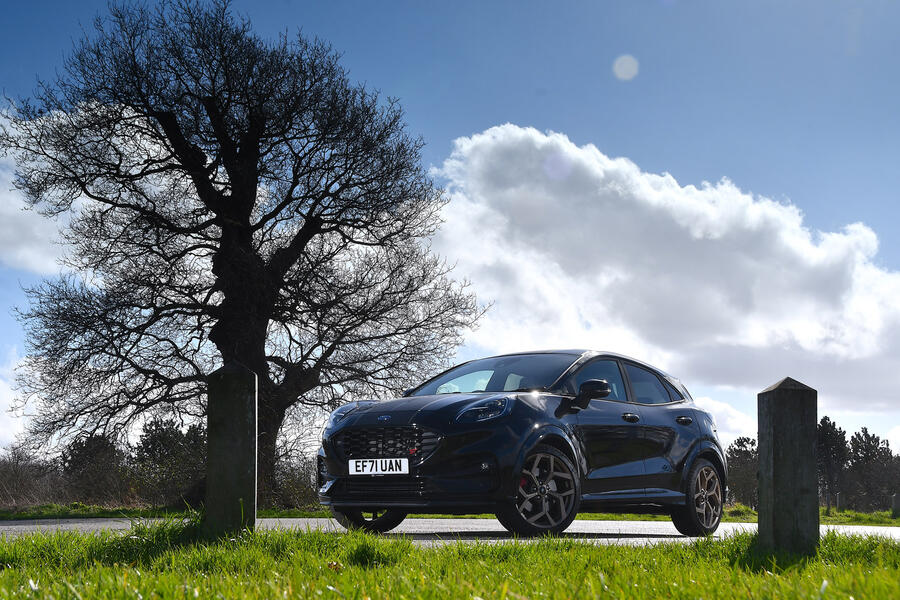 Life with a Puma ST: Month 1
A more grown-up alternative? - 20 April 2022
A chance to get the Puma together with our now-departed Peugeot 508 PSE made me wonder which would appeal more to the fun-loving family driver. Set aside the £20k and 160bhp chasm between them and I reckon the ST just edges it for whimsy and poise. Even with lurid green accents and sports wheels, the 508 looks more executive than extrovert.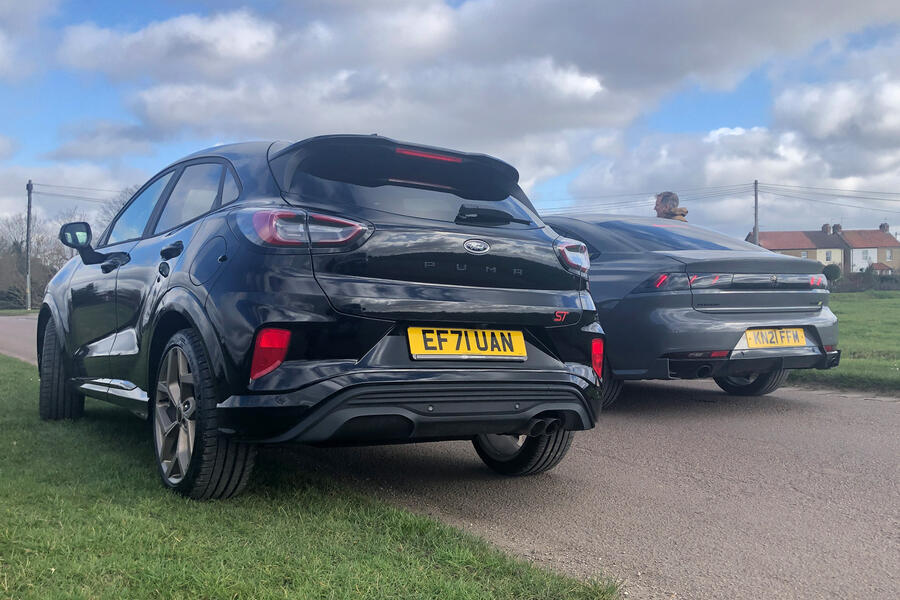 Mileage: 1890
#Back">Back to the top
From B-road heaven to 'the Beige Hell' of the M25​ - 13 April 2022
Call it an inconvenient truth, but the way of the world dictates that even diehard driving enthusiasts will generally cover a good many more miles on Britain's monochrome motorway network than they will on a race track or demanding B-road.
Thus modern sports cars (of all shapes and sizes) must be ready at will to set aside their prevailing traits of dynamism and pep for a slightly more cosseting, frugal and laid-back approach to long-distance driving. That duality is evident in some of the fiercest performance weapons on sale, like the BMW M4 Competition and Porsche 911 Turbo, but needs to shine through even more tangibly in those more affordable sporting propositions that double up as daily family transport.
Step forward our Ford Puma ST. With just 197bhp, five doors and a 0-62mph sprint time roughly on a par with the BMW 320d, it is hardly ever going to be considered in the same league as anything more purely focused on sporting engagement at this price point – maybe the latest and costliest Mazda MX-5 (driven, p39)? – but the balance needs to be there. We've got stiff suspension, a limited-slip differential and a sports exhaust, but do we also have the ability to cover large swathes of ground in comfort? I was almost certain the burbling soundtrack, snug sports seats and low-profile tyres would quickly dampen the appeal of a long-distance trek, but I was pleased to discover the Puma's impressively composed character has not been overly obscured in line with the ST's more sporting focus.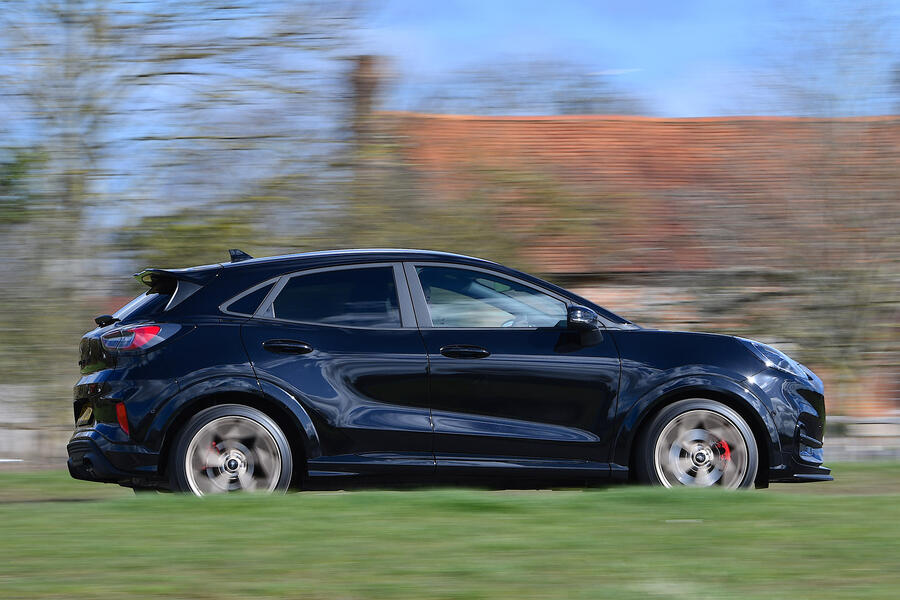 Ford highlights that the hot Puma's exhaust is actually a whole one decibel quieter than that of the mechanically identical Fiesta ST, and while you can barely tell the difference on start-up, the soundtrack all but disappears at a steady cruise, which means you can actually hear the radio or have a proper conversation. Plus, though the stiff dampers and large alloys make for a firm treatment of speed bumps and potholes in town, the ride is generally composed at higher speeds and the road roar is largely unobtrusive. Get the bolster settings and lumbar support right and the seats are inoffensive, too, if a little tight for the larger occupant.
All is gravy, then, until you reach the concrete section of the M25 – a section of road more feared by car engineers than even the slipperiest sheets of ice in Arjeplog or the sharpest bends of the Nordschleife. Only here, on 'the Beige Hell', does the Puma ST drop points (and a good few of them, at that) for comfort. It's loud in pretty much any car, but at any speed in excess of 60mph between Reigate and Chertsey, it is impossible to hear passengers, music or – more annoyingly – sat-nav directions and phone calls without turning it up to a volume that will deafen you when you emerge at the other end. Blame those rubber-band tyres and chunky 19in alloys, which no doubt add a healthy injection of kerb appeal to the bargain, but at the obvious expense of rolling refinement.
So not quite the perfect mile muncher, even if it nearly matches the standard 1.0-litre car for long-distance frugality. But now that's out of the way, we've got some much more fun tests of character lined up for the Puma ST, and we can always take the back roads to get to them.
Love it:
Not a big drinker Whisper it, but there's a genuine thrill to be had in nudging 40mpg when you're not pushing on.
Loathe it:
Green around the gills Sharp throttle response and steering are a recipe for car sickness in town, according to one green-tinged passenger.
Mileage: 1850
#Back">Back to the top
Boot space to spare - 6 April 2022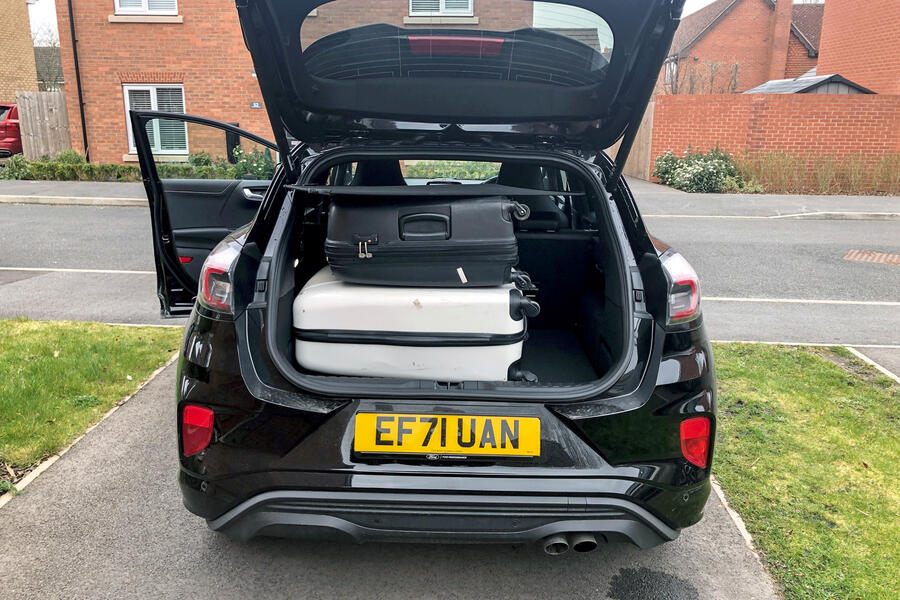 There are three suitcases in the boot you see above. Yes, I can count, thank you. As usual, the underfloor Megabox steps in to save the day when I'm shuttling friends to the airport. But even with that extra 80 litres, the Puma ST's boot is a small one, and a removable parcel shelf still has to go somewhere, which usually requires a bit of Tetris-style load management.
Mileage: 1597
#Back">Back to the top
Welcoming the Puma ST to the fleet - 30 March 2022
Oh, to be a fly on the wall in a Ford Performance planning meeting.
"Shall we do a ULEZ-compliant 284bhp sports pick-up?"
"Sure, why not?"
"A snarling souped-up Mustang to pay tribute to a 1960s film?"
"Let's do it."
"A V6 supercar channelling the spirit of a Le Mans legend?"
"For sure."
Honestly, the Ford Puma ST must have been met with a sigh of relief from the exasperated accountants. Here's a sporting proposition that actually meets the basic requirements of a mass-market car: accessibly priced, sensibly sized, pokey and none too thirsty. It looks almost staid parked up next to its sporting stablemates.
Well, perhaps not the limited-run Gold Edition that we're running for the next few months. You don't get many sub-£150,000 cars with racing stripes in the post-Max Power era, and much fewer still fitted with gold wheels and a fruity sports exhaust.
Take the Puma ST to dinner at your nan's house at your own risk. Once she's done fawning over its boy-racer looks, your uncle will want a briefing on the differences over the standard Ford Puma and your little cousins a few laps of the block. Ask me how I know.
The hot crossover is a category of car that we've come to know very well very quickly as manufacturers strive to appease dog-walking, school-running driving enthusiasts.
It's not a concept that will appeal to staunch traditionalists, granted, but as far as high-rise hot hatchbacks go, you could do a lot worse than this.
For starters, the Puma ST is based on one of our favourite crossovers currently on sale and shares much of its drivetrain with one of the most universally adored affordable driver's cars around, the giant-killing Ford Fiesta ST. That means 197bhp and 236lb ft from a peppy and purposeful three-cylinder turbo petrol engine that sends its reserves to the front axle via a short-throw six-speed manual gearbox and – fitted as standard on the Gold Edition – a Quaife limited-slip differential. An enticing concoction, you must surely agree.
Plus, because it weighs just 50kg more than the Fiesta ST and is connected to the road by shorter, stiffer springs, beefier anti-roll bars and bespoke Michelin Pilot Sport 4S tyres, it's not far off in terms of outright driver appeal.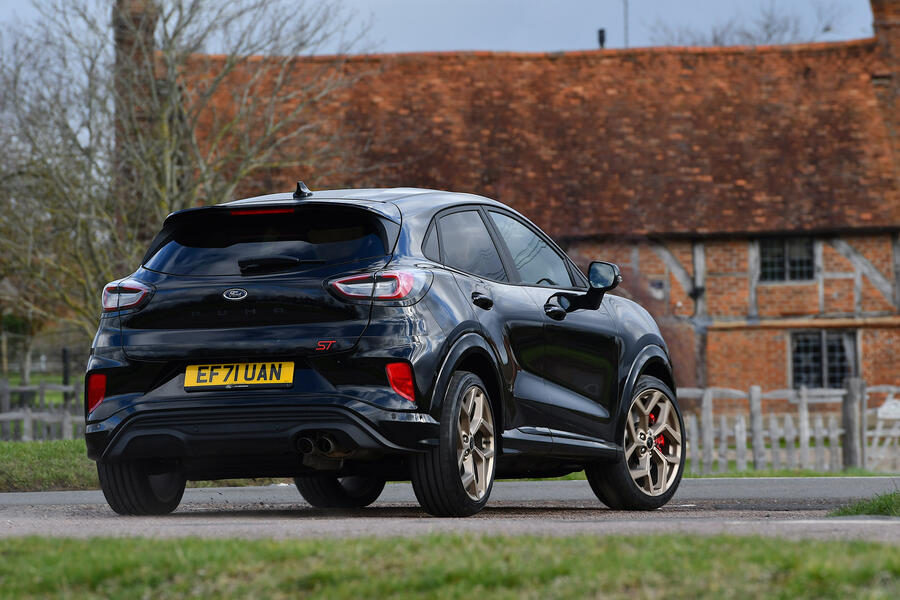 The keener chassis set-up and lower ride height abate most of the roll that blots the dynamic verve of the regular Puma, which, together with hyperactive steering, means you can maintain much of your easily won pace beyond the end of the straights and well into tight bends.
Having spent a few very happy months in 2020 living with a regular Puma, I am well placed to judge the Puma ST on its own merits as a novel take on the hot hatchback formula. Obviously, it will still need to ferry me from A to B on a daily basis to make good on its promise of accessible performance, but I already know the Puma is a charismatic, comfortable and capacious runaround, so I'm not expecting much in the way of annoyances in that regard.
In fact, I wasn't even thinking when I lifted up the boot floor yesterday to stow my recycling in the much-ballyhooed 80-litre Megabox; it was just muscle memory.
And I wasn't at all surprised to see the economy readout tick past 41mpg on a recent motorway schlep; despite its extra 500cc and 43bhp over the standard Puma, the Ecoboost three-pot remains one of the smallest and most efficient engines fitted to a dedicated performance car today.
But somewhat paradoxically, it's this overt and undeniably welcome emphasis on daily usability that most jars about the Puma ST's overall conception: if you're buying a car for the fun of driving, would you not buy something smaller, lower and less compromised? And if you need something frugal with a big boot, there are much quieter, softer and less luridly styled cars on the table, and some of them aren't half bad to drive (the standard Puma, for one).
Yes, it's a question that you could ask of any prospective hot hatch or super-saloon buyer, but it's especially prevalent in this case, because the Fiesta ST is undeniably the better driver's car yet barely diminished in terms of its functionality as a daily driver and, you could certainly argue, more likely to be taken seriously.
So is this a case of Ford being overly liberal with its deployment of the hallowed ST moniker? Can the Puma ST at once win us over on the grounds of its liveability while stacking up comfortably against its universally acclaimed range-mates in terms of performance?
First impressions leave little to be desired in terms of real-world dynamism (although I'm not yet sold on the slightly snappy steering and firm ride), or in outright punch, but I know just how quickly an overenthusiastic chassis and energetic motor can grate over the course of a few months' daily drudgery.
A heavily varied few thousand miles beckon for Gold Edition number 4 of 999 over the coming months. I'm looking forward to seeing if I will come to the end of them pining for the refinement of something more subdued.
Second Opinion
More than 275,000 votes were cast on social media to help create this model, but with just 350 examples destined for the UK, only a few Ford fans will ever see one. At least it's hard to miss. The stripes and ST badge can be like a red rag to a bull among easily triggered drivers when overtaking on motorways.
Tom Morgan-Freelander
#Back">Back to the top
Ford Puma ST Gold Edition specification
Specs: Price New £32,595 Price as tested £33,195 Options Driver assistance pack £600
Test Data: Engine 3 cyls inline, 1497cc, turbocharged petrol Power 197bhp at 6000rpm Torque 236lb ft at 2500-3500rpm Kerb weight 1283kg Top speed 137mph 0-62mph 6.7sec Fuel economy 41.5mpg CO2 155g/km Faults None Expenses None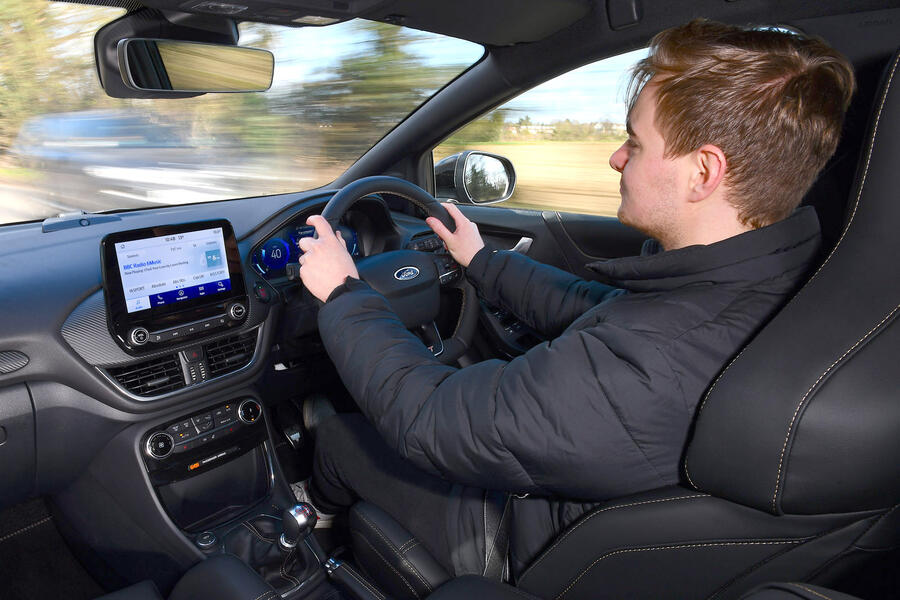 #Back">Back to the top
https://www.autocar.co.uk/car-review/for...erm-review