06-01-2021, 03:45 PM
Ford Tourneo Custom 2021 long-term review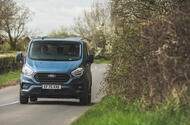 Our man meets plug-in van. Can the people-carrying Transit really work on battery power?
Why we're running it: To find out if plug-in hybrid power and eight seats give Ford's iconic van greater lifestyle appeal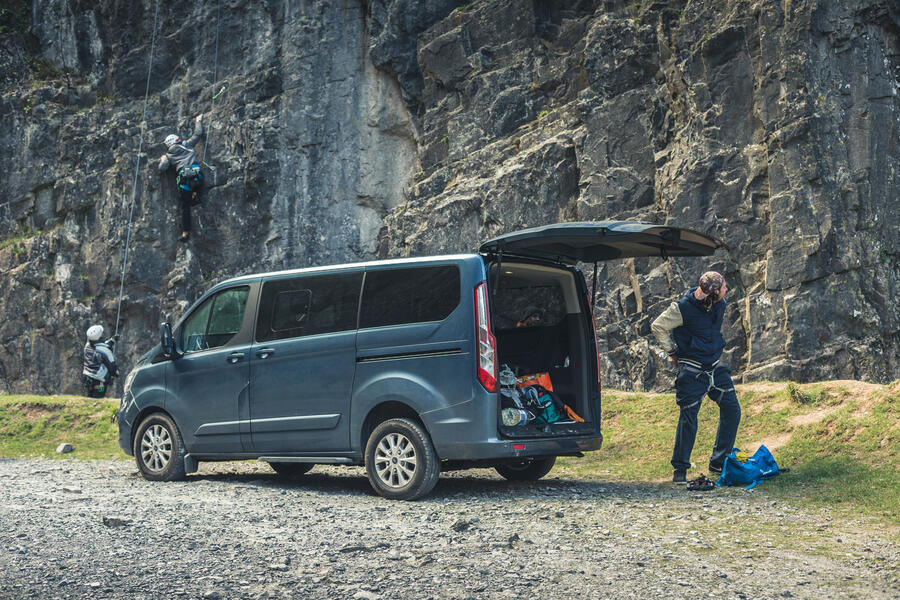 Life with a Ford Tourneo: Month 1
Welcoming the Tourneo Custom to the fleet - 28 April 2021
Spend almost any length of time on a UK motorway and you will be sure to spot a Transit. The iconic Ford has seemingly been the country's favourite van forever, so it's no surprise that it's advertised with the slogan 'Backbone of Britain'.
That popularity hasn't made it immune from the push towards electrification, but rather than force drivers to choose between payload and range by offering only an electric Transit (that will join the line-up in 2022), Ford has also created a plugin hybrid. But does something that works so well for commuters make sense in a load-lugger? We aim to find out, having just taken delivery of the Transit's people-carrying sibling.
The so-called Tourneo Custom swaps a cavernous cargo bay for eight seats and its sliding doors gain windows, but otherwise the two takes on the Transit formula are a lot alike. Both use the same powertrain: a 1.0-litre turbocharged three-cylinder petrol engine and 124bhp electric motor paired with a 13.6kWh battery. Here it promises 33 miles of zero-emissions driving, or a combined range of around 300 miles.
That sounds perfect for an executive shuttle that can shut off its engine when venturing into clean-air zones. However, unlike the current crop of plug-in hybrid SUVs, the Tourneo Custom is a range-extender: its petrol engine never powers the wheels directly, meaning you get the best efficiency only when undertaking shorter journeys and regularly charging. Will that make it ill-suited to thelong trips required from a photographer's main mode of transport? I'll be finding out over the next few months, and I've been told by other members of the Autocar team that mastering the driving modes will be key.
The Tourneo has four, defaulting to an automatic mode that balances battery power with engine use. You can force it to run on electricity alone, prioritise the range-extender to maintain your existing charge or force the engine to charge the battery as you drive so that you'll have juice for some EV driving later. Two stages of regenerative braking effectively let you drive with a single pedal, but I've already noticed how much jerkier it feels in the higher setting.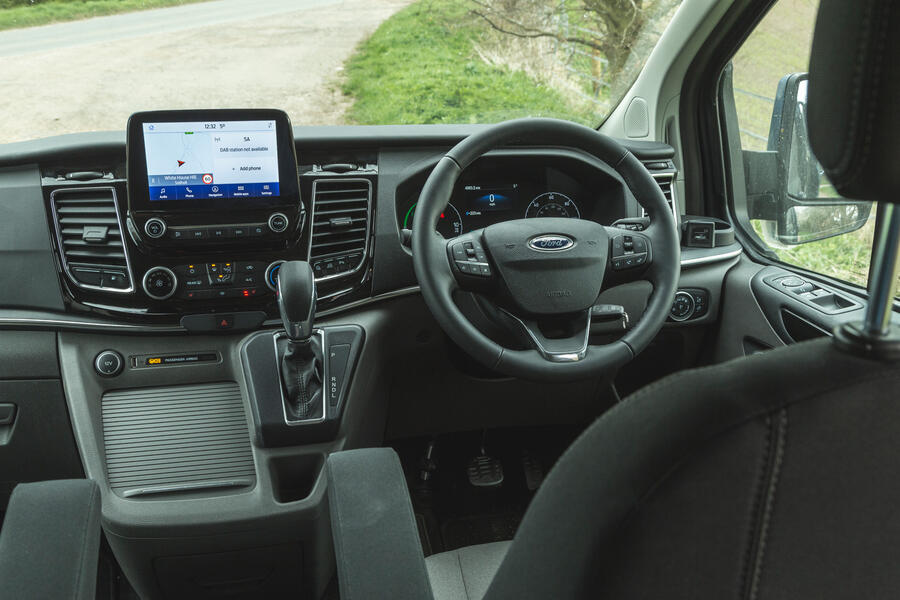 I live in a flat with on-street parking, so most of my charging will be done at public charging stations or whenever I can visit the office. Either way, our Tourneo supports only Type 2 AC charging, meaning a three-hour wait for a full charge – rising to five-and-a-half hours using the bundled three-pin domestic cable.
It will be interesting to see how the fuel economy compares with what you might expect from its diesel counterpart, especially considering that its on-the-road price is an eye-watering £62,000. A Volvo XC90 PHEV wouldn't be significantly more expensive, while a fully equipped diesel Skoda Kodiaq would be about £12,000 cheaper, so the extra load space will really need to earn its keep.
Obviously I'm not complaining on that front, given the amount of kit that I use for my job. The Tourneo's drive battery doesn't intrude on cabin space at all compared with the ICE-only versions, and there's a generous luggage capacity behind the third row of seats even before you start changing the arrangement.
It's completely flexible, with runners in the floor (hidden by moveable carpet) letting you clip them into different configurations or remove them altogether if you have somewhere to store them. They're pretty hefty, though, so this isn't something I expect to do regularly.
Covid means those seats probably won't get an awful lot of use in my care even when they are fitted, but as soon as life returns to normal, I can see this being an ideal people-mover.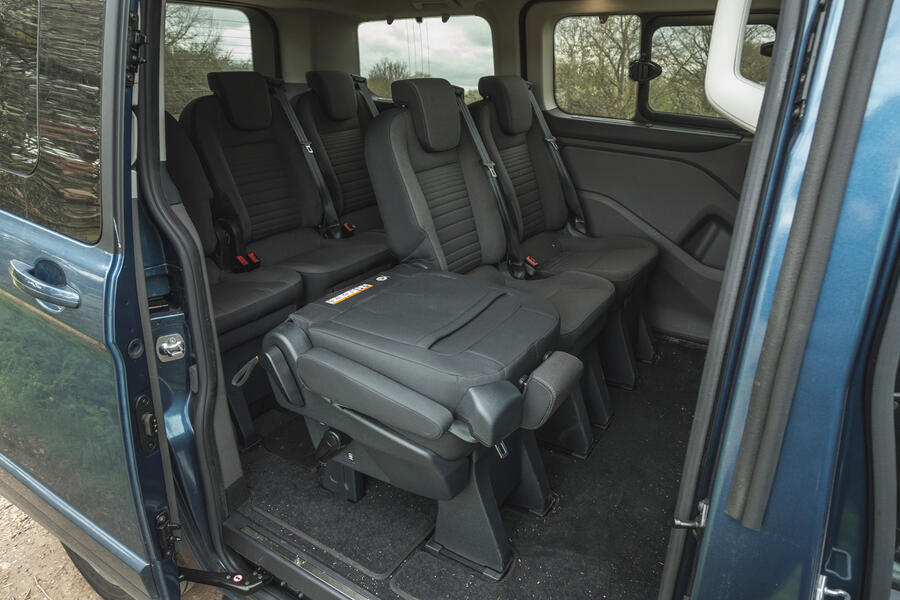 The Tourneo Custom PHEV is available exclusively in Titanium trim, which adds plenty of car-like cabin materials and standard equipment, including Ford's Sync 3 infotainment system. It's one that I'm more than familiar with, having used it extensively in the Ford Puma crossover that I ran previously.
Our van is fairly sparse on optional extras, with just an uprated ICE pack, which adds built-in sat-nav and a scattering of USB ports for device charging, and optional Chrome Blue paint. Sadly, the reversing camera, a £300 option, didn't make the cut.
First impressions? There's no forgetting that you're driving a van, with an upright driving position and lots of wind noise kicked up by the oversized door mirrors. There's a lot of familiar Ford switchgear, though, so the cabin is a pleasant enough place to be. The motor isn't especially powerful but does produce a healthy 247lb ft of torque, making it feel quicker off the line than I had expected. Motorways clearly aren't its forte, though, with it struggling to get up to speed and tanking the economy figures when it does.
I don't expect it will be easy to get the best out of this powertrain but, in other respects, few cars that I've driven recently come close to matching the Tourneo's practicality. I'm already planning on my first trip to the coast to try my luck with a couple of surfboards, plus luggage.
Second Opinion
It's a surprise that the Tourneo PHEV's electric- only range is a mere 33 miles. With all that space in the floor, between the axles, you might have expected Ford to squeeze in more than 13.6kWh. It will be interesting to see just how useful (or not) that EV ability is day-to-day.
Richard Lane
#Back">Back to the top
Ford Tourneo Custom 1.0 EcoBoost PHEV Titanium specification
Specs: Price New £62,224 Price as tested £63,610 Options Chrome blue paint £780, ICE Pack 24 £606
Test Data: Engine 1.0-litre, 3cyls petrol, plus electric motor Power 123bhp Torque 247lb ft Top speed 75mph Fuel economy 79.1mpg CO2 70g/km Faults None Expenses None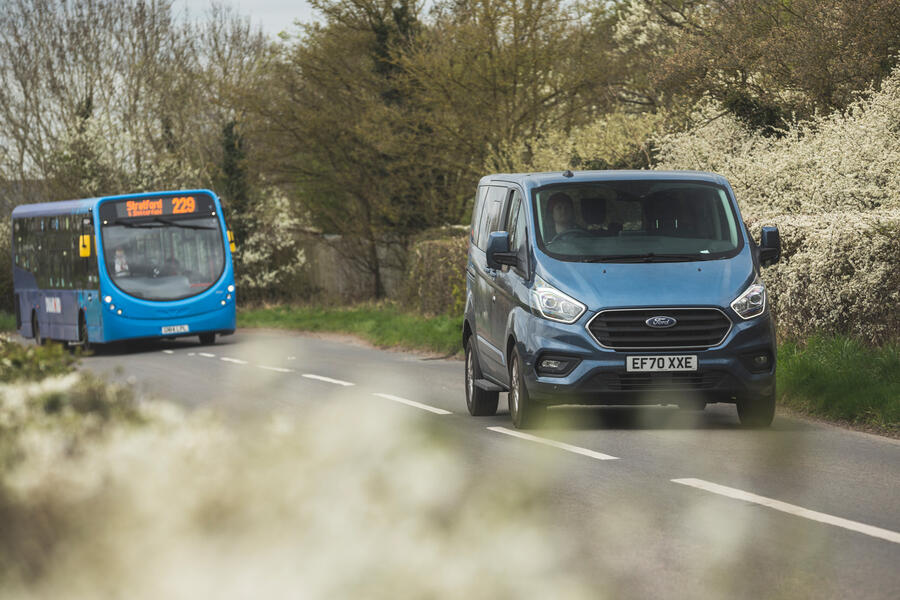 #Back">Back to the top
https://www.autocar.co.uk/car-review/for...erm-review