02-28-2022, 05:59 PM
Ford lines up historic nameplates for new European models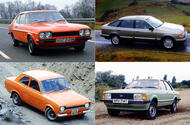 Ford has filed to trademark the Cortina, Escort, Granada and Capri names
As Ford prepares to reinvent the Mustang coupé with a hybrid V8 and electrify its Ford Puma ST hot crossover, the manufacturer could soon bring back several other historic nameplates to its portfolio.
Last year, Ford's Europe design chief, Murat Gueler, told Autocar that reviving old monikers could be a shrewd marketing ploy for the firm.
At the time, he refused to be drawn on which would make a comeback, but Ford recently filed to trademark a selection of names linked to some of its best-selling European models: Cortina, Granada, Escort, Capri and Orion.
This could be a move purely to stop other companies using them and a spokesperson told Autocar that "the registration of intellectual property is not a signal for any future product plans".
But with a Europe-focused electric crossover on the way, sitting atop Volkswagen's MEB platform and built at the same Cologne site that made the Capri, Granada and even Scorpio, Ford could look to spiritually link the newcomer with a successful ancestor.
Gueler told Autocar last year: "The industry is in its craziest time ever since I joined 20 years ago, and I've never seen it so disruptive as it is now. There's a lot of stuff coming onto the market and consumers are bombarded with all kinds of products and information," he said. 
"There's a lot of stuff coming from China which is very competitive, and the Koreans are already very competitive with beautiful designs and strong technology, so the question for manufacturers like Ford is 'how do you position yourself?'.
"I think we have the unique asset of having nameplates from the past that we can tap into to emotionalise our product and to tell stories no other brand can tell." 
Reviving old nameplates could be "an opportunity for Ford to distinguish itself from the bombardment of electrification that's coming", he added. 
https://www.autocar.co.uk/car-news/new-c...ean-models