02-07-2023, 08:52 PM
Ford may further cut European passenger car line-up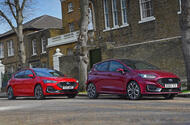 Ford Fiesta production will end this summer, with the Focus following in 2025
American giant accelerates its cost-cutting drive after posting a $2 billion loss in 2022
Ford is still determining how many car segments it needs to be competing in amid its continued search for profitability in Europe, CEO Jim Farley said on the company's latest earnings call.
Ford posted profits of $47 million (£38m) for Europe in 2022, up from a $154m (£126m) loss in 2021 after losses of $374m (£305m) in the final three months of the year eradicated profits in the first and third quarter, company figures show. 
Europe is Ford's second biggest region in terms of revenue, generating $25.6 billion (£20.9bn) in the year against $109bn (£89bn) in its leading market of North America.
Farley said the company "should have done much better" in 2022 after posting losses of $2.0bn (£1.6bn).
Ford is still deciding on the size of its presence in the region outside of its core van business, Farley said. "The decision really is 'how much do we need?'. How many engineers, how many people do we need in Europe and how big of a profile do we need in passenger cars?" he told investors on the call.
Ford has already announced the end of production of its two of its best-selling models: the Fiesta supermini this year and the Focus family car in 2025.
Production of the Mondeo saloon/estate finished last year, while the Galaxy and S-Max MPVs are also being run out with no direct replacement.
Ford will cut up to 3200 jobs across Europe, German trade union IG Metall said in January, as it reduces the amount of development work it carries out in Europe. The cuts would affect 2500 staff in product development and up to 700 in administration, affecting Belgium, Germany and the UK, the union said.
Ford wouldn't comment directly on the cuts but pointed out that the company is undergoing significant transformation. "By 2030, all new passenger cars sold by Ford in the EU will be electric, and by 2035 all new Ford Pro commercial vehicles will be electric," it said in a January statement. "This transformation requires significant change in the way we develop, build and sell Ford vehicles and will impact our organisational structure, talent and skills we will need in the future."
Ford CFO John Lawler said the company's outsized fourth-quarter loss in Europe "was clearly below our target". The company was laser-focused on restoring profitability to the region, he said.
"Given the changing macroeconomic environment and demand environment in Europe, we will make the changes necessary to deliver a sustainable business that consistently generates returns above our cost of capital," he told analysts on the same earnings call.
Ford is pivoting its business around its profitable van division, with production largely based in low-cost Turkey, as well as SUVs. In March, Ford will reveal a new electric compact crossover based on the Volkswagen Group's MEB platform that will go on sale by the end of 2023. This will be followed a few months after by a different bodystyle version of this car. Both will be built in Cologne, Germany, as part of a $2bn (£1.6bn) investment and will displace the Fiesta.
The loss of the Fiesta means the Ford Puma crossover will become the entry point to the range, and a new Ford Puma EV will be launched in 2024 after a summer 2023 unveiling.
Ford's Model E division aims to sell 600,000 electric cars per year in Europe by 2026, and every passenger car in showrooms will be electric by 2030.
Ford is also downsizing its industrial footprint in Europe. It's currently looking for buyers for its plant in Saarlouis, Germany, where it builds the Focus, according to reports.
https://www.autocar.co.uk/car-news/busin...r-car-line