02-07-2023, 10:48 PM
Ford to partner with Red Bull for 2026 F1 entry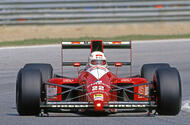 Ford previously partnered with Cosworth who supplied its V8 engines
Partnership will see Ford return to F1 after 18 years, with electrified engines developed by Red Bull Technologies
Ford will return to Formula 1 with Red Bull and its sister Alpha Tauri team from 2026 until at least 2030, it has been confirmed.
The partnership brings Ford back to the top level of single-seater racing for the first time since 2004, when it supplied an engine to the Jordan team bearing its logo, as well as running its own outfit under the Jaguar name.
Despite an 18-year absence from F1, Ford remains the third most successful engine manufacturer in the sport's history, winning ten constructors' championships and 13 drivers' championships, as well as 174 Grand Prix. It won its last F1 title powering the Benetton of Michael Schumacher to title glory in 1994.
"Ford's return to Formula 1 with Red Bull Racing is all about where we are going as a company– increasingly electric, software-defined, modern vehicles and experiences," said Jim Farley, president and CEO of Ford. "F1 will be an incredibly cost-effective platform to innovate, share ideas and technologies, and engage with tens of millions of new customers."
In a move echoing Ford's previous relationships with Cosworth, the engines, which will have to meet new regulations that increase the significance of electric power and will use synthetic fuels, will be developed by Red Bull Technologies. Work for the 2026 season has already begun, although Red Bull Racing team principal stressed that the project was still at a stage where Ford's input would significantly shape the project.
Read more: The fascinating story behind Ford's return to Formula 1
Ford, who will replace current engine supplier Honda at the team, and who step into a position that Porsche were mooted to take until the relationship sourced over the ownership of the venture last year, will provide funding and technical assistance - likely specifically around battery cell, electric motor and power unit control technology, where its scale and knowledge from road car projects are likely to have the most bearing.
"It's fantastic to be welcoming Ford back into Formula 1 through this partnership," said Horner. "As an independent engine manufacturer to have the ability to benefit from an OEM's experience like Ford puts us in good stead against the competition. They are a manufacturer rich in motoring history that spans generations. 
"From Jim Clark to Ayrton Senna and Michael Schumacher, the lineage speaks for itself. For us as Red Bull Powertrains to open the next chapter of that dynasty, as Red Bull Ford, is tremendously exciting. 2026 is still a while away but for us the work already starts as we look to a new future."
Ford's decision is believed to have been motivated by three key factors: the rising popularity of the sport globally, but particularly in the US off the back of the hit Drive to Survive Netflix series; the sport's plans to use more electric assistance and investigate synthetic fuels; and the potential for arch-rival General Motors to enter the sport at the same time with its Cadillac brand, in a mooted link with a new F1 team run by Michael Andretti, son of 1978 F1 and four-time Indycar champion Mario.
Ford has pledged $50 billion (£41bn) in spending into electric vehicles to date. It sits second in the EV sales charts in its home market in the US, where it sells Ford F-150 Lightning and Ford Mustang Mach-E, and also sells the E-Transit commercial vehicle. It expects to grow its capacity to make electric vehicles from 600,000 this year to two million by the end of 2026.
Red Bull's current race drivers are double world champion Max Verstappen and four-time race winner Sergio Perez, with eight-time race winner Daniel Ricciardo working as the team's reserve driver.
https://www.autocar.co.uk/car-news/motor...6-f1-entry