09-27-2021, 07:12 AM
Four times Sir Clive Sinclair tried to revolutionise e-transport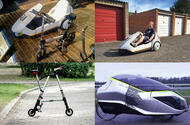 Zike, C5, A-bike and e-Trike - Sinclair's takes on e-mobility were certainly varied
From an electric car to electric bikes and an electric trike: Sir Clive Sinclair's death has shed a wider light on his creative - and sometimes doomed - genius
The sad passing of Sir Clive Sinclair has generated thousands of headlines, most focused on his work to revolutionise either the pocket calculator or home computing.
But his death has also shed a wider light on his creative - and sometimes doomed - genius, including a decades-too-soon determination to electrify personal transport.
Here, as a stark reminder that for every Elon Musk there are thousands of right ideas at the wrong time (as well as a lot of wrong ideas, lest we be accused of being too kind), are four Sinclair inventions that sought to change how we travel.
Sinclair C5
Technically an electrically assisted pedal cycle, the C5 - with, you guessed it, the C signifying its founder's first name, Clive - arrived in 1985 in a blaze of publicity driven both by its inventor's high profile and mega success in the computing world and the fact that it was, well, downright odd.
For many, this was the first glimpse of how Sir Clive's brilliance could tip onto the wrong side of genius. While the concept was enthralling, the reality was rather more puzzling, something summed up well by Steve Cropley, who was there for the launch.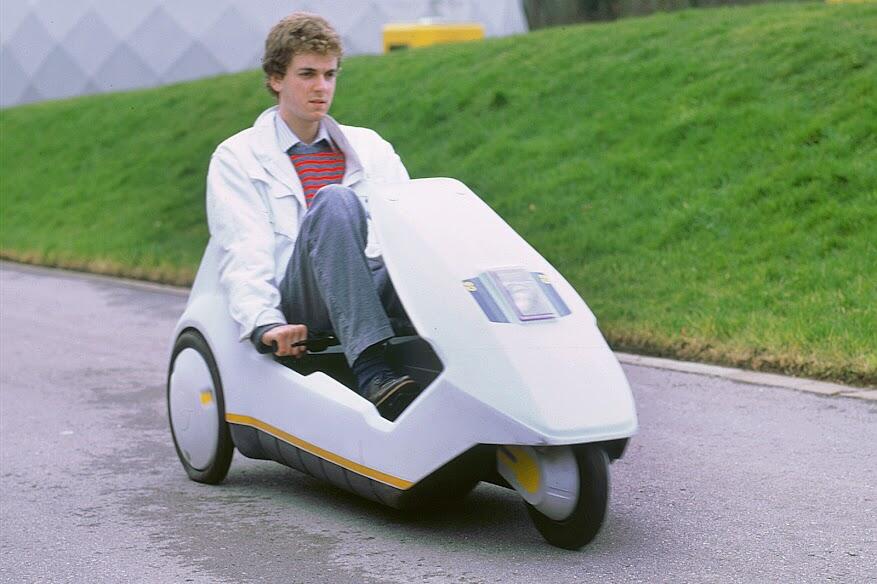 The C5 was slower and less practical than a bike, with a range rated at 20 miles from its 12V lead-acid battery, and a top speed of 15mph, boosted by the 250W electric motor, but with many of the same limitations, such as a lack of protection from the weather. It added a few extra issues into the mix, too, chiefly just how visible its occupant was in city traffic, with a flagpole-like structure a hastily arranged optional extra soon after launch.
At £399, it was competitively priced with top-end bicycles, but even so, sales bombed: 14,000 C5s were made, and 5000 sold before the firm went into receivership. Ironically, the remaining stock was snapped up and went on to attain collectable status, with pristine prices reputed to have hit £6000 - and one plucky soul converted a C5 to hit a top speed in excess of 150mph. How Sir Clive, his fortune severely dented, must have rolled his eyes.
In Sir Clive's head at least, the C5 - itself derived from a prototype called C1, of which many running examples were produced in the late 1970s and early 1980s - was intended to be the first of a series of electric vehicles.
The C10 and C15 are widely believed to have been committed to the drawing board, their prospects of a wider audience dying along with the sales fortunes of the C5.
Sinclair Zike
The Sinclair Zike was revealed in 1992 and, once again, indicated that Sir Clive's genius was often ahead of the public mood, as it combined Brompton-like convenience with the practicality of the soon-to-boom e-bike.
Weighing 11kg, and using a small electric motor to drive the rear wheel, the Zike (picture by Pasicles below) had its nickel-cadmium batteries - notable at the time for being half the weight of the equivalent lead-acid batteries - built into the frame. It cost £499 - about the same as a high-end traditional bike at the time.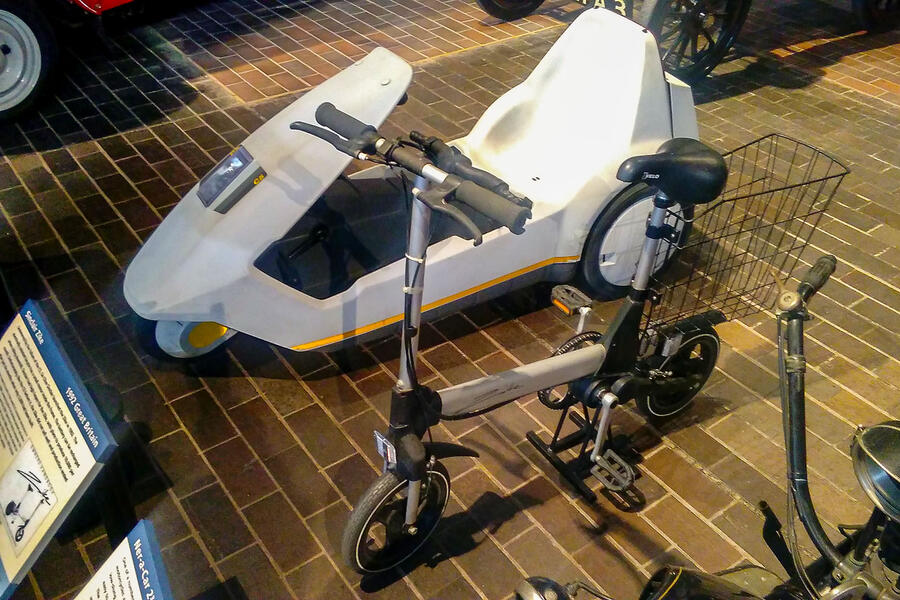 Riders had three power levels to choose from, but just one gear, with assistance available for between 30 and 180 minutes, depending on how much electric shove you wanted. Top speed was limited below 15mph, in line with the law. The recharge time was one hour and the batteries rated as good for 2000 recharge cycles.
Testers noted the wheel size meant potholes were a potentially lethal hazard and almost every review of the bike praised its compactness but criticised its stability.  Just 2000 were sold in total in the six months it was on sale - against a production target of 10,000 a month. 
Sir Clive blamed a dispute with the firm contracted to produce it for its failure and, enthusiasm undimmed, created the Sinclair ZETO, standing for Zero Emission Transport Accessory, a detachable powerpack that could be fitted to the wheel of any bike to provide electrical assistance.
Another fine idea that was doomed to fail - but, who knows, could yet be successfully reinterpreted in our changing world.
Sinclair A-bike
Fast forward to 2006 and Sir Clive reaffirmed that his creative juices were still flowing fast with the launch of the A-bike, imagined by him and designed by a Hong Kong-based agency, and so called for looking like the letter it was named after when unfolded.
It was remarkable not just for how it looked, but also - more pertinently - for the fact that it could fold into a bag, measuring just 67x30x16cm when folded and weighing 5.7kg. Wheel size was initially - and that's a crucial word, given it implies there were successors - 15cm in diameter, but later expanded to 20cm to boost stability.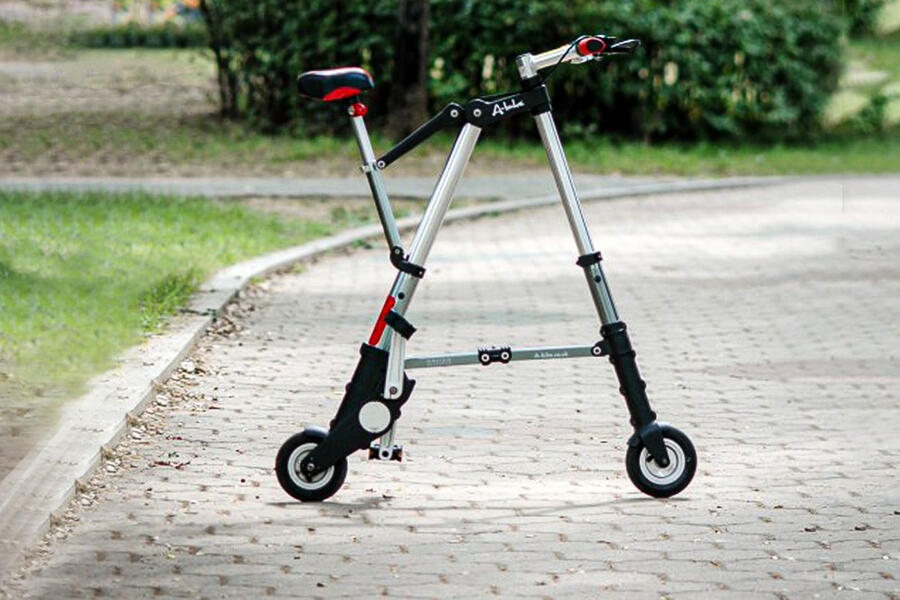 In the company of the other inventions listed here, the A-bike deserves to be considered a success. Not only was an updated model launched two years after the first, but it also had the dubious honour of having its design ripped off by numerous Chinese manufacturers, who filled the home market with their knock-offs. Top Gear fans may also recall James May and Richard Hammond taking to an official version of the bike to get from a ferry to a cable car as they raced Jeremy Clarkson in a bid to prove a train ride could be faster than travelling by car.
Finally, to justify its presence in a Move Electric article, the A-bike spawned an electric variant in 2015. The A-bike Electric was funded via a Kickstarter campaign and more than £110,000 was raised to put it into production - and you can still buy one today, albeit modified and improved from the original design.
The A-bike Electric's electrical assistance is rated at 15 miles, the top speed 12.5mph and it measures 70x40x21cm and weighs 12kg. Prices start from £399.99.
Iris eTrike
As people mull the legacy of Sir Clive in the wake of his death, perhaps it's worth pausing to consider that his pioneering if sometimes misguided spirit lives on, not least in a new generation of Sinclairs, led by his nephew, Grant Sinclair.
Back in 2017, Grant, who worked in the family business on his way up, no doubt learning a thing or two from his famously always-inventing uncle, unveiled the Iris eTrike, which is hard to describe as anything other than a modern reinterpretation of the C5.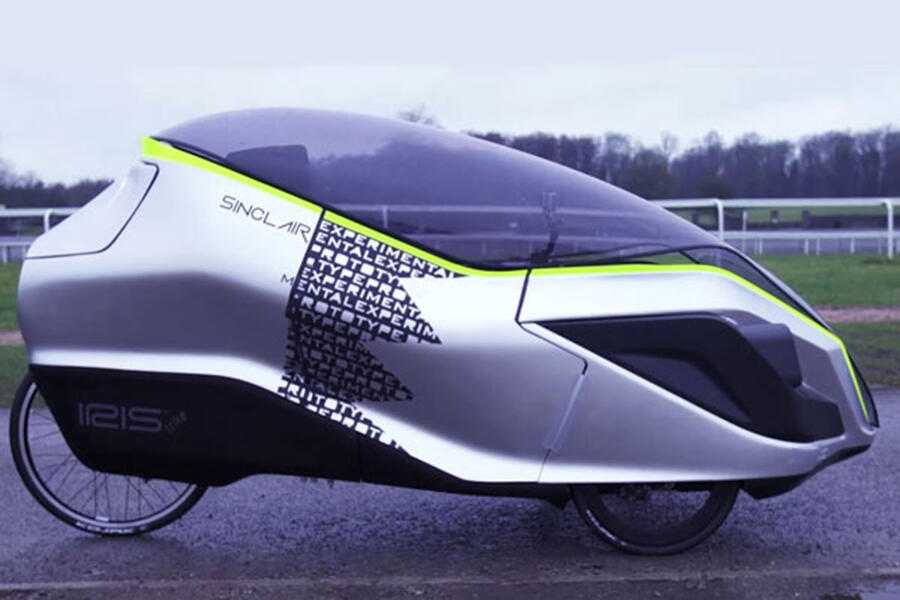 Taking the concept of the increasingly popular - if still considered as sitting to the far left of left-field - electric hybrid tricycles that are sometimes seen out and about, Grant sought to improve the experience, providing a higher, more upright seating position, a hinged canopy to keep the elements out and the use of aviation-quality materials to reduce weight. Praise be, he also engineered it so it could tackle a pothole without mishap. And with a luggage compartment…
With power assistance for a top speed of up to 30mph and up to 55 miles of electric range assistance from a lithium ion battery, the Iris eTrike was a concept that apparently had it all, for a mooted starting price of £2999.
Delivery was slated to begin at the end of 2017, but despite a blaze of publicity kick-starting interest, sales appear to have been hard to come by. More recently, astronaut Tim Peake tried one out on the BBC's One Show, but potential buyers must still be patient: Grant's website offers the Iris eTrike for pre-sale only, now at £4999.
This is one in a series of articles set to be published by Autocar over the coming weeks exploring e-mobility under the Move Electric name, a new editorial channel created by Haymarket, our owner. We intend to cover electric cars, motorbikes, scooters, bicycles and more, as well as exploring themes around electricity generation and electric lifestyles. Content will include features, reviews and opinion. If you have any thoughts about what kind of content you'd like to read – or that you wouldn't like to read – please use the comments section below to provide feedback.​
READ MORE ON MOVE ELECTRIC
E-scooters: the future of city transport, or an urban menace?
E-scooters: 10 reasons why you SHOULDN'T buy one
E-scooters: 10 reasons why you SHOULD buy one
E-bike review: Watt New York Fixie electric bike
E-bike review: Decathlon B'Twin Riverside Original 920 E Electric Hybrid
E-bike review: E-bike review: Perry Ehopper 16" Electric Folding Bike
E-bike review: Ribble Hybrid AL e – Fully Loaded Edition
Airspeeder: 8 things you need to know about the race series for flying cars… that aren't cars
https://www.autocar.co.uk/car-news/move-...-transport