06-15-2021, 08:44 AM
From Buchloe to Britain: How Sytner became the UK's Alpina experts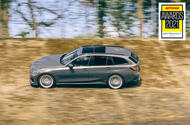 The UK is one of Alpina's strongest markets, yet its cars are still phenomenally rare here – which is just how owners like it
Following the Alpina B3 Touring's five star road test verdict, we meet the man who enlightened a country on the appeal of the modified BMW
An interview with Frank Sytner always had the potential to lay waste to the 1400 words earmarked for the story of Alpina in this country.
It was Frank's older brother Alan who founded The Cavern Club in Liverpool, where The Beatles were discovered and made 292 appearances during the early 1960s. The two then went into business together and in 1968 founded their first car dealership in Nottingham, specialising in BMW. Over the next three decades, they grew the network to the extent that Roger Penske's United Auto group was prepared to pay some $155 million for it in 2002.
And that was merely Frank Sytner the hugely successful businessman. Over the years, he also fed a passion for motorsport, planted in 1954 by Alan, who exposed his 10-year-old brother to the howl of BRM's V16 Formula 1 car at Aintree. Sytner started off racing an Austin A40 with another Frank – surname Williams – before moving to Formula Fords and competing in the kind of ultra-exotic historics that most of us dream about simply sitting in. Then, in 1988, the Liverpudlian hit a career high when he was crowned British Touring Car champion in a Prodrive-prepped E30 M3. 'Fearless Frank' was the nom de guerre, although reports suggest hat it belied a talent that few could match, amateur or professional.
However, we don't delve into any of that, because it would require an entire magazine supplement. In the wake of the new Alpina B3 Touring's five-star road test, Sytner is calling from his home in Liguria to instead talk about another episode in his life.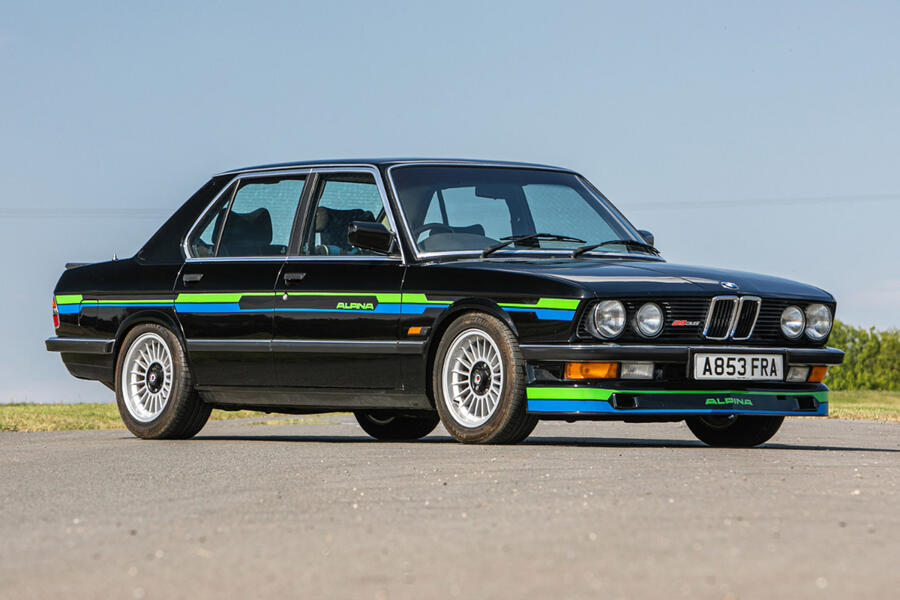 It was in summer 1981 that, having clocked the appeal that a brand like Alpina would radiate among car-loving Brits, he flew to Munich with Alan. They made a deal with Alpina's remarkable founder, Burkard Bovensiepen ("an imposing, fearsome character", but once you were on his wavelength, "absolutely wonderful") to take responsibilities away from Tom Walkinshaw Racing's wayward operation and become the sole UK importer of Alpina. It meant Sytner Nottingham would become the only place in the world outside Buchloe ever authorised to carry out BMW-to-Alpina conversions, and it was one car that really got the esoteric Bavarian ball rolling.
"The B9 3.5 was the breakthrough car," says Sytner, referencing the E28 5 Series conversion that Bovensiepen and his team had devised around that time, "because it was the first serious high-performance executive sporting saloon on the market". That's true: Mercedes-Benz's products were still too luxury-focused, every Audi understeered and BMW was yet to cotton on and deliver either the M535i or the very first M5.
The B9 3.5 duly arrived with 245bhp, over just 181bhp for the 2.8- litre six of the BMW 528i car donor and 218bhp for Munich's top-rung 3.5-litre straight six, which Alpina comprehensively re-engineered and slotted into the 5 Series' engine bay. Then as now, almost every dynamic element of the car was reimagined and it was topped off with a draping bodykit that didn't just look superb but also really did reduce lift.
What's so interesting about the incipient UK operation is that, in the days before Alpina achieved full manufacturer status, type-approval compilations prevented cars being imported from Germany whole. Sytner therefore had to build – or rather convert – the cars itself, and it got the logistics down to an art.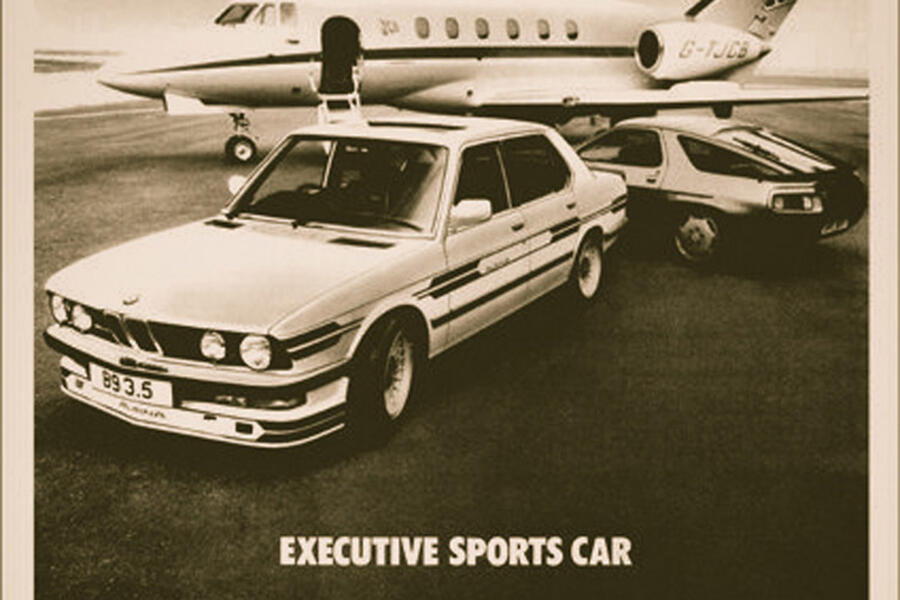 "We came to an agreement where they would send us all the parts, including engines, wheels, body parts, differential, suspension, tyres and badges, over in a container," says Sytner, whose men (or, at first, Mark Adkin) would then piece together the B9 recipe. "The engine came out of the 528i and then went back with the transport company to Germany. As we started to take orders for cars, there was a constant flow of Alpina parts arriving in Nottingham, and we had technicians who went to Buchloe, training how to produce the car." Somehow this laborious process proved commercially viable. Then again, the B9 cost £24,100 when the Audi Quattro was £20,400 and the 528i SE just £16,925. It's telling that these early RHD Alpinas were sold mostly to people from the motorsport world, and they were prepared to pay.
When the B9 3.5 landed, it did so like a meteorite. Here's a selection of fevered comments from John Miles' drive in 1983. (If you don't know, Miles was an Autocar road tester at the time but had been Jochen Rindt's Team Lotus team-mate in F1 and was a leading chassis engineer who worked on everything from the Vauxhall Astra to the Aston Martin DB9, so take the following as gospel.) "From a handling point of view, the B9 is probably the best BMW we have come across – ever"; "gear for gear, the mid-range times bear close comparison to several supercars, except the BMW has almost 12 cylinder-like flexibility"; "quite unmentionable speed can be commonplace"; "the driver of the B9 will feel much more in control of his destiny than he might in the standard car"; "it can be trickled through traffic using barely more than idling RPM"; "Bovensiepen's suggestion that this kind of ride and handling compromise offers better all-round comfort on long journeys than a car with softer suspension has to be right". And on it went.
Sytner describes last year's full 4000-word road test of the new B3 Touring as a "eulogy", but it certainly wasn't the first overwhelmingly positive assessment of an Alpina product from this magazine.
Sytner, who had initially planned a career in advertising after leaving school early, knew exactly what it was that he had on his hands with the B9. "I was able to use an arm of BMW's advertising agency to create ads that a company our size couldn't possibly afford," he says, alluding to WCRS – the hottest ad agency in London in the mid-1980s, where the financial director had his own private jet. It was WCRS that coined BMW's famous 'The Ultimate Driving Machine' moniker and, in the year that British Gas was going private, launched the M635 CSi with 'Where else would £41,000 earn you so much interest?'.
What Sytner and two WCRSaffiliated creatives dreamed up was the famous 'Executive jet, executive sports car' advert, which appeared in Autocar. It played on the notion that the current crop of sports cars (represented by the Porsche 928 S, which was sandwiched anonymously between a B9 and a Hawker 700A borrowed from JCB boss Anthony Bamford) were now redundant with the arrival of this new uber-saloon, and it was a punchy message, even though grounded in reality.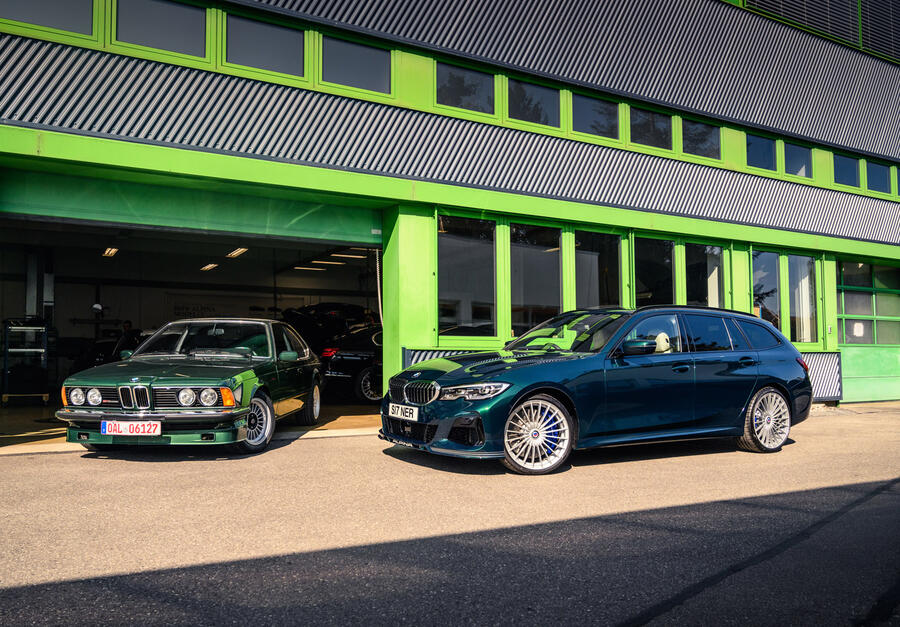 "To market something that really is genuinely good and pretty much unchallenged is a hell of a lot easier than marketing something where you're making a claim that's more difficult to justify," says Sytner, who even today daily-drives an Alpina (an F30 D3 Bi-Turbo Allrad in Alpina Blue but without Deko stripes). "The Alpina claim – everything that you will read in the advert – is true."
Later in the 1980s, Alpina gained type-approval so could send over complete cars. Sytner continued to fly out to the factory, where, over a bottle of Barbaresco from Alpina's cellars (wine dealing is a side hustle that accounts for 15% of company turnover), he would discuss the next niche that the marque should exploit.
Sytner can't speak highly enough of his old friend Bovensiepen, who on 9 November 1989 was driving him to Munich airport when he cranked up the radio as the news that the Berlin Wall had fallen came over the airwaves. "Talk was mostly about how anyone could afford to absorb East Germany, as it was a poor country, but Burkard quickly explained the advantages," says Sytner. "In general, I don't think I ever heard him dwell on negatives. He found positives."
Bovensiepen, famously obsessed with the economy of his cars, was also a visionary, eloquently dipping into German politics as required. Alpina's 1999 pivot to diesel seemed sacrilegious, but he made it work, to the extent that BMW relied on Alpina's expertise. It comes down to that notion of fitness for purpose.
"Burkard's interest wasn't just high performance," says Sytner. "Part of the subtlety was that you could go 200 miles farther than you would have been able to with another car."
Over the decades, guided first by Burkard and now also by his son Andreas, Alpina has grown, though not on a scale that might endanger its exclusivity. In the 1980s, around 600 cars were made annually, including those from Nottingham, and today the figure is still only around 1800.
Sytner insists that were he still involved in the business, that would be different ("I wanted them to make the ultimate compact, five-door diesel, based on the original 1 Series"), although there's no guarantee of that, because the two men weren't aligned on everything.
Sytner never liked the Deko decal set Burkard adored, on the basis that "in England, the majority of buyers wanted total discretion, otherwise they would stick with a Porsche". Equally, because the E32-generation BMW 745i was never made available in right-hand drive, Sytner decided to apply the B9 formula to the 735i, which was offered in the UK, in the process creating the first B7 (as we know the model today), but Bovensiepen allegedly never could quite warm to this "rare concoction". That Sytner could get away with something like the B7 speaks volumes about the warmth and mutual respect in the relationship.
As for Alpina's future, Sytner has few concerns, whatever uncertainties lurk. "Andy's skillset runs parallel with his father's, only with even more professional engineering training," he says. "I would expect the imagination of Andy and his team to [keep finding] the niche."
Final reflections are reserved for the simple phenomenon of Alpina. "Maybe I'm making all of this sound more important than it is. You know, it's an alternative car brand," says Sytner, feigning indifference. "But it's the kind of thing you won't really see again," he quickly follows, with an intensity that reveals his true feelings. "It's part of the past: entrepreneurial, the creation of something that shouldn't have happened. How the hell did Burkard do it?"
READ MORE
Autocar Awards 2021: all the winners
Autocar Awards 2021: Hyundai Chairman Euisun Chung wins Issigonis Trophy​
Autocar Awards 2021: Polestar's Thomas Ingenlath wins Sturmey Award
Promoted | How Britishvolt is electrifying the UK car industry
https://www.autocar.co.uk/car-news/featu...na-experts