11-02-2023, 05:46 PM
From the archive: on this day in 1955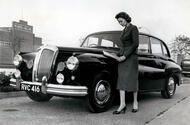 Daimler boss's wife 'inspired' feminine One-O-Four model
The fight for women's equality proves how far we've come since the early days
"Here - for the first time – is a car specially designed to appeal to the woman who has very definite ideas about the car she wants her husband to buy," read an ad in 1955. 
"While to all outward appearances this special One-O-Four is entirely suitable for everyday business use, [it also has many] luxury features carrying a strong feminine appeal."
Today, of course, most women would find the idea of a car maker aiming to woo them with a special set of maps, rugs, a picnic set and an in-dash vanity case containing Max Factor cosmetics insulting.
Indeed, in motoring, as in most aspects of life, it has been a long struggle to eliminate chauvinism. It was actually a woman, Bertha Benz (the wife of Karl), who undertook the first car journey of significant distance in 1885 – and others soon joined her.
An anonymous Brit wrote to us in 1898: "When I made up my mind to have a motor and drive it myself, I found it quite easy. In fact, I think a woman would be a better driver than a man. I am surprised at not seeing more ladies driving [alone]."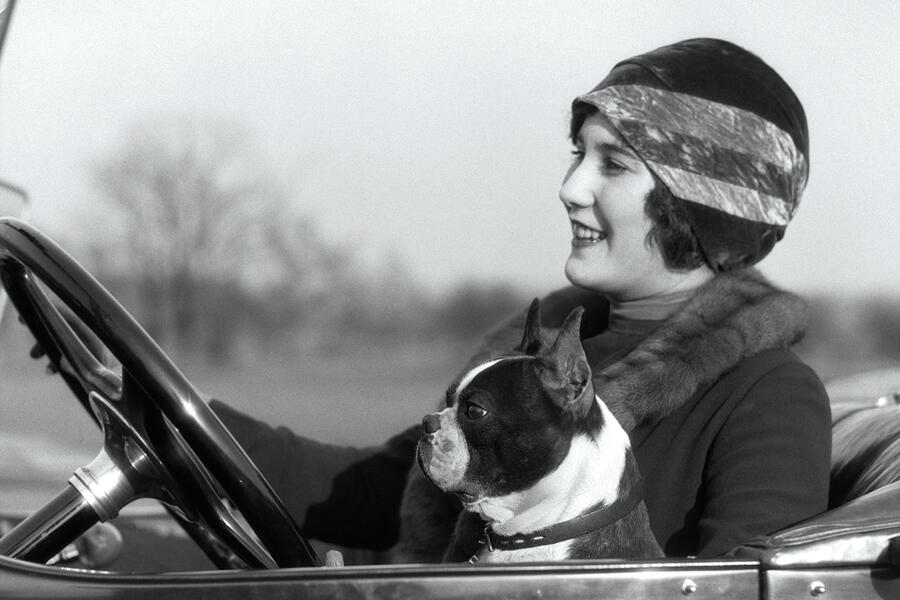 However, society being as it was (women couldn't yet vote or open a bank account and few had jobs), men often complained about this. "Women should not drive," one asserted in 1905. 
"Their place is in the home; they are out of place in a motor. Women have not the nerve to steer [one on] a crowded street."
When Britain's men had to fight in the Great War, driving jobs had to be filled by women – which was helpful to their cause. A lieutenant colonel wrote that many had joined up with no experience, making for "nerve-racking times", but "since then thousands have acquired the necessary skill and experience and have been and are still replacing [men] with extraordinary success".
It became more acceptable for women to lead independent lives in the 1920s, so many more took up driving. Elizabeth Butler noted the gender split at motor shows looked fairly even and "no firm builds one type of car for a man and another for a woman, their needs as drivers being practically the same", while 'Latona' encouraged the nervous: "Has any woman ever admitted she could not use a pedal sewing machine? No! Well, if she can do that, which means using her feet, hands and brain at the same time, then she can soon drive a car."
Yet at the same time, Owen John cried that motoring had "shortened their skirts and docked their hair, invented the flapper [a trendy, fun-loving young woman] as well as the flapper-bracket [the motorcycle pillion] and, worst of all, proved that women can be just as forward as men in the matter of driving".
Editor Hugo Massac Buist wasn't impressed, mind you: "It has been the fashion among certain writers on motoring to express openly or insinuate that the great majority of women drivers are more daring than skilful, to put it politely. With this contention we cannot agree."
And he was proved right by the stats: all things being equal, men should have had 7.3 times as many crashes as women, yet it was 12.5 times in reality, we found in the 1930s. (Such a disparity, by the way, has continued to this day.)
Such bashing faded from our pages (if not common opinion) in the 1970s, but then motoring ads started centring more on gender roles and sex. "If it were a lady, it would get its bottom pinched," boasted Fiat. "If this lady were a car, she'd run you down," spat back a graffito.
Thankfully, this trend faded fast into the 1980s – whether due to feminist ideas becoming more accepted, more women getting their licences or women entering the workforce en masse, while we stopped publishing motor show pieces in which female writers focused on pretty colours, ease of parking and space for a pram.
In 1935, just 12% of UK driving licences were held by women. In 1975, less than 30%. Now it's nearly 50%.
And while the industry is still predominantly male, women have an ever-growing role, with major concerns like GM and Peugeot – plus Autocar – being female-led.
We've come a long way, then, from there being just one making a Ladies' Model to indulge its boss's egotistical wife. Only 49 were sold, by the way, before the Dockers were sacked by a Daimler firm facing bankruptcy partly due to this folly and others similar.
https://www.autocar.co.uk/car-news/from-...day-1955-0