06-02-2023, 05:38 PM
From the archive: on this day in 1958
Okamura named cars Mikasa after a Japanese prince
The first car with an all-Japanese automatic gearbox, The 'Frogeye' Sprite is born, Ford's Edsel crisis
Every Japanese car marker except Nissan has a history that starts in a totally different field - Suzuki and Toyota: looms; Honda: motorised bikes; Subaru: aircraft; Daihatsu: steam trains; Mazda: corks; and Mitsubishi and Isuzu: ships. 
So the odd history of the first car with an all-Japanese automatic gearbox isn't actually that surprising. 
Okamura will today sell you an £800 office chair, having got into metalwork initially to make parts for the Jeeps of the Americans occupying Japan after the war. 
One day, a GI used Okamura's shop to repair his scooter, which had a hydraulic torque converter. This inspired the engineers there, and so by 1951 they had designed and built their own - splendidly named the No Clutch OK Drive. 
With this succeeding in heavy machinery, Okamura decided to move into cars - and so it came to wow us at the fourth Tokyo motor show with a tiny coupé and estate. 'Box aside, inspiration came from the Citroën 2CV, a 585cc air-cooled flat twin driving the from axle within a separate chassis. 
Conventional suspension was fitted, though: the 2CV's ultra-soft linked set-up was deemed not robust enough - a decision we criticised. The drive wasn't very lively, with output of just 17bhp. 
The Mikasas were to cost about £485, when the manual 2CV was £398 here. Some 500 were built by 1960, but not profitably, so in 1960 Okamura made "a courageous withdrawal" from car making. 
It's a reminder that innovation doesn't guarantee prosperity and nor does seeming to be the hottest start-up in an era of opportunity. 
The Austin 'Frogeye' Sprite is born
Small British company Healey's 1000 roadster impressed BMC so greatly that the two formed a joint venture. This having gained sales success, they set about designing a smaller, affordable car, with some help from MG.
The Sprite – popularly known as the Frogeye, due to its 'cute' styling – used uncomplex chassis and body construction and many proven BMC parts, including Austin A35 suspension, Morris Minor steering, and A-series manual 'box and 948cc four-pot engine. Twin carbs gave that 43bhp at 5000rpm and 0-60mph in 22sec. At £678, it undercut all rivals, and today it's a beloved British icon.
Ford's badly timed Edsel launch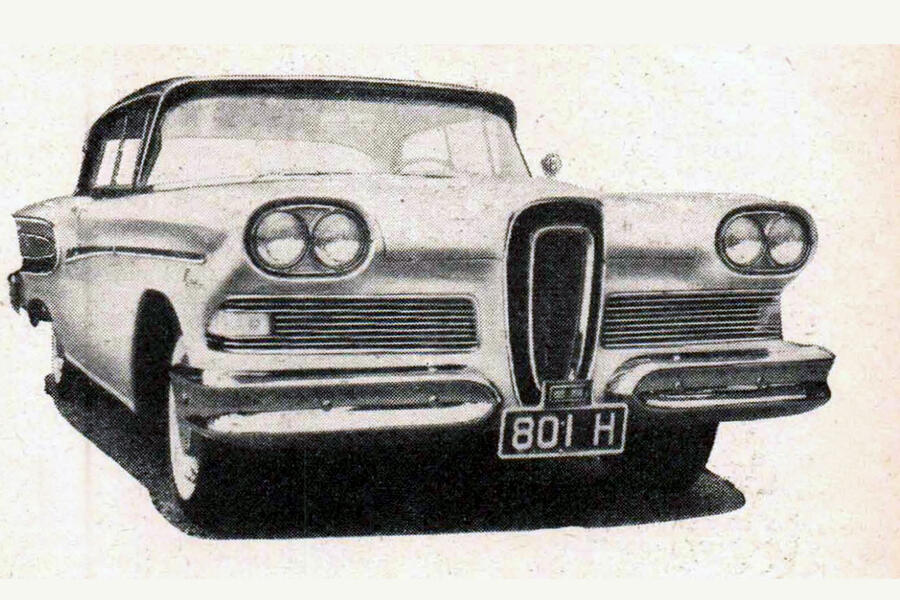 In 1955, Ford saw opportunity in a new brand to rival Buick, DeSoto and Oldsmobile. So it spent $250m to launch Edsel – only for it to flop, with 35,000 cars sold in the first six months against a target of 100,000. A US journalist told intrigued Brits this was largely due to bad timing, a recession having started and sales of mid-size cars faltering. The bigwigs had ignored the market researchers' warnings. Many blamed the bizarre front-end styling, but our man didn't agree. Either way, Edsel was shelved in 1960, hitting Ford's coffers hard.
https://www.autocar.co.uk/car-news/from-...day-1958-0