11-12-2022, 05:18 PM
From the archive: on this day in 2006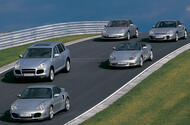 The controversial Cayenne was a powerful SUV that experts knew would sell
What experts said about the Porsche Cayenne, a sixteen-year-old powerslides, and Holden's BMW M5
The unveiling of the Porsche Cayenne as the German marque's first SUV 21 years ago was famously controversial. At the time, we asked various experts for their views. So, who was prophetic and who's been made to look a fool? 
Peugeot designer Keith Ryder said: "I was expecting something with a lot more character and strength. It's a disappointment." 
Brand consultant Steve Saxty followed: "The world doesn't need a 450bhp SUV and Porsche doesn't need this car. But it will still sell." 
Martin Ward, a researcher at Cap, said: "Why have they done it? I can't understand. Porsche is good at sports cars, not 4x4s. It's just climbing on a bandwagon." 
Porsche GB marketing chief Geoff Turral said: "Will it dilute the brand? It won't be on a big enough scale for that, and the Boxster and 911 are strong enough anyway. In any case, like all Porsches, it'll live or die by the driving experience." 
Dealer Tom Hartley Jr was also positive, as it would cost less than £50k yet ought to be better to drive than the BMW X5 or Range Rover. 
Maranello Concessionaires exec Philip Mills said: "The four-wheel-drive market, and certainly the off-road market, is just not relevant for Ferrari or Maserati. There's a danger if a firm moves away from its core market". Awks... 
And Aston Martin engineer Jeremy Main said: "We'd never go into the SUV market. It's clearly understood what an Aston Martin is, and it's not an SUV. The two simply don't go together." Awks...
Sixteen-year-old stuns stars going sideways at Silverstone
In the 2000s, Autocar annually ran the Sideways Challenge, a day where our testers and driving stars would convene to see who could hold the best drift. And in 2002, it was enhanced as, for the first time, we invited our readers along too. 
The best of the 20 was Matt Walton, amazingly aged just 16, so he got to join our testers; racers Derek Bell, Anthony Davidson, Tiff Needell, Jason Plato and Frank Stippler; rally drivers Jean Ragnotti and Richard Tuthill; engineering gurus Chris Porritt and Gavan Kershaw (the reigning champion); and many more. 
Their cars spanned wildly from the default-choice BMW M3 to Ascar racers to a Bentley Arnage T to a Nissan Navara pick-up and, erm, a Ford Granada hearse. 
The Ascar racers were all but incapable, putting them joint last in the decider. And Davidson did little better, his Honda S2000 "like a weather cock in a squall." 
Barrie 'Whizzo' Williams earned perhaps the biggest cheer of the day from the Silverstone crowd "for a triumph of virtuoso technique over a reliance on grunt" in his souped-up Morris Minor. 
The fight for first, though, looked to be between the M3s of Plato and Autocar's Steve Sutcliffe and Walton in his BMW M635. But then Stippler stunned with a balletic lap in an M3, despite it being his first ever righthooker, to win with 94 of 100 points. 
Oh, and as for Walton? He now owns and runs Bruntingthorpe.
Holden's half-price BMW M5
We were hyped to hear that Vauxhall planned to sell us Australian sibling brand Holden's new Commodorebased V8 coupé, the Monaro, and for less than half the price of the BMW M5. "What you really need to know about the Monaro is that it is fast, sounds fast and feels alive," we said. "Highlight of the driving experience is the balanced chassis tuning. The steering is linear in its responses and weighting and inspires confidence." The one letdown was the traction control, but then you'd turn that off to get the rear sliding, wouldn't you?
A lone British engineer announces himself
Having built for himself the Le Mans-inspired GT, British engineer Arash Farboud set to work on a Ferrari rival, intending the GTS to weigh 1200kg and have a 550bhp Audi 2.8-litre V6. Unable to see a route to profitability, he sold the rights to Farbio, which reengineered it with a Ford 3.0-litre V6 and built a few. Struggling by 2010, it sold up to Ginetta, which renamed the GT the F400 before developing it into the G60. Farboud has continued designing for his brand Arash, most recently in 2021 showing a hypercar EV, but production has been minimal.
https://www.autocar.co.uk/car-news/from-...e-day-2006