02-28-2022, 07:35 PM
From the motorsport archive: all sorts of drama at Daytona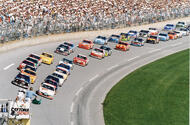 On this day in 1994, the Daytona 500 was undeniably drama-filled
Oval racing has never had a significant following in Europe, but we missed out on plenty of drama (albeit not all the good sort) in the 1994 Daytona 500.
The 1994 Nascar Winston Cup Series began under a cloud, as veteran Neil Bonnett and rookie Rodney Orr were killed in separate incidents in practice. Front runner Rusty Wallace then lectured the others about over-aggression, saying: "Use your damn heads!" Not all of them did, but thankfully not fatally.
Subscribe to the Autocar Archive today
Loy Allen Jr took pole position in his Tristar-run Ford, ahead of legend Dale Earnhardt in a Childress Chevrolet and Ernie Irvan in a Yates Ford.
Allen was swamped by the two men behind him, who proceeded to exchange the lead several times around the 2.5-mile bowl, joined by young Jeff Gordon.
A huge pile-up occurred on lap 62, taking out several cars, and another was triggered during the restart.
Irvan looked set to win, but on lap 180 he suddenly lost it and fell back to seventh. McClure Chevrolet's Sterling Marlin regained the lead – the 33rd time it had changed hands.
Irvan charged back through the pack but couldn't catch Marlin, who finally won a Cup Series race at his record-breaking 279th attempt.
The Autocar Archive, dating from 1895 to the modern day, is now available online. Subscribe today
https://www.autocar.co.uk/opinion/motors...ma-daytona