01-31-2023, 10:16 PM
From the motorsport archive: on this day in 1939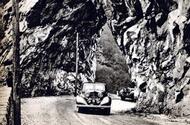 Mild weather conditions made the route "abnormally easy" this year
An unprecedented tie in the Monte Carlo rally against Jean Trévoux and Marcel Lesurque
There was an unprecedented tie in this edition of the Monte Carlo Rally, identical times recorded by the Hotchkiss 686 GS of Jean Trévoux and Marcel Lesurque and the Delahaye 135 M of Joseph Paul and Marcel Contet. The lack of contingency planning frustrated us, although surely it didn't trouble the French. 
Weather conditions were milder than they had been for the past 20 years on all of the runs to Monaco (which started in Estonia, Scotland, Norway, Sweden and Greece), making the route "abnormally easy", "much to the organisers' chagrin", but still crews faced "hardships intolerable to ordinary mortals". 
Naturally, we chose to start at John O'Groats. It was all fine until the 4000ft Rodez climb, which despite lacking an ice coat still took a heavy toll, as "hairpin followed hairpin with such regularity as almost to make a driver crazy". 
The toughest route, though, was the Athens one, due to thick mud. Those who did reach Monaco had to next do a fast manoeuvring test – easy enough but not for the several who seemed to suffer stage fright. 
Maybe some were still suffering from the illness going around. It's incredible that, after the third and final test of an unfamiliar hillclimb, Trévoux had managed to rank top while suffering from influenza.
https://www.autocar.co.uk/car-news/from-...e-day-1939