02-07-2023, 07:40 PM
From the motorsport archive: on this day in 1954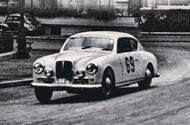 Despite a protest against Louis Chiron's Lancia, he drove it to victory
Local legend wins the (largely ice-free) Monte Carlo Rally for Lancia
In the 1954 edition of the Monte Carlo Rally, the weather did its utmost to spoil the spectacle by being "unbelievably good". 
All the routes bar the one starting in Athens were a breeze. The roads stayed dry and largely free of ice; northern France failed to muster its usual fog; "the Le Puy-Valence section, so devastating a couple of years ago, was merely fast but cautious going round the thousand and one corners of the mountain valleys"; and "the last section through the Maritime Alps was unprecedentedly free from snow, and regularity averages threatened only by worn ice on shaded bends". 
Nevertheless, the Monte remained a "magnificent 2000-mile winter journey". Indeed, the worst aspect was not the relative ease of the main contest but the new speed tests held after, which risked unduly affecting the result. 
We were delighted, though, that the winner was the "irrepressible Louis Chiron, a man with that kind of vitality that doesn't lend itself to the conservative method of travel laid down by a stopwatch-conscious navigator". At 54, the grand prix legend at last realised his dream to win his hometown's famous rally. 
Much to his relief, a protest against his Lancia Aurelia GT's eligibility proved unsuccessful.
https://www.autocar.co.uk/car-news/from-...e-day-1954