05-04-2023, 03:23 PM
From the motorsport archive: on this day in 1968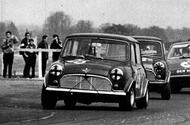 Drivers had several near misses trying to navigate the tricky Club corner
The dramatic, competitive heats of the first Formula 2 race at Thruxton
We were pleased to report that the British Automobile Racing Club (BARC) had found a suitable new home for its traditional Easter Monday meeting, that being Thruxton (where it's still based) after Goodwood was closed on safety grounds. First up were the Formula 2 heats. 
The first was quite dramatic, as the drivers (including Jackie Oliver, Henri Pescarolo, Guy Ligier and future FIA president Max Mosley) had several near misses as they tried to work out the line for tricky Club corner. 
The second was dominated by future Formula 1 champion Jochen Rindt, taking 0.5sec a lap out of such talents as Piers Courage, Brian Redman, Derek Bell and Jean-Pierre Beltoise – and again that right-left-right was trouble. Rindt started the 54-lap final poorly but soon got past Beltoise and Courage. 
The top four split from the pack, Bell impressing the most with his enthusiasm and his control when that got the better of him. Rindt almost threw away victory with a trip into a ditch at Club but managed to block the grass-clipping Beltoise. Group 5 saloons followed. 
The disparate natures of the Mini Cooper, Porsche 911, Ford Falcon and Lotus Cortina served up thrills, the stars including Vic Elford and winner Brian Muir. Finally there were the little Formula Vee cars. Gerold Pankl won ahead of future Red Bull supremo Helmut Marko, while Jenny Nadin held her own… until Club struck again.
https://www.autocar.co.uk/car-news/motor...e-day-1968