08-08-2023, 08:59 PM
From the motorsport archive: on this day in 1999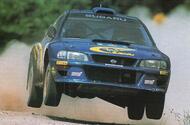 Burns piloted his Subaru Impreza to victory a full minute ahead of Toyota's Carlos Sainz
Colin McRae admits Brit Richard Burns is a threat to his position as a top rally driver
Rally legend Colin McRae finally admitted fellow Brit Richard Burns was a threat to his position as the nation's best rally driver, following Burns' recent Acropolis Rally win. 
Burns piloted his Subaru Impreza to victory a full minute ahead of Toyota's Carlos Sainz, while McRae retired his Ford Focus with gearbox trouble. 
Welcoming the challenge, McRae said in our 28 July issue: "I want to be known as Britain's number one, the biggest or fastest Brit. But Richard has been driving very well this year and the fact that we are fighting for the same thing [the world title] adds credibility to being fastest Brit. It's no good not having to fight." 
Neither driver ended up winning the 1999 drivers' championship. That went to Mitsubishi's Tommi Mäkinen, whose New Zealand Rally win in July was one of four victories for the Finn in that year's campaign. 
As for the battle with McRae to be top Brit, Burns said: "It's not just Colin – I want to beat everyone this year. Winning in Greece and coming second in Argentina has shown people I'm not just here to make up the numbers" – a point he reinforced later in the year by victories on Rally Australia and Rally of Great Britain. 
That run of late-season form secured Burns second in the drivers' title, with McRae sixth. Burns was runner-up again in 2000 but he finally won the crown in 2001, when it was 1995 champion McRae's turn to be runner-up.
The Autocar Archive, documenting automotive history from 1895 to the present day, is available to readers via digital subscription. If you are an institution, subscribe here.
https://www.autocar.co.uk/car-news/from-...e-day-1999