01-24-2023, 10:01 AM
Future pure-electric Audi RS models to have an "amazing" future
R8 GT RWD has ended its combustion-powered supercar lineage after 16 years
Exclusive interview: Boss of Audi Sport on the role of combustion, the R8's successor and Formula 1
Sebastian Grams, managing director of Audi Sport, is hopeful that the electrified future will "be no less amazing" than the Audi RS models of today. 
Grams has been head of Audi Sport for nearly two years, taking on his role at a crucial time as the high performance brand starts to build on the success of the Audi RS E-Tron GT. 
Autocar spoke to Grams at the launch of the last R8, the GT RWD, about learning from current high performance EVs and what the F1 deal means for Audi.
Does combustion still have a role to play for Audi Sport, especially with regard to run-out specials like the Audi R8 GT RWD?
What you see today is pure, pure fuel combustion [in the Audi R8 GT RWD and Audi TT RS Iconic Edition]. But we are on our way to electrification with a clear plan. By 2030, we will have 100% of partially or full electric cars.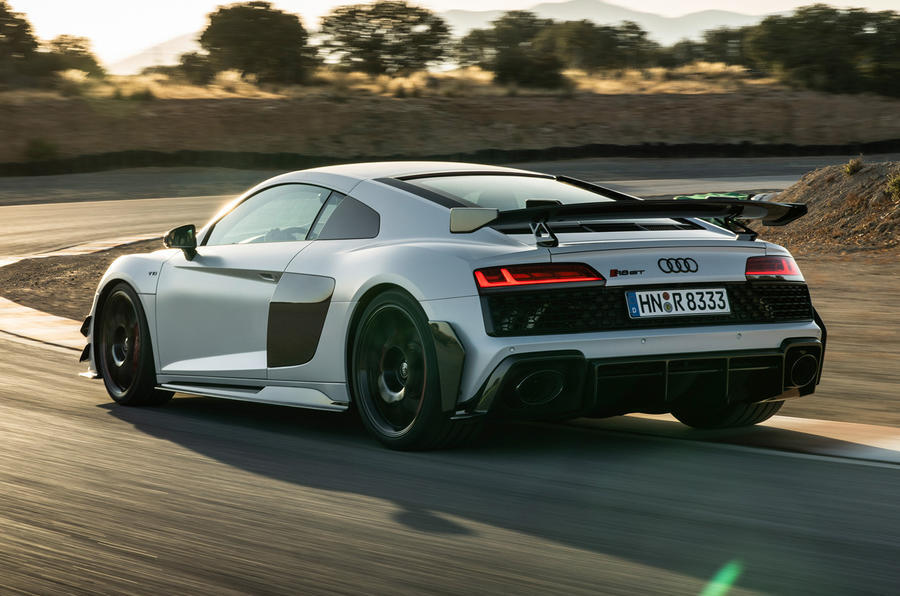 What does this mean? You have a time in between. So in the time between, where we have new models which are coming, combustion engines play a role to make a hybrid powertrain agile and fun. 
But an 'element of electrification' still means a combustion engine…
We are going in the direction of performance plug-in hybrid systems. This is what we are going for and I can tell you, this will be no less amazing than what you're driving today. I personally believe that you will also have more opportunities to design the driving performance to be even cooler for the customer. 
So what kind of modes do you have? You see it here with the drift mode [in the Audi R8 GT] -  you can play with these things that are coming more from the electrical side, and also in combination with the e-motors on board. It will be fun.
Do you think there's a way to do that without adding too much weight?
This is the major question, I guess for all high performance manufacturers. But yes, we can do that. 
It's a trade off so we need to perfectly design that. This is exactly what my head of R&D [Steffen Bamberger] is doing brilliantly with the team: to find the perfect balance out of how much weight you're putting in, where you're putting the weight, how you're playing with these components, batteries, all the the heavy parts in the car and putting them in the right place.
BMW M has gone on record saying they don't feel like their customers are particularly concerned about the lack of noise. But are you confident of keeping your fan base in this move to an EV?
I think we have a perfect example with the RS e-Tron GT. This was our first high performance EV out of Audi Sport and you can already see that people who drove the Audi RS6 before are moving into the electric world [and are] completely open for the electric world. 
We believe that sound plays a major role also in electrification. Therefore, we also decided to bring a specific RS sound to the RS e-Tron GT. This is not like a combustion engine - it's transformed into the electric world but also shows the performance.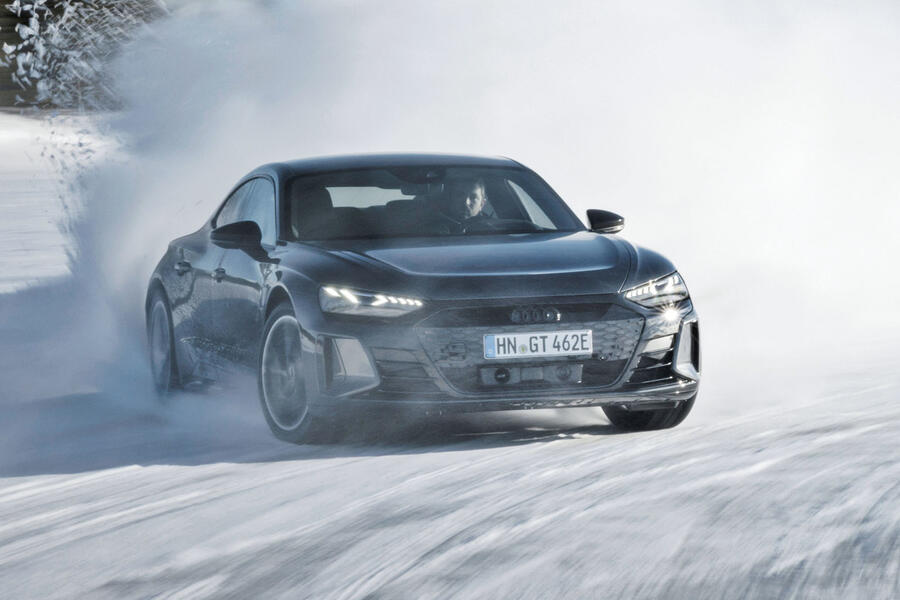 Do you feel like you're there yet?
There's more to come and we need to sharpen that. We are learning. We are happy that we had the chance to position such a car in the market, before our competitors came, to learn and get feedback from the customers.
One thing I want to say is regarding the fan base. Yes, you need to adapt to the customer fan base you already have. But secondly, you need to take into account that you have a target group that is growing into your products.
So in five to 10 years, you have our S customers who are coming out of the digital age and maybe they are not missing the [engine] sound. You need to look at what target group you are aiming for.
What lessons have you learned from the RS e-Tron GT that you're applying to this 2030 target?
Performance is not a problem at all. Secondly, with the Audi E-Tron GT and the RS, we also need to bring a specific differentiating design and we need to make it more sharp. So, edgy, sporty - people love to have these elements in the electric age. 
Also, what kind of digitalisation topics you're bringing into your cars. Today, people are paying attention to hardware stuff, like rims, seats, exterior parts. But what is the mirror to that on the digital side? You need to create value to the customer from that side.
Are you excited about the prospect of RS-branded SUVs?
We have our Audi RS Q3 and Audi RS Q8 which are very well accepted in the market. But we will definitely also bring more SUV models in the RS segment and also in the electric world. We have 16 different models within the RS portfolio and we are trying to offer the perfect product to different customer groups.
But we don't want RS 'inflation'. So not each product should be an RS. 
Will Audi Sport do its own version of the SSP platform, like Porsche is rumoured to be doing?
What I can say is, we are trying to use the synergies in the [Volkswagen] Group. We are trying to use the same platforms so we are not developing our own platform for Audi Sport. We try to make it perfectly aligned with our mother, with Audi. And then we try to bring all the requirements into the platform to have the perfect baseline to make an RS model.
Does that make a successor to the R8 more difficult?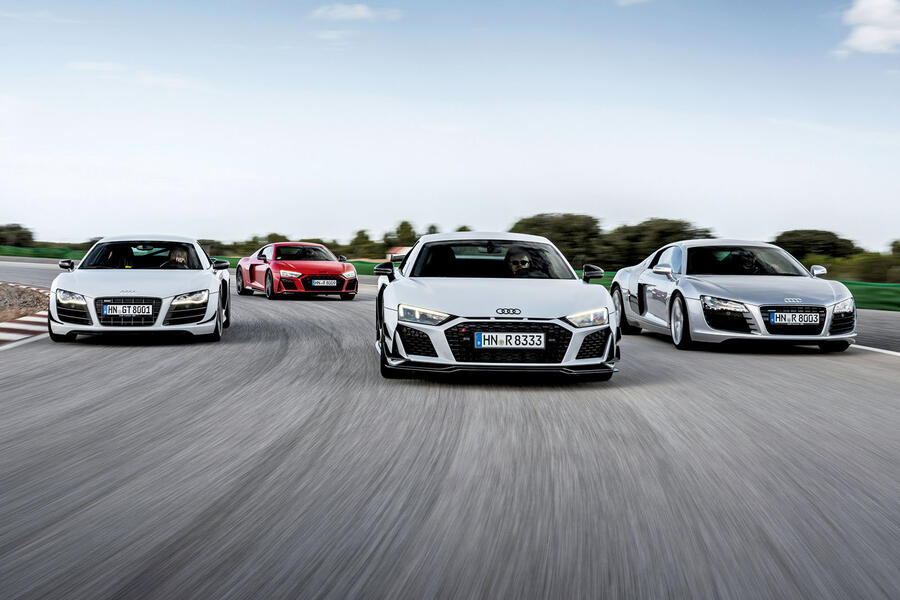 Our biggest wish is to have a successor of the R8. Christmas is coming, maybe I can have a wish like everyone. If you're asking if we need to do it, it depends on other things inside the group. We cannot decide these things alone. Therefore we have a board of management in Audi AG and we have a lot of tasks to fulfil in different fields. We are looking for different kinds of concepts. It needs to fit our strategy in the right direction of electrification.
How far advanced are plans for an electric TT?
I cannot comment. Today, the Audi TT is an icon. And what we want to show with the Iconic Edition is, let's say, the ultimate TT you can get. And what the future brings depends exactly on what you asked before, on the platform strategy of the future. We, as Audi Sport, always fight for perfect, high performance products in the different segments. Let's see what the future brings.
Now that Audi is committed to Formula One, does that mean budgets will be tighter for road cars?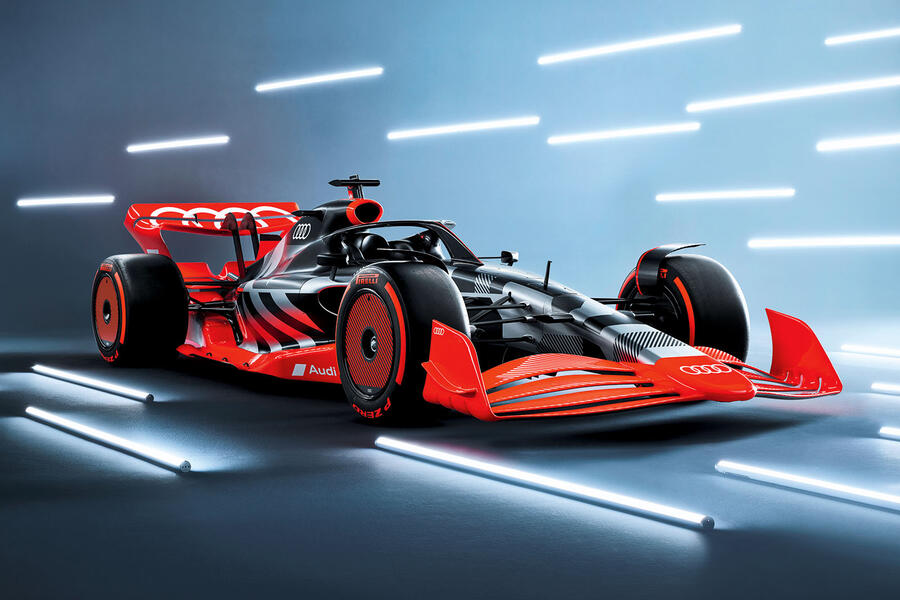 Not at all. First of all, the regulations are changing for Formula One. So you have a clear cost cap and the cost cap is giving every competitor a limit. This was important for us, as you don't want to burn endless amounts of money. Secondly, for us, our [existing] customers are really important. But with Formula One, we want to make the brand even more visible around the world. And therefore we believe, as Audi, that Formula One is exactly the right racing series
https://www.autocar.co.uk/car-news/new-c...ing-future