02-20-2023, 12:46 AM
General Motors's ambitious EV plans cause battery supply wobble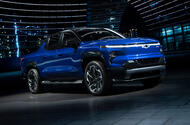 GM aims to produce 400,000 EVs in North America by Q3 2024
GM's battery partner LG Energy Solutions bows out of new battery factory over rapid timeline concerns
Ultium Cells LLC, the joint venture between General Motors (GM) and LG Energy Solution (LGES) to build proprietary battery cells and all-electric powertrains, has scrapped plans to build its fourth battery cell making facility.
The original three EV battery cell factories are either in production now or have broken ground. Ultium Cells in Warren, Ohio, is in operation, ramping up production now. Ultium Cells in Spring Hill, Tennessee, will go online later this year, after receiving additional funding to increase overall plant capacity to 50GWh. Ultium Cells in Lansing, Michigan, has broken ground and is moving towards an SOP in Q4 2024. The fourth factory was thought to be slated for New Carlisle, Indiana, although no formal announcement was ever made.
While the joint venture continues with the three existing plants, a number of separate issues culminated in the decision not to build the fourth plant.
The supply of battery cells needed for GM to achieve 100% EV output by 2035 underpins much of the tension. GM wants to ramp up EV volume much faster than does its LGES partner. GM's interim goal of producing 400,000 EVs in North America by Q3 2024 is achievable if the new Ultium Cells Spring Hill facility joins Ultium Cells Warren in producing cells.
However, the one million EV production goal for 2025 would need Ultium Cells Lansing to join the effort by late 2024. And GM's rapid rise in volume demands a similar ramp-up in battery cell output from all three plants. That's much faster than LGES is comfortable providing, given that cell production ramp-up is dependent on successfully managing electrochemical processes and reactions at scale. Securing the fourth plant and bringing it online quickly ran into trouble when LGES didn't commit to GM's timeline.
This story is an extract from the February 2023 issue of AutoForecast Solutions' monthly report. Click here to download the full report, or to catch up on previous months.
But the first disagreement can be traced to the recall of all 143,000 Chevrolet Bolt EVs, due to a total of 16 confirmed battery fires. The causes of those were eventually traced to folded separators or torn anodes in the cells. Parent company LG Chem shouldered US$1.9 billion of the US$2 billion cost to replace all of the battery packs in new and previously sold vehicles.
The United Auto Workers effort to organise the Ultium Cells plant in Warren, Ohio, was another disagreement. GM wanted to use an expedited "card check" process to determine whether half of the workers wished to organise. With one more board member than GM, the LGES contingency prevailed and went with the more precise and contentious election process. The plant workforce voted to unionise this past December.
In spite of this halt in growth with its LGES partner, GM recommitted to building a fourth battery cell making facility to achieve its EV volume goals. GM did say it was speaking with other potential partners with which it would build the fourth cell production facility, although it declined to name any of them. If GM continues to use the pouch form factor already found in the current generation of Ultium battery packs, then AFS forecasts the possibility of SK On becoming the new partner in the fourth factory. If GM decides to take the opportunity of the break in the Ultium partnership to explore using a different form factor, then the number of companies potentially involved in discussions with GM rises. GM has not announced a timeline for a decision.
Conrad Layson
https://www.autocar.co.uk/car-news/busin...ery-supply