07-21-2023, 10:19 PM
Goodwood Festival of Speed Sunday will go ahead after Saturday cancelled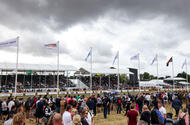 Goodwood Festival of Speed's Sunday final day is still expected to go ahead
Organisers forced to cancel Saturday due to 50mph-plus wind forecast - but have confirmed the final day will go ahead
Sunday's final day of the Goodwood Festival of Speed will go ahead, event organisers have confirmed. It follows the decision not to open on Saturday due to a weather warning for high winds, the first time in the event's 30-year history that it had been cancelled.
In a statement, Festival of Speed organisers said that "the event is going ahead as planned" – but reiterated that spectators should only attend if they have a Sunday ticket. The event is fully sold out for Sunday, and Saturday ticketholders will not be allowed entry.
Goodwood Festival of Speed 2023: show report, gallery and all the new car reveals
The forecast for Sunday is currently for sunny intervals with a slight chance of rain, along with a 'fresh breeze'. 
Why the Festival was cancelled on Saturday
Ticketholders, manufacturers and exhibitors were officially informed by festival organisers late on Friday evening that the decision had been made to cancel Saturday's event. That came in response to a Met Office weather warning for high winds, with 50mph gusts expected. The Festival of Speed site features several wooded areas, and multiple temporary structures.
A statement on the Festival of Speed website read: "It is with deep regret that we have taken the decision that the Goodwood Festival of Speed will not go ahead [today] (Saturday 15 July 2023). After consulting meteorologists, health and safety experts and other key stakeholders, we have taken the decision to close the event site due to a severe wind warning in the Goodwood area.
"On-site safety is our highest priority and the forecasted high winds will pose a serious risk to various temporary structures across the site. We politely ask that you do not travel to Goodwood or attempt to access the site.
"This decision has not been made lightly and His Grace, The Duke of Richmond, along with the whole Festival of Speed team, are deeply saddened that we will not run the event on Saturday for the first time in its 30 year history."
Exhibitors were asked to secure their stands ahead of a site shutdown from 11am. Festivalgoers staying at the campsite were allowed to stay, but were advised to take heavy caution in the conditions. 
Organisers expected the winds to have eased by the evening, and the annual Goodwood Ball – this year celebrating the festival's 30th anniversary – was run as planned. 
Saturday ticketholders will be offered a refund in the coming days. 
Conditions were poor at the Sussex event on Friday, with the planned Red Arrows display cancelled at short notice and monsoon-like rain pelting the circuit for most of the afternoon. This resulted in some delays for drivers leaving the event car parks.
https://www.autocar.co.uk/car-news/motor...head-after