03-28-2022, 04:36 PM
Government urged to 'get a grip' on illegal private e-scooter usage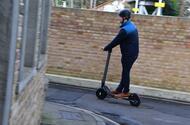 There were 15 deaths involving the private e-scooters in 2021, according to road safety group
A leading road safety group has called on the UK government to 'get a grip' and take immediate action to cut down the on the illegal use of private e-scooters on public roads.
The Parliamentary Advisory Council for Transport Safety (PACTS), an independent charity that advises Members of Parliament, has made the call in a newly published report on the safety of private e-scooters in the UK.
At present, while the sale of private e-scooters is legal in the UK, they can only be used on private land and it is illegal to use them on public roads. The only e-scooters that can be ridden on public roads in the UK are those used in government-approved rental trial schemes. Despite that, there are estimated to be more than a million private e-scooters currently in the UK.
Are e-scooters legal in the UK? 
The Transport Select Committee has recommended privatising private e-scooter usage, although it will be up to the Department for Transport to put forward legislation. It has hinted that it will create a new vehicle class for e-scooters. PACTS has cautioned that any new e-scooter regulations should be based on good safety evidence.
According to research from PACTS, there have been 15 deaths involving e-scooters in the UK, including 11 in 2021. PACTS says that all of those deaths were in incidents that involved the illegal use of private e-scooters.
The data also shows that 20% of e-scooter accidents caused injury to another road user – with 75% of those injuries occurring to pedestrians. In total, 38% of people injured in an e-scooter accident – the rider, in most cases – suffered serious injuries.
Notably, nearly 70% of falls from an e-scooter did not involve colliding with another vehicle or object, which PACTS says highlights issues with the instability of e-scooter design.
PACTS executive director David Davies said: "e-scooters are a controversial issue and risks to riders and pedestrians are increasingly apparent. The Government should act now to curb dangerous and illegal use.
"Even if the Government decides on the way forward soon, legislation will not take effect until sometime next year. They should take this opportunity to gather evidence and consult widely – something which should have happened before the rental trials started but was curtailed by the pandemic."
In the report, PACTS says that rental e-scooters and their usage differs "in a number of significant respects" from private machines, but said that it is not feasible to implement some of the sophisticated safety technology employed by rental firms on private e-scooters.
As part of the report, PACTS has issued a series of recommendations for the safe construction and use of private e-scooters.
These include limiting top speed to 12.5mph with a maximum power output of 250W – and making it a criminal offence to tamper with e-scooters to increase the power.
IT has called for a minimum wheel sizes of 12 inches at the front and 10 inches at the rear, for all scooters to feature independent front and rear brakes, and for both lights and an audible warning system to be mandatory.
In terms of e-scooter usage, PACTS wants helmet usage to be made mandatory, a minimum age of 16-years-old, riding on footpaths and pavements to be prohibited. It also wants the carrying of a passenger to be banned, and for drink driving, dangerous riding and mobile phone use to be prohibited.
Many of those recommendations have already been adopted by e-scooter rental fleet operators. Some rental scooter operators also use geofencing to limit top speed in certain areas and prevent e-scooter usage in certain areas. Under the current rules, rental e-scooters cannot be used on pavements, and several firms are working on technology that will prevent pavement riding.
READ MORE
Subscribe to the Move Electric newsletter
e-CARS
New Volkswagen ID Buzz: everything you need to know
How efficient are electric cars?
e-BIKES
Ducati expands e-bike range with first racing machine
e-MOTORBIKES
New Yamaha Neo is Europe-bound '50cc equivalent' electric moped
Electric Motion Epure Race e-motorbike review
e-SCOOTERS
Eskuta KS-450 e-scooter review
Taito unveils innovative new three-wheeled electric scooter
e-WORLD
Electric surfboard firm Awake aims to make waves with first e-foil
Volta Zero electric truck can 'dramatically improve' inner-city road safety
https://www.autocar.co.uk/car-news/move-...oter-usage