06-23-2023, 08:36 PM
Grassi 044S launched as 640bhp tribute to Lancia Delta S4
The Grassi 044S has a kerb weight of 1200kg
Italian start-up's new hot hatch, inspired by 1980s rally car, dispatches 0-62mph sprint in just 2.9sec
Italian start-up Grassi Scuderia Milanese has revealed its tribute to the Lancia Delta S4 at the Monza motor show.
The Grassi 044S is powered by a 3.0-litre twin-turbocharged four-cylinder engine mounted over the rear axle, capable of sending 640bhp through all four wheels.
Weighing 1200kg (or 1100kg without fuel and fluids), the 044S is claimed to reach 62mph from a standstill in 2.9sec.
This time – on a par with that of the Ferrari 296 GTB – is likely to be for an 044S equipped with the sequential six-speed gearbox, rather than the H-pattern manual also on offer.
To maximise traction, the 044S features permanent four-wheel drive, with three differentials splitting both laterally and longitudinally.
It wears 285mm-wide 19in tyres at the front, while the rear end receives broader, 305mm-wide tyres to reduce oversteer.
Braking is provided by six-pot vented discs at the front and four-pot units at the rear.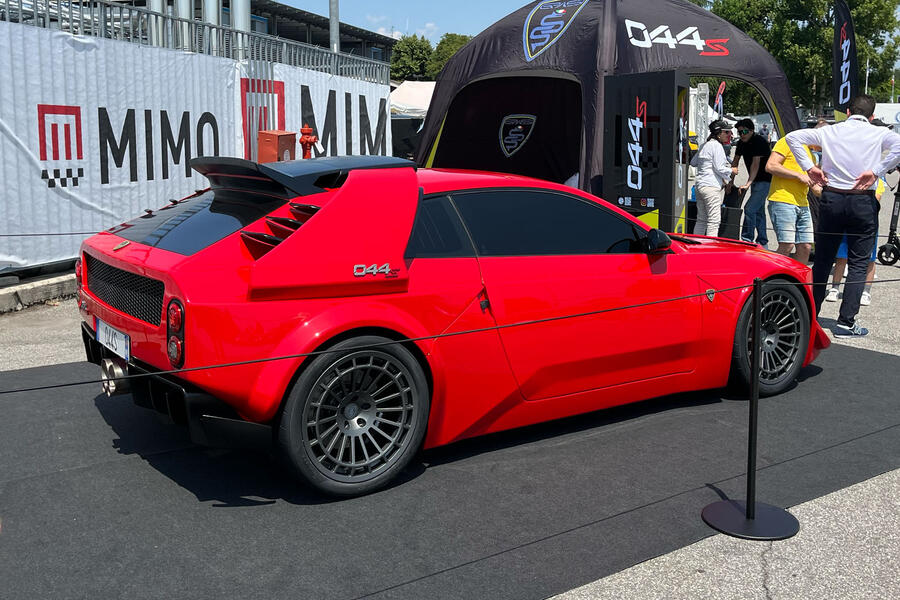 The Grassi was penned by former Alfa Romeo designer Giuseppe Armano, although it takes clear inspiration from the Delta S4 – itself based on Giorgetto Giugario's famed Lancia supermini.
Armano prioritised the 044S's aerodynamic set-up, according to Grassi, with the goal of improving its stability and fuel efficiency at high speeds.
Grassi has yet to confirm pricing or a delivery schedule for the 044S, but only 44 examples will be built – hence the name.
It's also an apparent reference to the Lancia 037 that preceded the Delta S4 in the Italian firm's Group B rally campaign. That became the last rear-wheel-drive car to win the World Rally Championship's constructor's title in 1983.
That model was recently reinvented as the Kimera Evo37, a bespoke supercar loosely based on the Lancia Beta Montecarlo (as was the original 037) and limited to 37 units.
The Group B era has been a source of inspiration for many upstart boutique manufacturers in recent years.
In 2021, German firm E-Legend revealed the EL1, an 805bhp electric car inspired by the Audi Quattro S1. 
A year later, tuning outfit Marc Philipp Gemballa revealed the Marsien, a Porsche 911-based off-roader inspired by the Porsche 959 supercar that was developed for Group B but arrived too late to compete in the ill-fated class.
Industrial giant Renault has also tapped into its history in the WRC, with the Renault 5 concept and its hot-hatch sibling, the Alpine A290.  
https://www.autocar.co.uk/car-news/new-c...a-delta-s4