01-10-2023, 09:42 AM
Greatest road tests ever: Citroen 2CV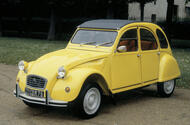 The 2CV weighed 601kg and matched Mini's rival 850 for top speed
Citroen's saviour for Britain's energy crisis was a well-ridden companion, but refinement suffered
Tested 8.3.75
With the energy crisis biting, Citroën grasped the opportunity to import its idiosyncratic bargain-basement fuel-sipper to the UK for the first time. 
The 2CV had barely changed in 30 years, but although it was unusual for being taller than it was wide, its wheelbase was actually the same as that of a modern Ford Escort. 
Despite its tiny twin-pot and clumsy shape, the 601kg 2CV nearly matched the Mini 850 for top speed. Open-road progress was often governed by gradient, so momentum was key, but the torque curve was usefully flat. The four-speed transmission had an unusual layout but was precise in its action. Fuel economy was excellent when not pushing on. 
Steering was low geared and heavy, but that contributed to the car's impressive stability, which was allied to strong grip. Long suspension travel and cunning damping blessed the 'deux chevaux' with a ride that impressed on the road and astonished across a ploughed field, although roll was pronounced in quicker corners. 
Poor forward visibility, a messy dash layout and upright seating blighted the interior, but cabin and boot space were good.
For: Low price, fuel economy, ride, brakes 
Against: Noisy, limited visibility, poor seating
Price £994 Engine 2 cyls horizontally opposed, 602cc, petrol Power 28bhp at 6750rpm Torque 31lb ft at 3500rpm 0-60mph 32.7sec 0-100mph na Standing-quarter mile 23.6sec at 55mph Top-speed 69mph Economy 45.9mpg
What happened next?
The five-millionth 2CV was built a year later, and the model stayed in production until 1990. Several special editions were offered, one of the most popular being the two-tone Charleston. There are around 3000 2CVs on our roads today and nearly 4000 SORN. A project car is typically about £4000 and a fair choice of MOTed 2CVs starts at around £6000, with the best examples pushing beyond £10,000.
https://www.autocar.co.uk/car-news/from-...itroen-2cv