02-03-2023, 10:00 AM
Greatest road tests ever: Mitsubishi Starion 2.6 Turbo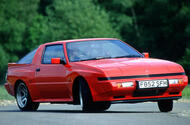 The 2.6-litre turbo used in the Starion was taken from the Shogun 4x4
Impressive in-gear performance from a hugely responsive engine, but interior and equipment disappointed
Tested 28.6.89 
Seven years after the Starion coupé's launch, Mitsubishi took the unusual step of replacing its 2.0-litre turbo with an engine pinched from a 4x4. 
The updated Starion's engine was derived from the Mitsubishi Shogun's 2.6-litre powerplant and used an iron block and a single-cam alloy head with three valves per cylinder. A 24bhp drop compared with the 2.0-litre car meant poorer acceleration from rest and a lower maximum speed, but the in-gear performance improved massively – 30-50mph in fifth was managed in 8.4sec compared with a previous best of 14.0sec – while responsiveness was among the best we'd seen from a turbo engine.
But the new 2.6 was also coarse and ran out of puff well before the redline. The five-speed manual gearbox was cumbersome and notchy, and although the steering was quick and accurate, it lacked feel. But the deft suspension yielded excellent dry-weather grip, the ride was on the right side of firm and turn-in was super-sharp. 
The cabin was dated, gloomy and cramped, and the seats lacked adjustability, although the pedals were ideally set for heel-and-toeing. Equipment was unimpressive. 
For: Handling, low- and mid-range performance 
Against: Slower than before, cramped cabin
Factfile
Price £16,969 Engine 4 cyls in line, 2555cc, turbo, petrol Power 153bhp at 5000rpm Torque 209lb ft at 2500rpm 0-60mph 7.8sec 0-100mph 22.9sec Standing quarter mile 15.9sec, 86mph Top speed 129mph Economy 18.8mpg
What happened next?
Fewer than 2000 Starions were produced in 1989, which was to be the car's final year on sale. The 2.6 became popular with tuners, who removed the powersapping catalytic converter and upgraded the turbo. Its replacement, the 3000GT, didn't go on sale in the UK until 1992. Its 3.0-litre V6 was a good for 282bhp and 0-60mph in 5.5sec.
https://www.autocar.co.uk/car-news/from-...n-26-turbo