02-23-2023, 01:24 AM
Greatest road tests ever: Subaru Impreza P1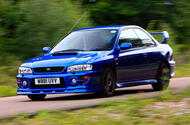 Subaru hired Prodrive to build the P1 for the UK market
Prodrive-built P1 was specific to the UK and provided an iconic blend of performance and compliancy
Tested 5.4.00 
In response to waves of grey import WRX and WRX STIs shipped in from Japan, Subaru appointed Prodrive to build a special Impreza just for the UK. 
A new catalytic converter and ECU helped to retain the Subaru Impreza WRX's power and torque outputs while reducing noise and improving economy, and factory-applied reinforcements to the two-door body shell allowed the P1 to meet European safety standards. 
Prodrive softened the ride by changing the front springs and all four dampers, and new 17in alloys were introduced. Styling tweaks by McLaren F1 designer Peter Stevens added aggression and reduced drag. 
Performance was sensational, but not quite up to Mitsubishi Evo VI GSR standards. Boost built quickly between 2000rpm and 3000rpm before the engine screamed towards the 8200rpm limiter. The P1 felt rock-solid at 155mph, too. The gearshift was sweet, but the brakes were fade-prone. 
Ride quality was superb for a car of the P1's abilities, but the steering was slow and understeer was prolific. Comfy Prodrive bucket seats, good ergonomics and generous kit impressed inside, but at this price, the hard plastics did not.
For: Rock-hard looks, performance, ride quality 
Against: Weak brakes, numb steering
Factfile 
Price £31,495 Engine 4 cyls horizontally opposed, 1994cc, turbo, petrol Power 277bhp at 6500rpm Torque 253lb ft at 4000rpm 0-60mph 4.7sec 0-100mph 12.3sec Standing quarter 13.9sec at 105mph Top speed 155mph Economy 19.5mpg
What happened next?
The planned run of 500 cars was doubled to 1000 — all of which were finished in Sonic Blue paint and sold out easily — but only around 200 are still licensed for UK roads. Last year, Prodrive launched the P25, effectively a high-spec road-going restomod of the 1998 two-door Impreza 22B. Just 25 will be made, priced at £552,000 each.
https://www.autocar.co.uk/car-news/from-...impreza-p1