02-08-2023, 12:03 PM
Gulf to partner with Williams F1 team for 2023 season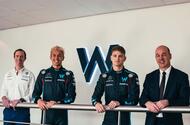 Albon is joined by American rookie Logan Sargeant after his graduation from F2
New FW45 to be revealed on 13 February; driver Alex Albon says team has to "be smart" during races
The Williams Formula 1 team has announced a new partnership with Gulf Oil – one of motorsport's most iconic sponsors.
Gulf logos were revealed on the rear wing and at the top of the nose on a 2022 FW44 at a livery reveal at Williams headquarters in Grove on Monday – although the team has stopped short of adopting the company's familiar powder blue and orange colours made famous on Ford GT40s and Porsche 917s in the 1960s and 1970s.
Gulf has switched to Williams having previously supported McLaren.
The new FW45, which wasn't revealed at the launch, will be shaken down next week ahead of the official F1 pre-season test in Bahrain on 23-25 February.
In the cockpit, Williams will be led once again in 2023 by Anglo-Thai Alex Albon, who is heading into his second season at the team. He will be joined this year by American rookie Logan Sargeant, who graduates to F1 after finishing fourth in Formula 2 last year. Three-time W Series champion Jamie Chadwick remains as test and development driver.
Albon is realistic on Williams' expectations in 2023, following a season in which it finished bottom of the F1 teams' table. But the team showed a marked improvement in form as the year progressed. "I don't think we are going to come out of the blocks firing, but we just need to be smart," he said.
"We did it already last year, I believe. We started 2022 on the back foot and started scoring points midway. We had our favourable tracks, such as Monza and Spa. I'm still looking to optimise every race and the goal is to score points. Podiums hopefully, but we'll see about that.
"We have changed quite a lot of the car in terms of its [design] philosophy and we're trying to change the through-corner area [of the car's performance]. That might take a bit of time to understand and optimise. In terms of technical upgrades, last year we only had one [in the season]. Hopefully we can bring out possibly smaller, more frequent ones. We don't know yet. But let's see how it is in Bahrain and be efficient and effective with our updates."
Sargeant, 22, will only have the Bahrain official test to experience the new car in the metal before the first grand prix of the year at the same Sakhir circuit on 5 March.
"I wouldn't say I'm going in on the back foot," he said. "You just have to take things as they come. Having only [limited] track time means it's absolutely vital to make the most of it. It is what it is and we'll make the most of it."
His focus has been based around gaining as much time on the team's simulator as possible over the off-season.
"In terms of procedures we can go through that side of it – and we've probably done a million starts," he said. "But it's also about learning the steering wheel and memorising everything, really going into depth on that. In terms of actual driving, we're really more developing the model and trying to get the car in the [set-up] window when we get the car on the ground. I feel like I've prepared to the best of my ability."
The team has changed its team principal over the winter. Jost Capito, the former Volkswagen motorsport boss, has stepped down and will be replaced by James Vowles. The former strategy chief for the Mercedes-AMG team will start his new job later this month.
Albon admitted that he will miss Capito, who recruited him to Williams last year. Albon was dropped by Red Bull Racing after a single season in 2020 after falling short of expectations as team-mate to Max Verstappen.
"In terms of timing, it's a little bit tricky," he said of the management change. "This is the peak month for getting ready for this year. I like Jost very much, we had a great relationship and he was obviously the person who brought me back into the sport, so I had a lot of time for him. 
"Obviously James is coming in with his experience with Mercedes and hopefully that can pull things forward and increase the evolution of the car. Let's see if we can make some short-term progress until his garden leave ends. 
"But also long-term it's nice to have that different point of view, coming from a team that has had so much success in the past. You can tell with James he has had a lot of experience in all areas of the car at Mercedes, so we can put that to good use."
The Gulf deal is a multi-year partnership, which also includes sponsorship of Williams' young driver Academy and its esports team.
"Gulf has a proud history in motorsport with some of the most iconic and respected teams, and Williams Racing is no exception," said Gulf Oil International CEO Mike Jones. "Together we share decades of motorsport experience to bring motorsport, F1 and Williams fans closer to the sport they love through our partnership."
https://www.autocar.co.uk/car-news/motor...023-season