05-24-2023, 08:25 PM
Health check: Is China still on track to take over the car world?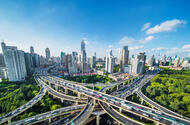 Shanghai is a bustling city which has rapidly changed since the Covid outbreak | Image: Getty Images
Post-Covid, China's car industry has hit its stride and its city streets are rapidly changing
Stepping out onto a street in China is always an assault on the senses: an ever-shifting cornucopia of unfamiliar sights, sounds and smells. Even in a city as relatively international as Shanghai, a 10-minute walk invariably leaves you feeling exhilarated, unclean and slightly unsettled.
So after a three-year break from visiting – a period in which China largely isolated itself from the wider world through its 'zero Covid' policy – you might expect our first experience of a Shanghai street to be particularly intense. And yet, on arrival in the city for this year's Shanghai motor show, the first thing you notice is how surprisingly quiet it is.
Granted, China is still loud: the country retains an ability to develop machines that produce annoying bongs, beeps and jingles that could come from nowhere else on Earth. What we're talking about here is road noise. There are still an awful lot of vehicles on the road but, in the centre of Shanghai at least, the proportion of them running quietly on electric power is, somewhat ironically, impossible to ignore.
It's visible, too, thanks to the green numberplates that denote New Energy Vehicles – EVs and plug-in hybrids capable of zero-emission running. Around 1.2 million EVs were sold in China in 2019, around 4.7% of the market; last year, about 22% of all cars sold – six million or so – were electric, despite the phasing out of direct subsidies in favour of a credit system.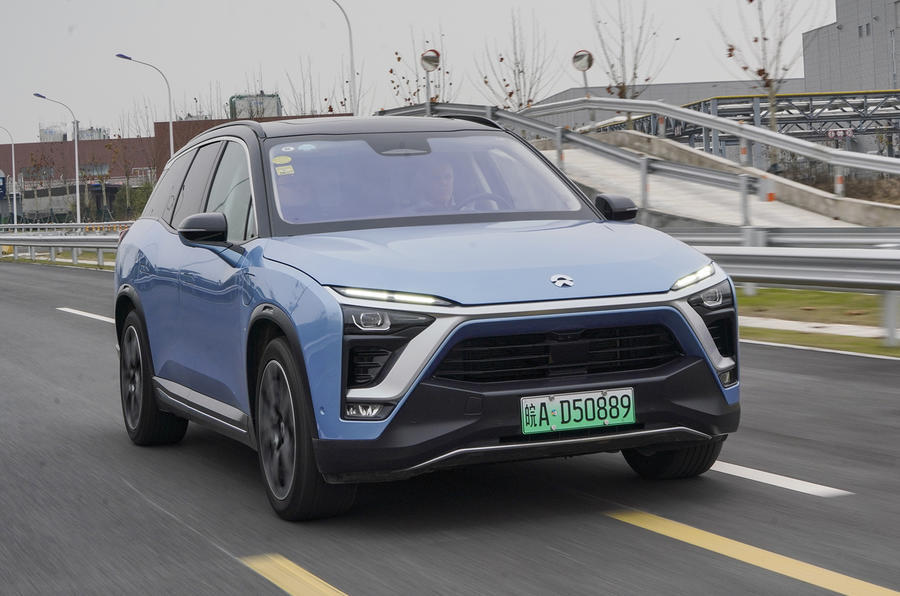 Unsurprisingly, many older vehicles are still on the roads, and as you edge further away from Shanghai's centre on inevitably traffic-snarled elevated highways, so the proportion of green plates starts to dip – but not dramatically so.
That rapid shift is largely down to Chinese government policy and the authoritarian regime's ability to enact those policies without opposition. It instituted an aggressive incentive-led push towards electrification that has something to do with reducing pollution in cities (Shanghai does remain uncomfortably smoggy at times) but more to do with reducing dependence on imported petroleum and trying to boost its automotive industry and exports by jumping ahead in the electrification race.
Of course, there are uncomfortable truths about the environmental impact of how China generates the electricity to power all those EVs and from where it gets the resources for their batteries, along with wider geopolitical issues about human rights and more.
When China introduced its NEV regulations and production incentives, the move sparked a veritable gold rush, with literally hundreds of new EV manufacturers popping up, all chasing investment with bold plans, big hype and odd brand names – along with a few realistic prospects.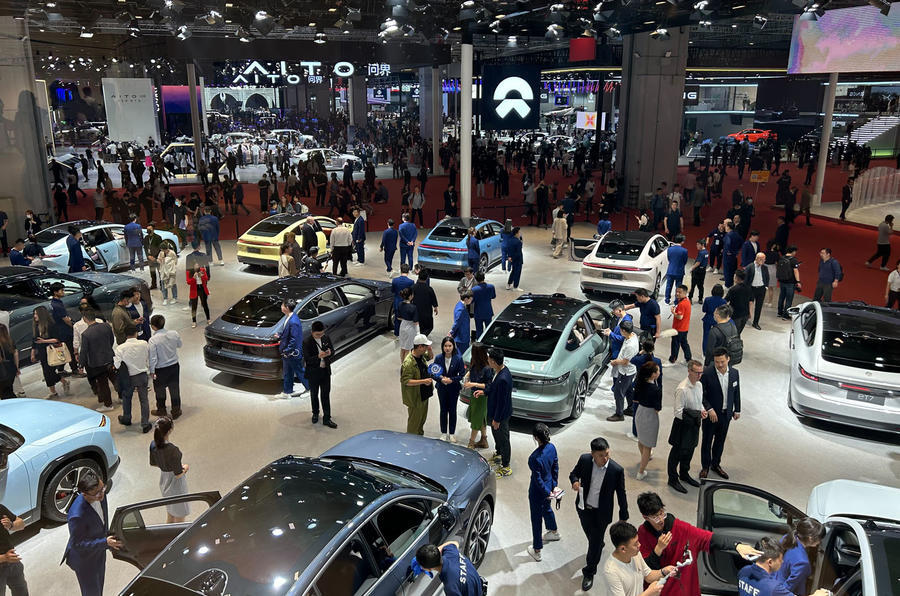 Predictably, most have failed. But a lot remain: this year's Shanghai motor show has attracted more than 1000 exhibitors and more than 100 new car reveals – and the vast bulk of the latter are electric. And yes, a number of those are still chasing investment with bold plans, big hype, odd brand names and few realistic prospects…
The difference is that a growing number of firms are producing truly credible cars, including state-controlled manufacturers such as SAIC, BAIC, FAW and GAC, industry giants such as BYD, Geely and Great Wall, and new start-ups such as Li Auto, Nio and Xpeng.
The American and European firms still have a huge presence at the show, but it really feels like the Chinese car makers took centre stage. The show is held biannually, so the 2021 event was a largely domestic affair in the grip of the pandemic; with the country's tough Covid restrictions finally lifted, the 2023 show felt like it took the opportunity to welcome the world back.
Well, in a sense. During its three years of relative isolation, China has, in many ways, become more insular. If you think now-familiar QR codes had a good pandemic over here, that's nothing. In China, they are a way of life. Virtually all payments are now made using the AliPay or WeChat Pay apps: it's genuinely difficult to buy a coffee in a Starbucks using a credit card. In fact, much of China's online world exists within WeChat, Baidu and other semi-closed-off apps, making it even harder than it already was for outsiders to penetrate.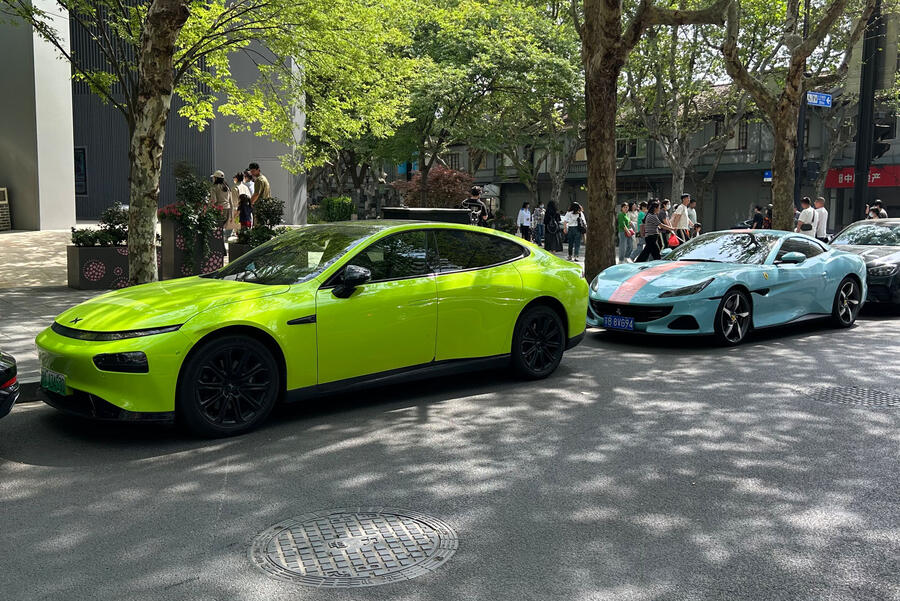 The use of technology and oversight is also notable: it was the first motor show where the press lanyard was replaced by facial recognition tech (seriously – the Chinese could fill a few photo albums with the number of pics they now have of me). But from the automotive industry itself, there was a genuine enthusiasm to see the return of international firms and media en masse. It was a welcome with a clear message, though: look how far we've come.
The time has long passed when the big European and North American firms would dominate the Chinese market, while domestic manufacturers churned out derivative copycat fare. Now, it's the Chinese firms pushing ahead in terms of technology – and plotting international expansion.
"The Chinese market is in a really interesting place," said Mike Johnstone, commercial boss of Lotus, the British brand being revitalised under the ownership of Geely. "The number of EV brands compared with a few years ago seems fewer, but the ones that remain are stronger players within the marketplace.
"They're certainly helping raise the bar in terms of technology on the cars and setting new standards in terms of digital technology within the cockpit."
If anything, judging by the designs of many electric saloons and SUVs, instead of copying Western brands, the Chinese firms have started copying each other: if you lined up a handful of premium Chinese electric SUVs, you'd definitely get some confused – and possibly even a few logos.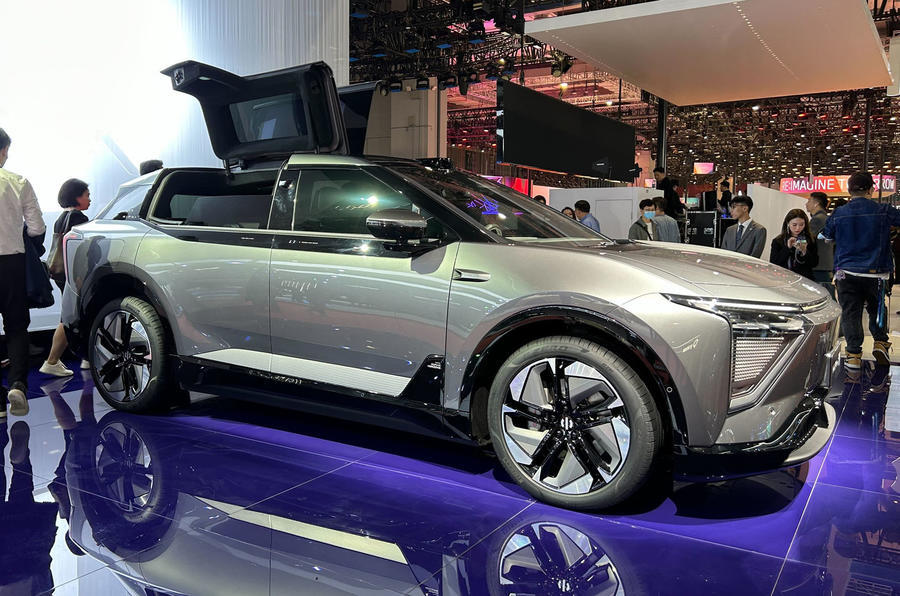 Another notable trend is how the big Chinese firms are developing stables of brands, whether through acquisition or pure expansion. The leading proponent is surely Geely, which owns Volvo, Polestar and Lotus and has created Lynk&Co, Zeekr and several China-only brands including Galaxy. Great Wall has Ora, Tank and Wey; SAIC now owns IM, MG, Roewe and Maxus and recently launched Rising Auto.
Even BYD, China's biggest producer of NEVs and which dominates the list of the country's 10 EV best-sellers, is getting in on the act. It already has a Denza joint venture with Mercedes-Benz, and it has just launched its own premium brand, Yangwang.
It's a trend clearly inspired by the likes of the Volkswagen Group and Stellantis, and it gives some focus to occasionally sprawling line-ups. The challenge, particularly with such a volume of brands launching in such a short space of time, is making sure that each of them actually has something to make it stand out and appeal to customers.
Those brands do have some space, given that China's car market is highly regionalised across a vast country. So while Nio and Xpeng models are increasingly common sights in Shanghai, there are firms such as Li Auto that have focused on range-extender machines that have proven popular in smaller cities.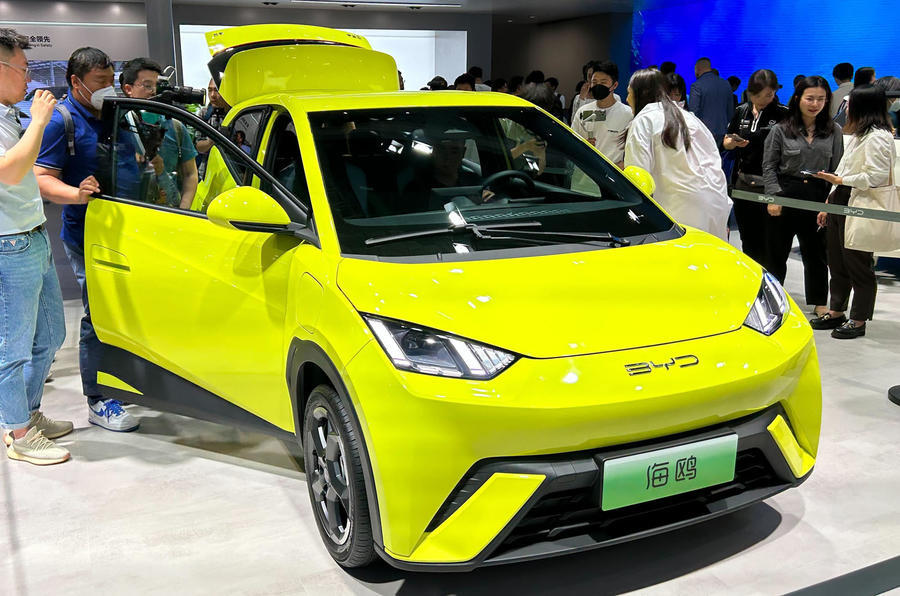 Still, it's not all positive news for the Chinese car industry, and there are challenges in store. China is still feeling the economic ripples of Covid, and increasing tension with the West on a range of issues creates more uncertainty. And the Chinese car market has stalled, with year-on-year sales dropping recently.
There is also a brewing price war, sparked by a string of aggressive cuts from Tesla – which, predictably, isn't at the show. The US firm has invested heavily in China, with a large facility near Shanghai. The Model Y was the third-best-selling EV in the country last year – and, judging by those we are seeing in Shanghai, has sparked a lucrative industry in wrapping them in all manner of garish colours.
In China, Tesla has an EV market share of around 6% – that's strong, but far behind its dominant position in the US and, to a lesser extent, Europe. It may explain why Tesla's China price cuts exceed those it has made elsewhere. That is likely to put pressure on Chinese firms already operating on thin margins, although in truth many Chinese companies make little money on EV sales and they sometimes lose cash.
Still, the industry doesn't seem that fazed. Nio boss William Li said his firm won't engage in a price war, noting that its ET5 saloon already costs 20% more than a Model 3. "We're in the premium segment," he said. "Generally, car firms that start a price war haven't got the result they expected."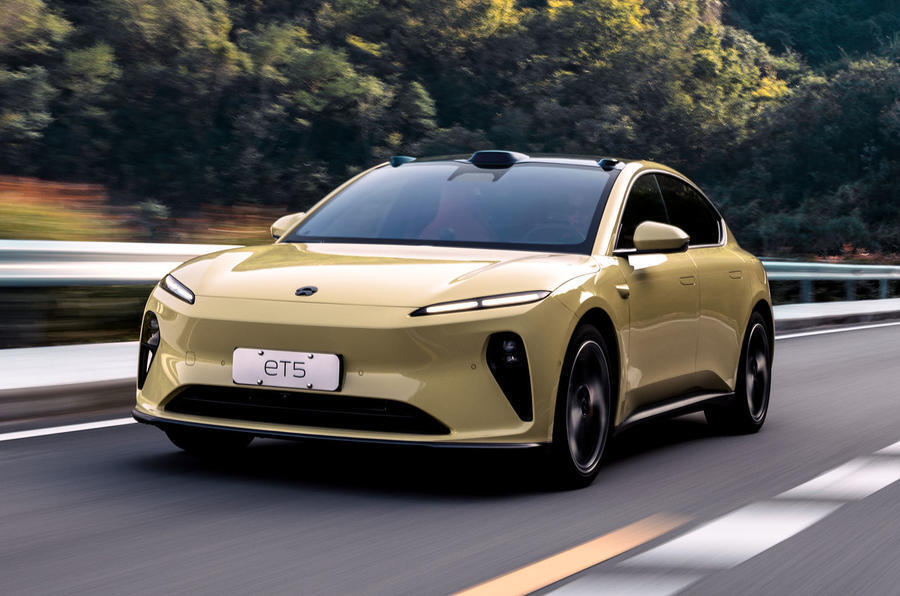 Li also volunteered another reason Tesla might be turning to price cuts in China. "Back in 2018, Tesla's products may [have been] the best in the market," he said. "But as of today, at the same price you can get a better product than a Tesla."
A bold statement, but said with a quiet confidence that reflects China's industry. There's a genuine belief that it is now producing cars that can compete against any other, and that confidence is reflected in the number of firms looking to expand globally.
Even three years ago, the prospect of Chinese brands actually succeeding in international expansion seemed unlikely at best. That's no longer the case, and you can hear why when Shanghai's notably quieter traffic whooshes past, largely under electric power. And it's not just EV tech. Helped again by favourable legislation, China is really pushing in areas such as battery development, semi-autonomous systems and cabin technology (the Chinese really do love a big touchscreen).
Perhaps it shouldn't be a surprise: remember, China didn't have a car industry to speak of until private car ownership was encouraged in the mid-1980s. It's come a long way in less than 40 years – and based on the progress in the past three, the rate of change will only increase from here. 
https://www.autocar.co.uk/car-news/busin...-car-world