11-17-2021, 01:07 PM
Health check: Looking at life after car ownership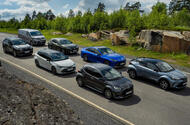 Car makers continue to branch out into mobility services, but is the demand there?
'Fail fast, fail often' is a start-up buzz phrase that could have been invented to describe car makers' ventures into the world of mobility.
Car sharing, car clubs, micromobility, ride-hailing buses, subscriptions: all have been tried by brands over the past few years and, with a few exceptions, most have been a financial failure.
However, the same startup ethos dictates that you learn and move on, so the car industry has taken a different approach. Now all the different elements that fall under the umbrella term 'mobility' are being grouped together to offer a co-ordinated range of services that could reflect the changing way we use our cars.
Seemingly disparate elements such as car-sharing, EV charging subscriptions, used car subscriptions, ridehailing and leasing are coming together under one brand overseen by a single executive. Prominent examples to emerge over the past year or so include Renault's Mobilize, Toyota's Kinto and Stellantis's Free2Move.
For example, Kinto, named after a Japanese cartoon cloud, includes Kinto One (leasing operations), Kinto Flex (car subscriptions), Kinto Ride (ridehailing), Kinto Join (corporate carpooling) and Kinto Go (multimode transport). Not all elements run in all markets, but Toyota launched Kinto Go in Derby as a pilot of its 'mobility as a service' (MAAS) phone app that can be used to link together and pay for connecting journeys on different forms of transport, one of which in the future might be a Toyota-run and developed ride-share or car-share vehicle.
Kinto One also has a UK presence after Toyota rebranded its leasing functions and bought out the UK leasing arm of Inchcape in 2019. The car manufacturers are worried that as buying habits change, they're going to be outflanked by disruptors with more digital or financial savvy. "Once the leasing companies get the customer, frankly we're just a supplier. Kinto is partly defensive," said Toyota's now head of Europe, Matt Harrison, at the launch of Kinto last year. 
Mobilize is also assembling mobility brands that it owns or has a significant stake in, such as Zity, Renault Mobility, Karhoo, iCabbi and Glide.io. "The automotive industry is changing. More and more drivers are choosing not to own their vehicles," said Mobilize CEO Clotilde Delbos in April. Renault aims for Mobilize to generate 20% of group revenues by 2030, the exact same revenue target and date that the Volkswagen Group has set for subscriptions and other mobility offerings.
The Volkswagen Group's latest move into subscriptions is the launch in Germany of the ID 3 and ID 4 electric cars, costing from €499 per month with either a three-month or six-month minimum term. It joins subscription schemes such as Care by Volvo, Hyundai's Mocean and Jaguar Land Rover's Pivotal. Subscription is a fancy word for bundled leasing. Businesses have long used leasing (where the car isn't owned but is handed back after a fixed period), as are private buyers increasingly. Subscriptions go further by bundling elements such as tyres, servicing and sometimes insurance to leave a flat monthly fee.
Car makers have also touted flexible time periods that mean you can sign up for blocks of mere months rather than years in traditional leasing. However, that's not a big attraction, concluded a Boston Consulting Group report this summer. "At this point, providers are offering them primarily for marketing purposes," it said. In fact, BCG added, it was a "myth" that customers wanted month-to-month flexibility.
Also flagged as a myth was that customers wanted to swap cars – a feature of the subscription service that Porsche rolled out in the US. "Both features drive up costs and in turn the price tag," it said. "Swapping, for instance, requires additional deliveries and results in underutilised reserve vehicles."
Subscription schemes have been hit-and-miss so far; those that have since been abandoned include Access by BMW, Book by Cadillac and Mercedes-Benz Collection. Yet BCG predicts that subscriptions could still account for 10% of the market in Europe and the US by 2030, amounting to some five million to six million vehicles.
One problem with the subscription model is that, expressed as a single monthly figure, it looks expensive next to a PCP finance deal. However, it turns out that we consumers aren't very good at totting up how much we spend on motoring: a survey of 6000 car owners in Germany published in Nature magazine last year found that they underestimated the cost of ownership by 50%.
A smart campaign along with a nifty cost calculator app could swing opinion. Revolutions in motoring never come as quickly or as noisily as promised by the early promoters, but the desire for a hassle-free life and a willingness to pay per month could yet make people turn to the likes of Kinto, Mobilize and Free2Move for their travel choices with the same frequency as they engage with a banking app.
Casualties of car sharing
Car sharing has long been fraught with problems, and high-profile casualties include BMW and Daimler. The German duo were pioneers in the free-floating car rental business (otherwise known as car clubs), founding DriveNow and Car2Go back in 2011.
Despite expanding across Europe and the US, making money proved tough. Daimler's struggles co-ordinating with local councils to negotiate the necessary free parking forced it to pull Car2Go out of London and Birmingham soon after launching, while BMW admitted DriveNow was running at a loss. The two agreed in 2018 to merge their car-share units into one entity called ShareNow, but in 2019 the new company pulled out of the US and now restricts its operations to 16 European cities.
Challenges faced by all car-share schemes include maintaining fleets to a decent standard, cleaning them, negotiating floating parking and keeping EVs charged. But the biggest is that it pales in comparison to ownership, according to Steve Young, the managing director of automotive retail consultancy ICDP, who told us: "The whole thing is fundamentally flawed."
It's not even that cheap. The theory is that we use our cars around 4% of the time and therefore could save a fortune by sharing instead. That would work if everyone shared at different times, said Young, but they don't, meaning the car remains mostly underutilised. That in turn means that for the car to be financially viable, the operator needs to charge far more than that 4% share of ownership costs.
Cities might yet force a shift with restricted parking and city-centre access, but the push won't come from the general public.
"The vast majority of people still want to have their own car," said Young. "They're open to leasing and other forms of subscriptions, but they want to be the one with the keys."
Nick Gibbs
https://www.autocar.co.uk/car-news/busin...-ownership