01-11-2023, 04:55 AM
Hennessey Venom F5 Revolution is track-focused 1817bhp racer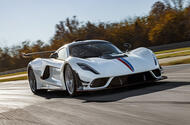 The Revolution is a track-focused variant of the 1817bhp Venom F5
American company's new £2.3 million hypercar targets lap records as the lightest Venom F5 yet
The blistering 1817bhp Hennessey Venom F5, already the world's most powerful combustion production car, has been stripped out to create an even faster, track-focused variant.
Touted as "an apex predator on a racing circuit", the Venom F5 Revolution arrives as a $2.7 million (£2.3m) limited-run hypercar gunning for lap records – and looking to break them, just like its road-going siblings.
The 'Fury' 6.6-litre V8 returns – although now with reworked cooling – mid-mounted in the same carbonfibre tub. Power is sent to the rear wheels using the same seven-speed automatic gearbox, but this has now been calibrated for competitive use.
Hennessey also focused on stripping out the track-honed model to make it the lightest Venom F5 variant yet. It tips the scales below its 1360kg sibling, although the firm wouldn't confirm by how much or what was changed to make it lighter.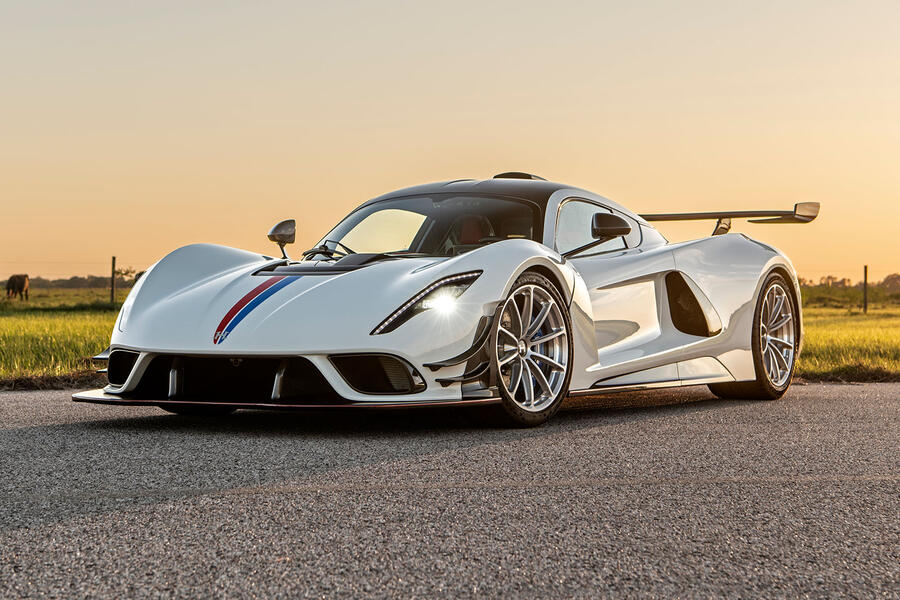 As a result, the American firm, notable for its speed-centric approach to car design, promises "phenomenal acceleration". The Revolution will most likely go beyond the road car's 2.6sec 0-62mph time and could even push further than its claimed 300mph top speed.
Straight-line speed isn't the only target with the Revolution, however, with new aerodynamics fitted to send the car around tracks as quickly as possible. This is most visible in the adjustable full-width carbonfibre rear wing, which can deliver more than 363kg of downforce at 186mph and more than 635kg at 249mph. This is joined by a large new carbonfibre front splitter and the same rear diffuser as found on the standard car.
Double-wishbone suspension returns but now with more aggressive alignment settings and adjustable dampers.
Stopping power comes in the form of carbon-ceramic brakes – fitted as standard – that feature multi-piston callipers.
Company founder John Hennessey described the car as offering "the nimbleness of a fighter jet with a powerplant like a Saturn V rocket".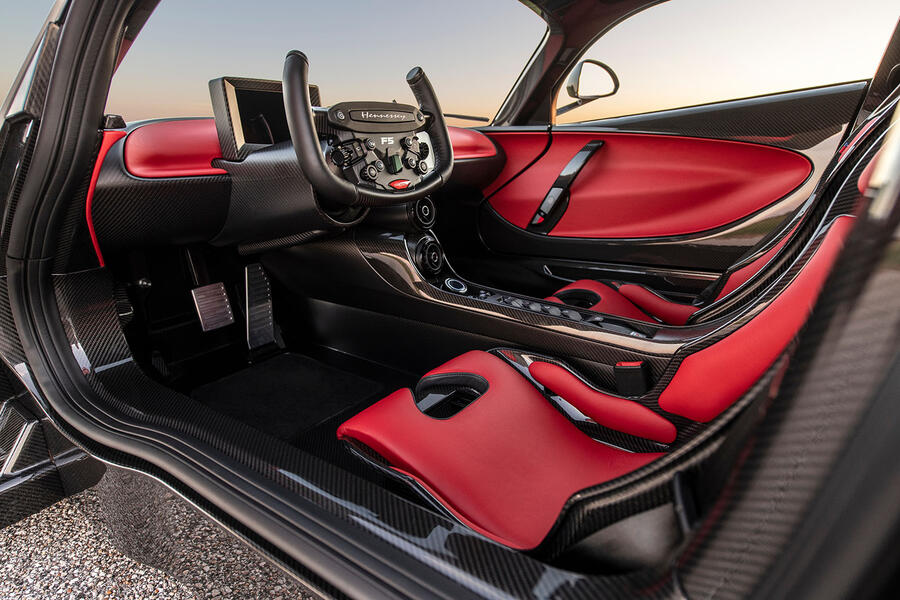 Inside, the same luxurious interior can be found, now with the addition of a real-time digital track telemetry system capable of measuring data such as lap times, splits, and cornering g-forces.
Almost all of the 24 examples of the Revolution have been sold. It joins the Venom F5 coupé and Venom F5 Roadster as part of a three-car line-up.
https://www.autocar.co.uk/car-news/new-c...7bhp-racer