08-16-2022, 12:50 PM
Hidden gems: A peak behind the scenes at Beaulieu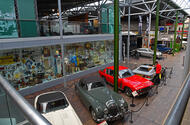 The National Motor Museum is home to more than 280 cars
There are plenty more gems hidden away at the Hampshire estate than are on show
Like an iceberg, the National Motor Museum at Beaulieu is much bigger than it appears.
Beyond the generously stocked exhibition halls is the less familiar National Motor Museum Trust Collections Centre, a repository of valuable motoring objects, books, films and photos designated by Arts Council England as of outstanding national and international significance. Elsewhere, tucked away behind the main museum, is the workshop where the cars are maintained.
To fully appreciate the importance of the National Motor Museum to the nation, both are worth visiting.
That's easy at the Collections Centre, which hosts group and individual visits by appointment. Visits to the workshop are harder to arrange, but if you have a doddery old motor, they will happily fix it (hourly rates are extremely competitive and the mechanics are genuine experts) while you sneak admiring glances at the oily lathes, enamelling oven and sundry classics in mid-fettle.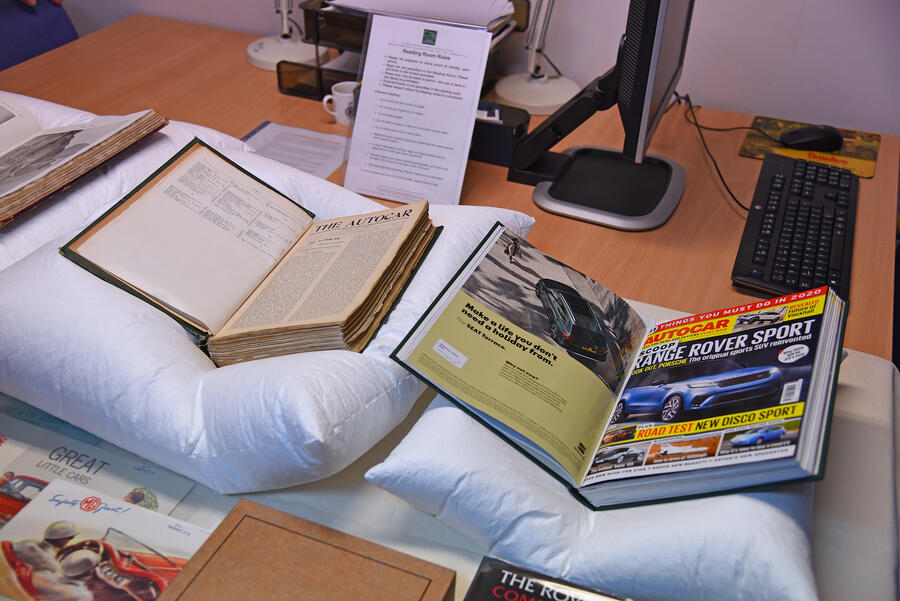 In fact, there's no better time to visit these less familiar corners of Beaulieu than now, the museum's 50th anniversary.
The National Motor Museum was opened on 4 July 1972 by its founder, Baron Edward Montagu of Beaulieu. As passionate about motoring as his father John, the driving force behind the 1903 Motor Car Act that raised the speed limit to 20mph and the first Brit to enter a continental motor race, Edward first began displaying cars in the hallway of the family home in the grounds of Beaulieu in 1952.
In 1956, he opened the Montagu Motor Museum to house what had become a much larger collection.
In the 1960s, it drew more than 10 million visitors, prompting Edward to start a charitable trust to protect both the cars and the mountain of books, photos and artefacts that had been accumulated. This stirred the interest of industry and individuals and ultimately led to the creation of the National Motor Museum.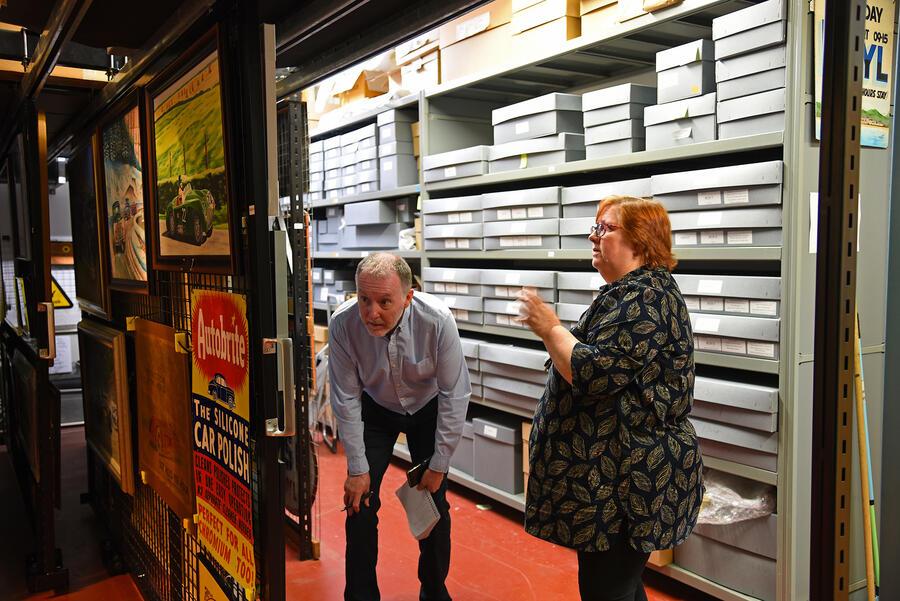 While celebrating the past, the museum team is focused on securing the future by revealing more of the treasures in the Collections Centre.
"It's vital the public see more of what we have," says Jon Murden, CEO of the National Motor Museum Trust, whose personal collection of classic cars includes a 1957 Hillman Minx, a 1977 MG Midget and a 1978 Austin Allegro. "Our plan is to improve the Collections Centre's physical structure to make better use of its spaces, to improve public engagement and thereby attract the funding we need for the future."
On the day that I visit, Beaulieu is looking its best, with the sun beating down on the well-tended lawns, the vintage bus doing a good trade and a steady stream of visitors heading for the museum. So it's a surprise to be ushered into the Collections Centre and, apart from my hosts, find myself alone. It being an appointment-only place explains that but, as I'm about to discover, those visitors eagerly beating a path are missing another treat.
With collections director Andrea Bishop leading the way, the first stop on my tour is the Objects Store. It's home to at least 50,000 motoring items of every conceivable type, including road signs, travel trunks, scarves, 800 costumes (including petrol attendant and chauffeur uniforms), engines, pedal cars, petrol cans… Amazingly, in one corner and still in their original wooden crates are the tyres from Bluebird, which broke the land speed record in 1964.
Among all of this, the occasional curio catches my eye, including a magnificently over-engineered car vacuum cleaner that looks like a missile and an early road sign with oversized reflectors that the weak headlights of the time could pick out.
"You can choose any motoring subject and we have an object that represents it," says Gail Stewart-Bye, who looks after it all. "For me, the attraction of everything here is its social context. Motoring impacts every part of our lives, and it's represented in some shape or form."
Guided tours are welcome and individuals with specific research requests can be accommodated, but the plan is to make more of what's here visible to more visitors. Recruiting extra volunteers and repurposing space in the centre (and there's lots of it) will help. I've only scratched the surface, but now Bishop spirits me away to the photo collection: 1.4 million negatives, slides and prints spanning the dawn of motoring to the present day.
Research and enquiries officer Patrick Collins has extracted some albums and images from the drawers and hanging files. One particularly splendid album is dedicated to the Automobile Club's 1000-mile trial of 1900, the aim of which was to promote motoring to the public. The album itself has been expertly conserved and the photos inside are as fresh as the day they were taken.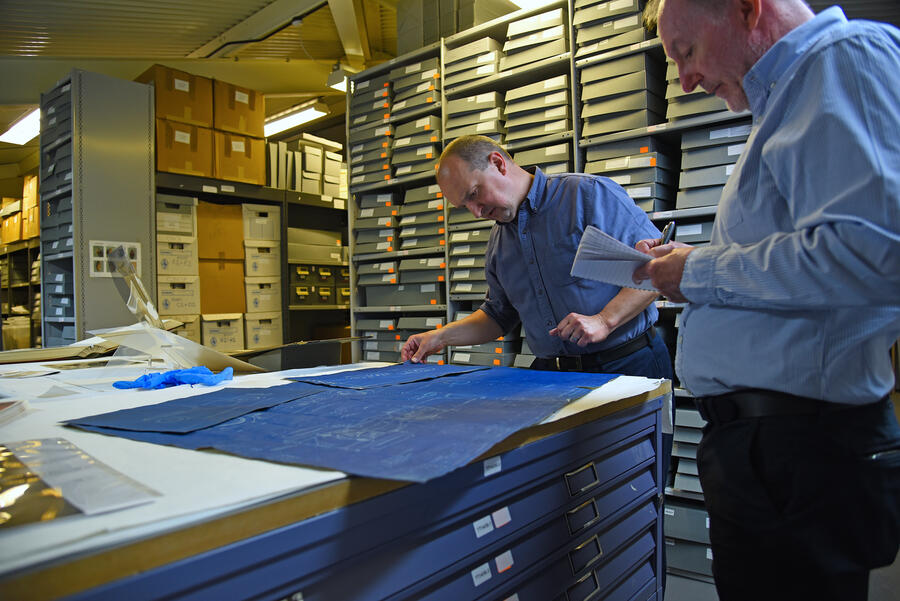 Collins is especially fond of the Goldie Gardner collection, which he shows me next. The war hero was a serial record-breaker in his Magic Midget, and his personal collection of competition photos is held here.
Blueprints are also held. Collins shows me one for the Irving-Napier Golden Arrow, Sir Henry Segrave's land speed record car of 1929. Drawn on linen, it's in immaculate condition.
Next, he proffers an early concept drawing of the Lotus Europa by Ron Hickman, car designer and inventor of the Black & Decker Workmate. On it, Hickman had written that it would be powered by a Ford V8. In fact, it went into production with the 1.5-litre engine from the Renault 16.
"Protecting these valuable items in an environmentally controlled space is our goal, but it will require a huge investment," says Bishop. "We do what's necessary and have excellent conservancy skills, but it's vital that the collection is properly preserved."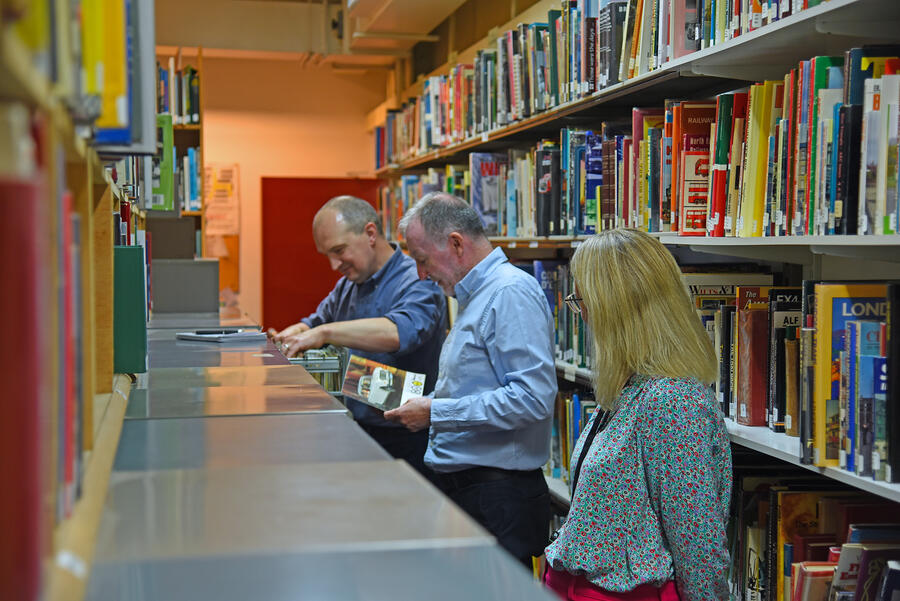 Our last stop is the Centre's Motoring Reference Library, which is home to more than 300,000 books, handbooks, magazines, periodicals and sales brochures. It was founded in 1961, and the nucleus of it is John's personal collection. This includes his magazine, The Car Illustrated, which he launched in 1902 as a kind of Tatler for well-heeled early adopters of the car. Some covers were designed by his friend Charles Sykes, who designed the Spirit of Ecstasy for Rolls-Royce.
All of the library's items are carefully curated by Carina Taylor and her team of nine volunteers.
"Everything is publicly available," she explains. "We're not a lending library, but everything can be viewed in the reading room."vcm ,
Her favourites are the thousands of brochures. Ironically, in this digital age, she's finding it harder to collect material from new model launches.
"So much of it is in digital form," she says. "We're exploring ways to capture and present it more easily."
All too soon, it's time to leave – but not before I take a last glimpse of a complete BMC A-series engine from a Mini, displayed in a glass box. I wonder if they would notice if I took it. A glance from Bishop assures me that they would.
In the Beaulieu workshop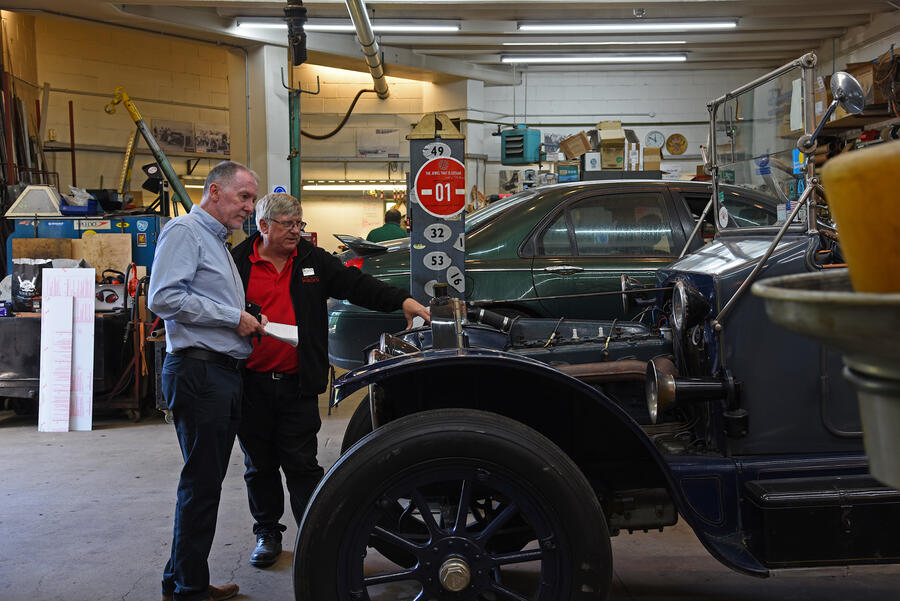 Helping to keep the nation's most important cars and motorcycles on the road isn't an exaggeration where the workshop at the National Motor Museum is concerned. The dedicated mechanics and engineers – led by Doug Hill, chief engineer with more than 45 years' service, who is ably supported by colleague Ian Stanfield, senior engineer with 44 years under his belt – are responsible for ensuring the museum's 285 historic vehicles are in good running order.
One of their most notable recent achievements has been restoring the famous 1920 Sunbeam 350HP land speed record car to rude health. Rebuilding its complex 18.3-litre V12 engine took the team several years. The car's most recent appearance was at Brooklands on the 100th anniversary of its first land speed record of 133.75mph, achieved at the same location. It's present during my visit, being readied for a run at the Goodwood Festival of Speed.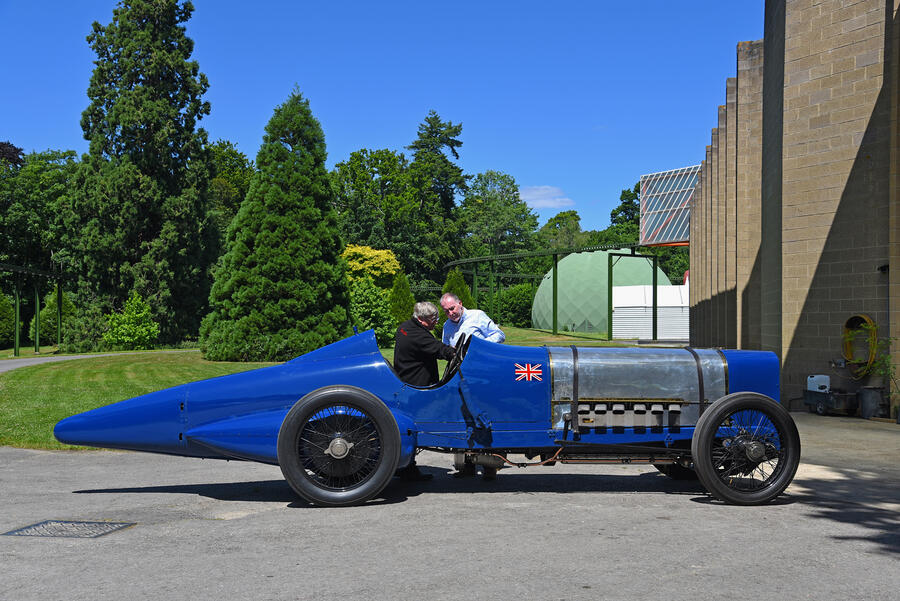 Stanfield is also keen to show me the two 22.4-litre engines from another record-breaker, Sir Henry Segrave's 1927 Sunbeam 1000HP, on display in the museum. They are each sitting in the workshop. When they first arrived, they were seized solid, but without workshop records, the team had to be careful during dismantling not to disturb the ignition timing – a frequent problem. That's why only one engine, the front one, has been dismantled and refurbished. Once they have reassembled it, Stanfield will feel more confident about starting on the other.
No day is the same. From working on the Sunbeam engines one moment, the team might find themselves stripping down Graham Hill's 1967 Lotus 49, fettling a steam car or completing a rare 1939 BSA M24 Gold Star bike. Between times, they are maintaining the monorail and the vintage bus.
"There's very little that we can't do, although modern electrics are a bit of a mystery," admits Stanfield.
Alongside museum cars, the workshop accepts private jobs. One is on the ramp. The owner of the 1914 Hudson just wants it to be reliable and a bit more up to date. He has chosen the right chaps for the job.
Beaulieu by numbers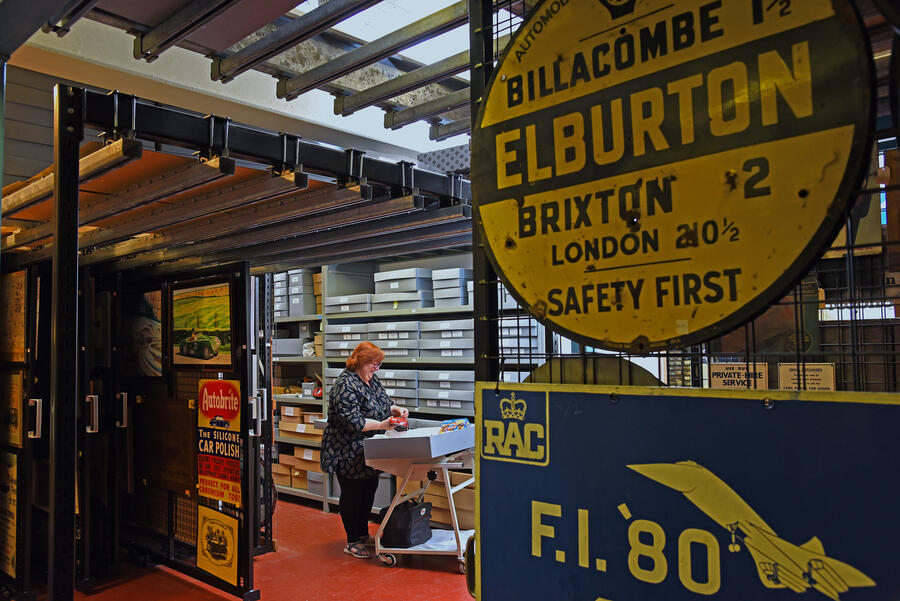 1.9 million: Number of items in the Collections Centre
300 metres: Total length of the archive shelving
5000: Number of model cars
1000: Number of prints, posters and paintings
1000: Number of car badges
14,000: Number of books
70,000: Number of car sales brochures
Get in touch
The motoring treasures seen at the National Motor Museum are the tip of a very large iceberg. To discover the rest, the on-site Collections Centre can be visited by appointment, Monday to Friday. Visit nationalmotormuseum.org.uk or telephone 01590 614650 to arrange a guided tour.
The Motoring Reference Library's reading room is open to those who make an appointment from Tuesday to Friday. If you have a specific enquiry, try the trust's Motoring Research Service. For both, visit nationalmotormuseum.org.uk or telephone 01590 614652.
https://www.autocar.co.uk/car-news/featu...s-beaulieu