07-24-2022, 01:24 PM
History of Renault Sport – picture special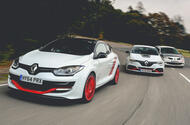 What started as a division dedicated to motorsport has become Renault's performance wing. We chart its progression
Officially established in 1976 as a merger between its Alpine and Gordini competition departments, Renault Sport had to wait two decades before it sold its first RS-badged road car.
Having discontinued the Alpine brand in 1994, and seeing a return to profitability after a challenging decade prior, Renault wanted a car to remind the world of its sporting pedigree. It would also serve as the basis for a one-make motorsport series, with no requirements to be based on an existing Renault model.
Project W94 spawned the Renault Sport Spider at 1995's Geneva motor show as a mid-engined, rear-driven two-seater with no roof and, in initial form, no windscreen, either. It had a body built from plastic composite over an aluminium chassis and was powered by a version of the 2.0-litre four-cylinder F7R engine previously seen in the Clio Williams. Tipping the scales at 930kg, it was decidedly heavier than the Lotus Elise, but with 148bhp on tap, it could still manage the 0-62mph sprint in 6.5sec.
A revised version fitted with a windscreen came in 1997, with 96 right-hand-drive cars eventually produced for the UK, although Renault produced a total of only 1685 cars throughout the Spider's lifetime - barely a tenth of what Lotus achieved with its now iconic Lotus Elise.
The division instead concentrated on performance versions of road-going Renault models, starting with the Clio 2. It had contributed to the Clio 16v and Clio Williams, but neither car had carried the division's name. The Clio Renaultsport 172 was launched in 2000 with a 2.0-litre naturally aspirated engine tuned to produce 168bhp. A more purposeful bodykit and OZ alloy wheels set it apart from lesser Clios, while the well-honed chassis ensured handling was far beyond anything rivals were achieving at the time. A facelift followed, along with a stripped-out 172 Cup, which used stiffer suspension but lost air-con and anti-lock brakes to save weight.
In the meantime, the motorsport side of the business had created a radical mid-engined Clio to replace the Renault Sport Spider trophy race series. A road-going version was given the green light as company executives hoped to replicate the ballistic Renault 5 Turbo.
The Clio V6 Renault Sport was an extensive rework of the base Clio, with massively widened proportions and a screaming V6 powertrain relocated directly behind the driver. With 227bhp being sent exclusively to the rear wheels, it could be more than a handful. At the time, we described driving one near the limit like "being a dentist at a lion sanctuary: you were going to get bitten; it was just a matter of when and how badly."
Renault took a second stab at it in 2003, pushing power to 252bhp to make it the most powerful production hot hatch in the world at the time. A larger wheelbase, wider track, stiffer springs and larger alloy wheels gave the Phase 2 car more grip, although it could still surprise an unwary driver. Combined with a high price, it sold in relatively low numbers and is highly prized today.
That year also marked the introduction of the first Renault Sport Mégane. The Mégane Renaultsport 225 was revealed at the Frankfurt motor show with twin tailpipes, bespoke bodykit and distinctive rear spoiler to set it apart from the standard hatchback. It used the 2.0-litre four-cylinder engine that had proven itself in the Clio RS, only this time with the addition of turbocharging to boost power to 222bhp. However, a slightly relaxed suspension set-up meant it didn't quite take the hot hatch class by storm.
In 2004, the Clio 172 gave way to the slightly more powerful 182. It received dual exhaust pipes, shaved a couple of tenths off the 172's 0-62mph time, and gained a few other visual tweaks, while a cut-price 182 Cup did without a few luxuries in order to save weight. It still ended up heavier than the outgoing 172 Cup, however, and isn't as well regarded today.
The exception was the 182 Trophy, produced with input from Renault UK as a thank you to customers, who were buying 182s at a rate of nearly 3000 a year. Just 500 were built for Britain, with bespoke Sachs dampers, Capsicum Red paint and Speedline Turini alloy wheels. It's now widely considered the best Clio of its generation.
The Mégane RS received a Trophy version in 2005, silencing critics with steering, brake and suspension upgrades that made it a much more focused machine. Only 160 were built for the UK, but were snapped up so quickly that a Cup version, available in a wider selection of colours, was put into full series production. It was here that Renault began offering its hot Méganes with either a Sport or Cup chassis, letting customers choose between more focused handling or a more comfortable daily drive.
When Renault won the 2005 Formula 1 season's constructors' championship, the Mégane Renaultsport F1 Team Special Edition was launched to celebrate. With Ultra Blue paint and gloss black alloys, it was among the most distinctive hot hatches on sale and, inside, its Recaro bucket seats signalled it as a true performance car, but it received no mechanical upgrades. It was The F1 Team R26 that went a step further, raising power to 227bhp, adding an uprated exhaust and, most important, a limited-slip differential that transformed the Mégane's on-the-limit handling. We said: "You'd be crazy to buy a GTI, ST or VXR without trying one of these on a B-road first."
It was around this time that the third-generation Clio received its first Renault Sport version. The RS 197 took its rear diffuser and brake cooling side vents straight from the F1 school of thinking, while a new six-speed gearbox with shorter ratios and an engine tuned to 194bhp gave it greater pace than its predecessor. A 197 Cup followed soon after with the now familiar formula: restricted colour options, no xenon headlights, manual air conditioning – but a £1000 saving over the standard 197.
A mid-life refresh liberated an extra 3bhp and renamed the car Clio RS 200. A more responsive steering rack and improved gearing remedied some of the issues reviewers had with the old 197. Several special editions then saw it through its autumn years.
In 2008, Renault sent off the second-generation Mégane in style with the now-iconic R26.R. A carbonfibre bonnet, deleted rear seats and soundproofing, a roll cage and bucket seats, complete with harnesses, left you in no doubt it was a road-going race car. It was 123kg lighter than the standard RS and it set a new Nürburgring front-drive lap record with a time of just 8min 17sec. Just 230 examples came to Britain, but a £23,815 asking price meant that many went unsold - hard to believe when you look at used prices today. The R26.R is now among the most highly prized Renault Sport models.
At the other end of the spectrum, Renault also gave its Twingo city car the RS treatment around this time as the new entry-point to the range. The Twingo Renaultsport 133 used a 1.6-litre naturally aspirated four-cylinder for brisk, if not truly rapid, acceleration. "It's not that quick and its engine is not that special," we said at the time, "but thanks to that chassis you'll still have more fun on a tight and twisting road than any number of faster, more expensive dedicated sports cars."
It received a facelift towards the end of its life, but struggled to make an impact in the way the Clio or Mégane did and the third-generation car came and went without an RS version.
By 2010, the third-generation Mégane was ready for its first RS outing. The Renaultsport Megane 250 combined the 2.0-litre four-pot with a twin-scroll turbocharger for 247bhp and a six-speed gearbox, while extended sills, a front splitter and central exhaust pipe stood out on the road. Available as a three-door coupé only, it was altogether more mature than its direct predecessor, which not all reviewers appreciated. A limited-run RS Trophy edition raised power to 261bhp and gained some visual upgrades, and then became the RS 265 for full series production.
By this point, rivals had begun eyeing up Renault's stranglehold on the Nürburgring front-driven production car record, with Seat eventually taking the crown using the Leon Cupra 280 to set a time of 7min 58.4sec. Renault Sport fired back with the Mégane RS 275 Trophy and Trophy-R. The former came fitted with an Akrapovic titanium exhaust that boosted power to 271bhp, stiffer springs, anti-roll bars and dampers, and a limited-slip differential. The latter got adjustable Ohlins dampers, Michelin Pilot Sport Cup 2 tyres, uprated brakes and an extensive 101kg weight loss package that removed soundproofing, air conditioning, the stereo system and even the automatic headlights, as well as the rear bench. The result? Laurent Hurgon reclaimed the record with a 7min 54.36sec lap time.
For a time, the Mégane RS could only be had with three doors and the Clio RS only with five. Now in its fourth generation, the new Clio RS 200 was also the first to use a turbocharged engine instead of a naturally aspirated one, and could now only be had with an automatic gearbox. Many saw this as a dilution of what had been the archetypal hot supermini. Although its 1.6-litre in-line four-cylinder could still entertain, the car fell to second place behind the Ford Fiesta ST. A facelifted Clio RS 220 Trophy model did much to address this in 2016, using a larger turbo and redesigned exhaust to increase power and overhauling the transmission to deliver 50% faster shifts.
Until 2015, every Renault Sport model had been manufactured in Europe. That changed with the Sandero RS, a hot version of the Dacia supermini sold in Brazil under the Renault badge. It used a 148bhp 2.0-litre powerplant mated to a six-speed manual gearbox, uprated suspension and disc brakes all round - still something of a rarity for Latin America. The 1161kg Sandero RS could reach 62mph in 8.0sec, a significant step up from the Dacia Sanderos sold in Europe, but it remained exclusive to South America.
A glimpse at what could have been came in 2016, when the division marked its 40th anniversary with the RS16 concept. The ultimate Clio RS took its engine from the Mégane RS 275, regained a manual gearbox and was given a bespoke suspension set-up. It was a seriously exciting supermini to those who got to drive it. At the time, Renault said it would cost over £40,000 were it to go into production, and the project never went further than a handful of development cars - but given that we got the reborn Alpine A110 instead, we shouldn't feel too hard done by.
The Mégane RS 280 went on sale in the UK in July 2018, based on the fourth-generation Mégane and powered by the same 1.8-litre turbocharged four-cylinder seen in the Alpine A110 sports car. While smaller than the old car's 2.0-litre unit, it was lighter and tuned to produce more power than even the Mégane 275. As before, it was offered with a choice of Sport or Cup chassis and could be had with an EDC automatic transmission or six-speed manual. It also gained four-wheel steering for the first time, which some reviewers said added some unwanted unpredictability to the car's handling. Another Trophy followed, pushing power to 296bhp, but Renault pulled out all the stops for the ultimate version.
The Mégane RS Trophy-R arrived in 2019, stripped of its four-wheel steering and rear seats to save some 130kg, while gaining adjustable Ohlins dampers and an Akrapovic exhaust. In base specification, it cost north of £50,000, but a special Nürburgring pack (carbon-ceramic brakes, 19in carbonfibre alloy wheels) pushed prices beyond £70,000, or more than a Porsche Cayman. Expensive or not, it quickly set a new record for front-driven cars around the Nürburgring: 7min 40.1sec, a time that still stands today.
What about the future? The latest-generation Clio recently arrived with much-improved mechanical refinement and drivability, so would seemingly be ripe for the RS treatment. There's a chance Renault will pursue hot Captur and Kadjar models, as rival brands are beginning to embrace hot crossover variants, but there could be a switch to electric performance sooner rather than later. Renualt built a Zoe e-Sport prototype using technology sourced from Formula E and has suggested that a Zoe RS could eventually become reality.
READ MORE
Renault Morphoz concept previews electric SUV
Fast-evolving EV market means buyers now want hot versions, says Renault
Renault details two new EVs due in 2020
https://www.autocar.co.uk/car-news/featu...re-special