10-08-2022, 01:43 PM
Hive EV Charging and the future of charging technology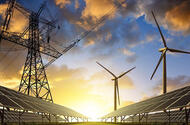 Hive is pushing boundaries with V2G tech, 'anytime' EV charging tariffs and virtual power plants
From flexible cost saving tariffs to virtual powerplants, Hive is looking ahead to the future of EV charging
Hive EV Charging is already making home charging simpler and significantly more cost-efficient thanks to its easy-to-use smart charger, ultra-intuitive app and flexible tariffs.
At Autocar, we've also been working with Hive to give you plenty of video tips and advice for home charging and EV charging, while also busting a fair few myths.
Hive isn't solely making EV charging easier and cheaper today, though. It's also looking to the future of charging – trying to find pioneering new ways to make it even easier, even more cost-effective and, crucially, even more sustainable, helping you lower the impact of your EV charging on both the power grid and the planet.
From virtual power plants and Vehicle-to-grid (V2G) technology to 'anytime' EV charging tariff add-ons, this charging technology has the potential to save billions in avoided infrastructure upgrades* and with that, cheaper bills for everybody, whether you're an EV owner or not. Let's take a step into the future and see what's on offer. 
Learn more about Hive EV Charging and its plans for the futureSmartCharge Saver: a more flexible tariff
As electric cars get more popular, more abundant in choice, more fun to drive and easier to use, more and more people are thinking about making the switch. In fact, a recent study by Hive revealed that 54% of you are planning to purchase an EV in the next five years. 
As the average UK car spends 96% of the time parked up and 73% of that time at home, it's clear that home charging is the most cost-effective and sustainable way to charge an EV. That's especially true with overnight charging when energy rates are traditionally cheapest if you have a time of use tariff. The energy you use is also more likely to come from renewable sources, which is an added benefit of overnight top-ups.
But what if you want a bit more flexibility? Take shift workers who need to charge during the day. Why can't they make the most of the cost savings of home charging as well? Enter, then, the SmartCharge Saver tariff add-on, which Hive has been trialling with over 70 customers. 
Working in tandem with a Hive EV smart charger and any British Gas home energy tariff, it uses an optimised scheduling system to charge your electric car at the most convenient and practical times for you – negating the need to charge solely overnight for the most cost-effective rates. Think of it as a smart automated time of use tariff.
How does it work? Well, all you need to do is tell your Hive app when you need your car ready by, and it does the rest automatically. SmartCharge Saver customers then receive a discount of 2p per kWh whenever their electric car is plugged in continuously for up to 6 hours, and a 7p per kWh discount if the car is plugged in for longer. It's as simple as that. 
According to Hive, that translates to a maximum saving of £2.10 per full charge for the 30kWh battery of a small electric car and up to up to £4.20 saving for the 60kWh battery in a larger, longer-range family-friendly EV.
Subject to the results from the early trial, the SmartCharge Saver tariff could be available to Hive's broader customer base as early as 2023. One thing is clear, smart charging is set to get even smarter, even more flexible and even more cost-effective as a result.
Vehicle-to-Grid: a bigger, broader, smarter network
Vehicle-to-grid technology (also known as V2G) may sound futuristically "Trekky", but it's actually a simple solution to a broader challenge that also presents an intriguing opportunity for saving even more money on home charging.
With electric vehicles already accounting for 16% of new car sales (and numbers expected to rise by 300% in the lead up to 2030), the challenge is that charging an ever-increasing number of EVs will ultimately impact electricity networks. The UK National Grid already publicises big spikes in power usage as people go to plug in their kettles whenever there's a cliff-hanger on a soap or drama. Now imagine if you were to plug in every electric car on the road between 6pm and 7pm. 
Instead, why not use the fact that parked and plugged-in EVs are effectively on-demand batteries to rebalance the grid instead? Using V2G, EV owners can top-up at off-peak times when energy is cheapest and greenest. They can then store that energy in their cars. Finally – at peak times – they can either use the energy stored in the car's battery to power their home or put it back into the grid to earn credits that save money on their bill.
That's the theory. But how does V2G work in practice? Well, first you need a V2G-enabled electric car that can send charge back to a charger, as well as receiving it. Current models to feature this include the Nissan Leaf and updated Mitsubishi Outlander plug-in hybrid. Then, you need a bi-directional wall-mounted smart charger capable of sending power to your car's battery and back to your home. Lastly, you need a three-phase connection installed in your home.
While V2G can help lighten the load on the grid, it can also help you make the most of low-cost renewable energy which can then be used in the home when energy prices and the carbon content of electricity are high. So, V2G has the potential to be good for both the pocket and the environment.
In a recent nationwide trial conducted by British Gas, Electric Nation Vehicle, Western Power Distribution (WPD) and CrowdCharge, a group of 100 participants successfully proved that V2G works on both a technical and cost-saving level, with participants seamlessly providing a nationwide battery resource which both stored green energy and fed electricity back into the grid, on demand, during peak times.
It's likely that V2G will start to become more widely available from 2025 as more manufacturers release V2G-compatible models, helping more people take the pioneering technology more mainstream.
Hive Honeycomb: an energy connection revolution
Looking even further into our electric future, Hive is readying an exciting series of trials for an all-new, all-encompassing energy product: Hive Honeycomb. Think of it as V2G+ for both homes and businesses, a virtual power plant helping you share energy – and lower your impact on the grid and the planet – on an even broader scale.
The largest virtual power plant in Europe is also the most sophisticated. Hive Honeycomb interconnects your EV charger, batteries, heat pumps, electric heaters and hot water tanks, helping you intelligently conserve and share energy without the extra steps.
Using sophisticated artificial intelligence, the platform automatically optimises your energy usage, unlocking new flexibility in how and when its used, generated and stored. As with V2G, your energy sources (such as home heating systems) become energy storage devices that conserve electricity during off-peak hours and energy distributors during peak times, selling spare electricity back to the grid.
The Hive Honeycomb platform is already optimising over six thousand home devices across the UK, Belgium, and the Netherlands, providing 24MW of Virtual Power Plant services to grid operators.
So, while Hive EV Charging already sits at the forefront of home charging technology today with its wall-mounted smart chargers, it also knows the only way to break new ground is to keep moving forward. Between these three revolutionary new Hive technologies, the future looks brighter and greener than ever before.
---
*Supported by a UK case study conducted by Ofgem
https://www.autocar.co.uk/car-news/adver...technology