12-02-2022, 11:36 AM
Honda Civic long-term test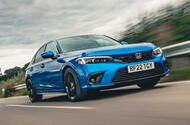 While hatches are slain all around it, Honda stands firm against the SUV onslaught
Why we're running it: To see if the Honda Civic can save the everyday family hatchback 
Life with a Honda Civic: Month 2
Son's the word - 23 November 
One recent lesson: trust your kids. Here's my son, perched proudly in the Firefly Sport EV (a car designed to get youngsters used to driving). It was amazing how little direction he needed for the action shots. We drove alongside in the Civic, where its decent electric running helped: it being silent, my boy could easily hear the photographer's instructions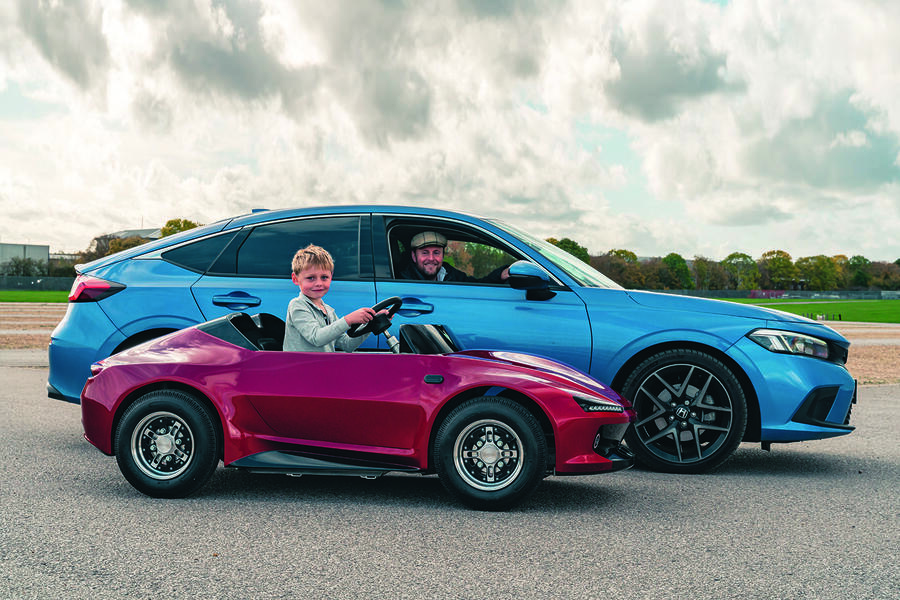 Mileage: 5891
#Back">Back to the top
This type of hybrid has real benefits, but what about economy? - 16 Nov
The Civic is an extremely clever self-charging hybrid – one of the newfangled generation where the engine is mainly there to power the electric motor, rather than drive the wheels.
It's not unique – the Jazz and HR-V use a similar set-up, as does the Nissan Qashqai – but it works well and, because the petrol engine only clutches onto the front wheels at higher speeds, it means there's more silent running than there is in hybrids like the Toyota Prius.
This is a good thing because anything that avoids the wheeze and whine of a more normal hybrid with its continuously variable transmission (CVT) can only be a bonus in my book.
We've now done just over 2500 miles in our Civic, so have filled up enough times to get a pretty good indication of how it's doing from an economy point of view. It's all well and good having a hybrid that's interesting to drive and doesn't drone on, but ultimately a major factor in the decision to buy a car like this is running costs.
The Civic's claimed figure is 56.5mpg and, unlike the fantasies around a PHEV's economy, that has proved to be realistic. The best we've seen is an impressive 57.2mpg and the worst is 46.1mpg, with an average of 52.2mpg. This is across a real mix of driving, from blatting up and down to London from Lincolnshire entirely on motorways, to the school run over a quite brilliant back road, to nipping into our local town.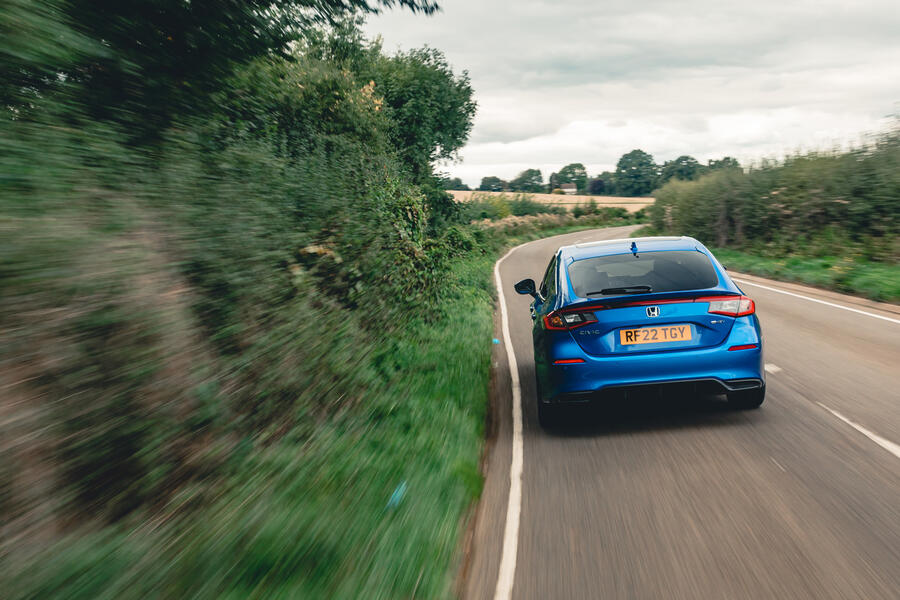 It's interesting to see where the Civic is stronger: it prefers more local running, where the petrol engine isn't being asked to work as hard. That high figure of 57.2mpg was thanks to much shorter journeys, where the average speed was probably no more than low 40s.
But we've recorded a couple of low points on long motorway journeys. This might be happy hunting territory for a big diesel, where you can keep the revs low and ride the torque, but it's a different story in the Civic. Its petrol/electric combination has to work hard to sustain the oomph over longer stretches. Not that it gets noisy or unpleasant in terms of cabin ambience. The radio works well at all speeds and it's a relaxing place in which to trawl from Lincolnshire to London.
Your speed makes a huge difference, though. Sustained high-speed running at motorway pace, traffic-free and sitting at an average of over 60mph has yielded our two low scores: 46.1mpg and 48.3mpg. But if it's a more clogged journey, with traffic jams and those cursed variable speed limits, then we're back up to the mid-50s. It's not an altogether pleasant paradox: better journey, more expensive fuel costs; rubbish trip, greener running. It could be a metaphor for 2022. 
Love it 
My wife has said she likes the Civic and it's not even an SUV. Praise doesn't get much higher.
Loathe it 
The fuel economy can suffer if you 'press on' a bit too much, especially on motorways. 
Mileage: 5305
#Back">Back to the top
Life with a Honda Civic: Month 1
The Civic is as well packaged as ever - 27 October
The rear parcel shelf in the Honda Civic (bear with me, this does get interesting) is a work of genius. Why on earth has no one else thought of it? Because it's tiny and slides left to right, you don't need to faff around storing the redundant parcel shelf in the garage when you want maximum space and need to fold down the rear seats. Simple stuff done brilliantly. 
Mileage: 5284
#Back">Back to the top
Cast aside your hybrid preconceptions: this one's a blast - 19 October
If nothing else shows where the needle has moved in the car world recently, it's the fact that we're about to dedicate 450 words to how a hybrid drives – and, what's more, be enthusiastic about it.
Sorry for the spoiler right at the start, but the way the new Civic handles is genuinely a reason to get excited about it. There's a little toggle switch by the gear selector buttons that allows you to flick between Eco, Normal, Individual and Sport driving modes. I know what you're thinking, but don't scoff at 'Sport' quite yet, because this is a hybrid that's enjoyable to drive.
Grip levels are impressive and the steering is accurate, if numb, but the thing that impresses me most is the way it combines a little bit of body roll with cracking suspension control. 
The rebound is the headline for me. There are some nasty bumps on my daily route, but the Civic tackles them really well, with no sudden weight dropping out of the tyre or spring as it crests them. There are plenty of other so-called sporty cars that don't get that balance right, so the kids are just being tossed about like rag dolls in their seats. Here it feels really well controlled, to the point that the children actively ask me to keep pushing on.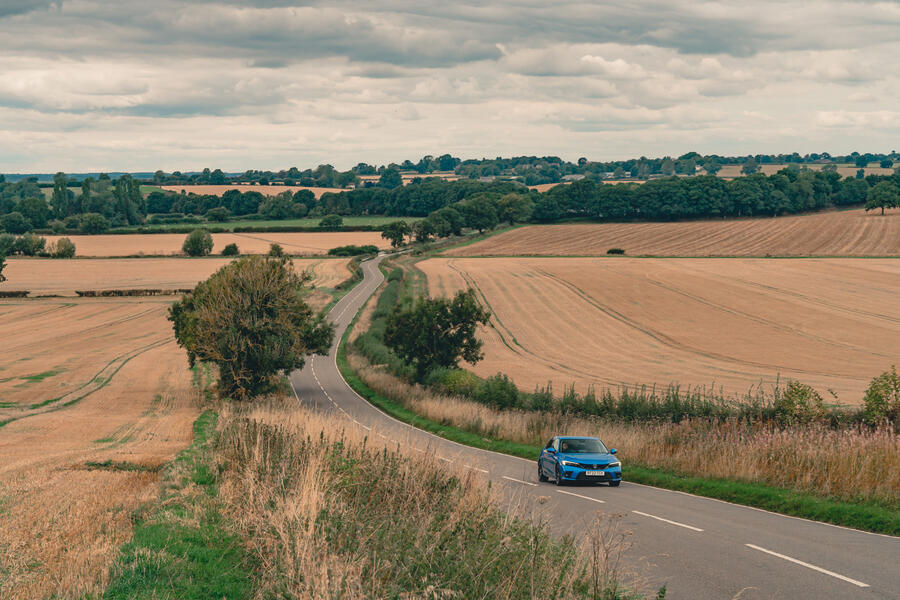 With Sport engaged, all the dials turn to red, the throttle gets more responsive and the engine note takes on an extra dose of aggression. I've enjoyed trying to convince myself I'm Gordon Shedden in his BTCC race car, and there is a slight hint of the road-going Honda screamers of old. The manic rev range is obviously missing, but there's a hard edge to the engine note that doesn't get boomy as the revs climb. This is no CVT drone, that's for sure. 
Sport also turns on Winding Road Detection (an excellent Japanese expression), which keeps the engine engaged to reduce lag and increase deceleration.
Despite all this, the new Civic is heavier than the old one. It's still only 1517kg (or 1533kg in this top spec), but it's nevertheless annoying that the weight curve is going up, not down. To be fair, Honda has tried, giving this car an aluminium bonnet that's 43% lighter than the old one and a resin tailgate that shaves some weight, but excess kilos will always be an enemy of enthusiasts.
Overall, though, things are looking encouraging, as the Civic is already making a strong impression. I think it's the general ease of use: nothing flusters it and there are few annoying flaws. 
It's the little things that count, like the seat heater that remembers how your last journey ended and comes on again automatically the following cold morning. A car that functions as nature intended: who would've thought that would be such a revelation in 2022?
Love it 
Seat comfort
After a day spent in a Citroën Ami recently, driving the Civic again felt like reclining in a La-Z-Boy.
Loathe it
Plump rump
The rear quarter view looks a bit flabby to me. Even the 18in wheels can't hide the post-C-pillar bulk 
Mileage: 4744
#Back">Back to the top
Welcoming the Civic to the fleet - 5 October 2022
A few weeks ago, my far more learned colleague Matt Prior summed up the new Civic thus: "In a class being neglected, Honda arrives with a car that's one of the most compelling and best to drive."
In a stroke, Matt neatly summed up why this car excites us at Autocar. Finally, an everyday hatchback that we can all actually look forward to driving. It's not only Matt: Kris Culmer borrowed it for a few days and thoroughly enjoyed every minute, while Rachel Burgess came back off the international launch raving about the car. I've only had it a week and already I can see where they're all coming from.
It's not just that there are encouraging signs about how well it drives and commutes – although it effortlessly absorbed a 480-mile series of commutes in my first three days with the car – but also what it represents. Twenty years ago, I would never have thought that I would one day be waxing lyrical about a family hatchback, but the contrast in SUV land is a welcome one. Here's hoping that the initial love-in for the Civic continues for the duration of our loan.
So to the actual Civic that we have. There's only one powertrain, so we very wisely stuck to that option. It's a hybrid system, with a 181bhp electric motor doing most of the motive work while a naturally aspirated 2.0-litre four-cylinder petrol engine powers the generator that charges up the battery. It's clever stuff, and it has so far yielded an average of 55.2mpg – impressively close to the official economy figure of 56.5mpg.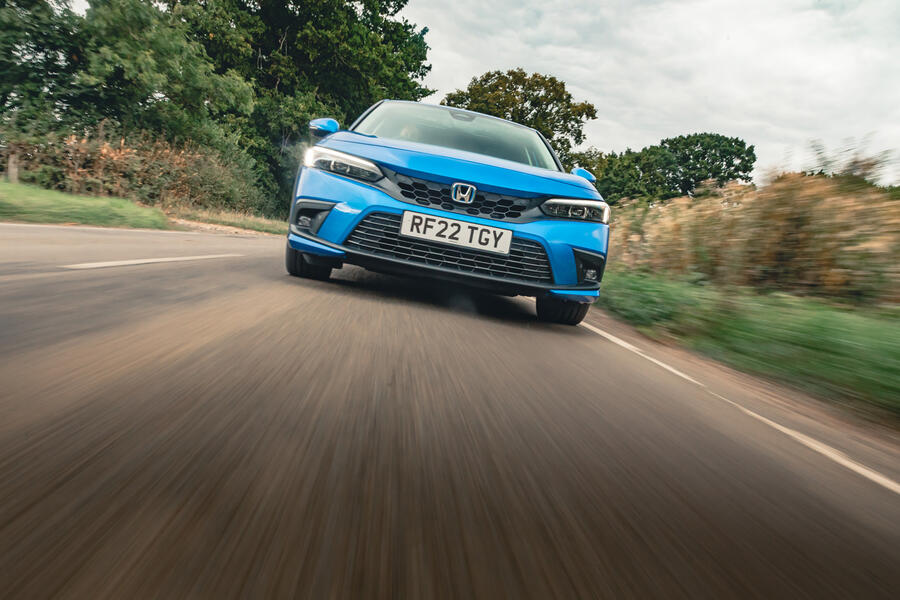 If you have nervously glanced at the specification panel on the right where it says 'e-CVT' and are therefore thinking there's about to come an almighty 'but', don't fret. Actually, there is no gearbox: the engine only clutches onto the wheels at high speeds, and even then only at one fixed ratio – and therefore there'sno awful CVT drone to get used to. More on that in a later update.
There are three trims available: Elegance, Sport and Advance. Prices start at £29,595 (when was the last time we had a figure under £30,000 for a car this size?), rising to £30,595 and then £32,995 for our model. One advantage of a world short of semiconductors is that options on cars are gloriously simplified. 
Gone are the days when there were thousands of options on even ordinary motors. Here, save for a bit of additional plastic on bumpers and a different interior illumination, you simply choose your trim level, pick a paint colour and that's it.
For the record, the punchy Premium Crystal Blue metallic paint you see here is £825. I like it; from certain angles, there's almost a little bit of Subaru BRZ about it.
At this early stage of our time together, I feel that I would go for Advance even if it were my own money, despite the extra cost. The top trim gets the larger, 10.2in touchscreen (the lower two have a 9.0in one) for displaying Apple CarPlay or Android Auto, plus it comes with adaptive headlights and a heated steering wheel (it will be interesting to see how useful those two are as the nights draw in).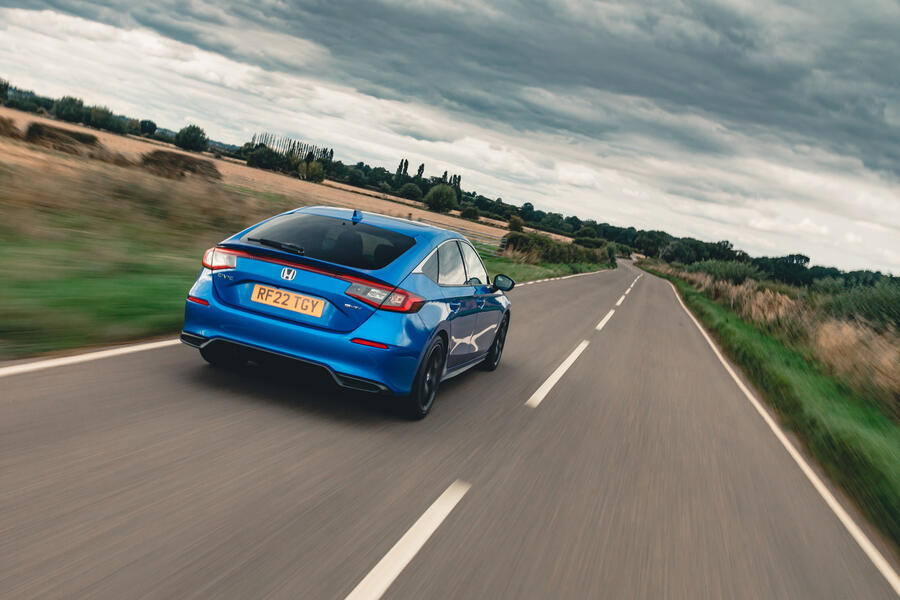 It also has a panoramic roof, a Bose stereo and electrically adjustable front seats. The latter are proving comfy so far, helped by a driving position that is absolutely spot on.
One thing that's already a welcome characteristic is that there are actual dials for changing the temperature – and they're so functionally laid out. The matching of touch and physical works well and reminds me of my last long-termer, a Mazda CX-5. Are the Japanese showing the Germans the way with how to integrate all this modern technology seamlessly? It seems so.
One less welcome element of the modern is the lane keeping assistance, which is standard fit and re-engages every time you start the engine. So far, though, it's not proving overly intrusive, plus it's easy to turn off. Consider judgement reserved until I've spent more time on narrow back roads, which usually confuse these systems.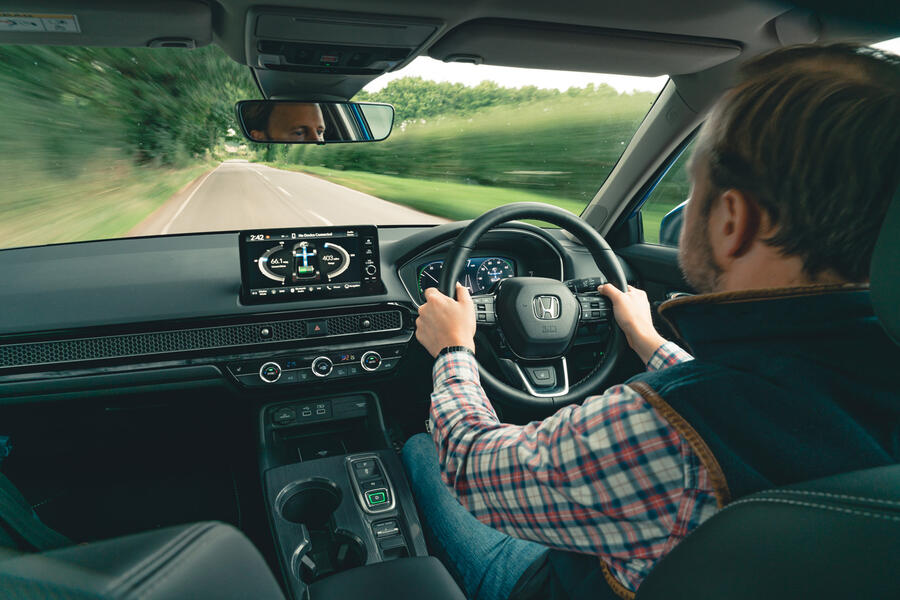 In a way, the encouraging early omens for the Civic are typically Honda. Just as it has twice done a quite stellar job of paying for and engineering a brilliant Formula 1 engine or chassis only to withdraw and receive none of the marketing credit, so the company has now launched what seems like a cracking hatchback when all the world is looking the other way at SUVs.
But if ever there were an argument for the yin and the yang of the Japanese car industry, it's this Civic. Here's hoping the early promise delivers.
Second Opinion
I thought running an HR-V had softened my disdain for crossovers, but my first thought on stepping into the Civic was: "Ah, yes – hatchbacks!" It just looks so much better, and it feels so much tighter and more agile, making it very enjoyable to drive, despite not being a sporty model. Honda has made its e:HEV powertrain even better too, more biased towards its electric side. And best of all? Still no touchscreen air-con controls. 
Kris Culmer
#Back">Back to the top
Honda Civic 2.0 i-MMD E:HEV Advance specification
Specs: Price New £32,995 Price as tested £33,820 Options
Test Data: Engine 4 cyls in line, 1993cc, petrol, plus 181bhp electric motor Power 181bhp Torque 232lb ft Kerb weight 1533kg Top speed 112mph 0-62mph 8.1sec Fuel economy 56.5mpg CO2 114g/km Faults None Expenses None
#Back">Back to the top
https://www.autocar.co.uk/car-review/hon...-term-test