06-15-2022, 03:00 AM
Honda HR-V 2022 long-term review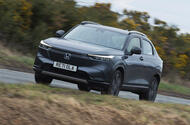 Compact hybrid SUV arrives to face a grilling from our high-mileage photographer
Why we're running it: To see if hybrid power can make the Honda HR-V mini-SUV into an efficient long-distance commuter car
Life with an HR-V: Month 2 - #Specs">Specs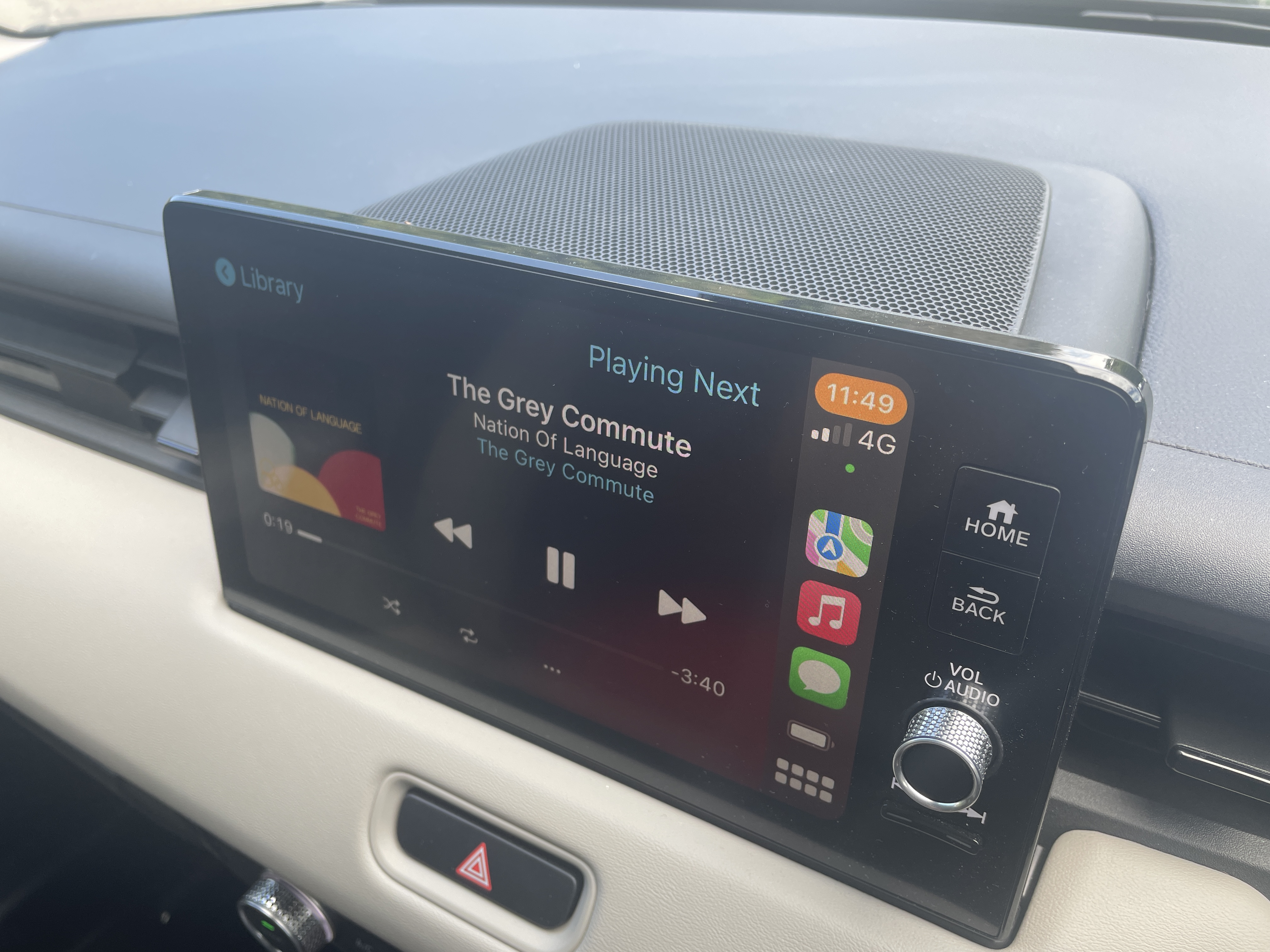 The usual reaction to me revealing that I drive 70 miles to work is "why!? how!?". The answer to the second is much simpler than the first: music.
I therefore consider the stereo a vital element of any car, and the HR-V's is a particularly enjoyable example.
On the top trim, you get six 'premium' speakers, plus a central one and a subwoofer. Banging.
Life with an HR-V: Month 1
Adaptive cruise control and road departure mitigation cause trouble - 30 March 2022
Benevolent soul that I am, I've agreed to exchange my new Skoda Kodiaq (which you will meet soon) for Luc Lacey's Honda HR-V. A high-mileage photographer with a penchant for extreme sports and camping with his friends clearly has more need of a capacious 4x4 than I do. Compact crossover for me it is, then.
I must be honest: the HR-V hasn't made a great go of ingratiating itself. That's not because it's bad to drive, ugly or nasty inside. In fact, it's the opposite of those things. Instead, it has irked me through its technology. My struggle to get the infotainment system to accept my iPhone for Apple CarPlay set the tone (I did manage it eventually, but I haven't any idea what I did different on the fifth try).
I was driving home from the office on the adaptive cruise control when I suddenly felt myself slowing, but this time not to match the vehicle in front. Huh? I looked down at the digital dial display and saw the system was off. Perhaps I had accidentally knocked the button on the steering wheel. So I tried to reactivate it, only to be met with a bong and 'OFF' by the cruise symbol. This weird self-cancellation has occurred several times since, and in perfect conditions – so surely not due to obscured sensors. To test this theory, I pulled over and restarted the car, at which point it let me use cruise again.
Another disappointing application of 'driver assistance' tech is the road departure mitigation. It's a welcome guard on the motorway, but it often springs into action when I'm driving in town, often for no apparent reason.
A particularly scary instance occurred when I had to manoeuvre around two parked cars. I felt no need to indicate, as I was only marginally crossing the centre line, leaving room aplenty for oncoming traffic (not that there was any). So the HR-V actively tried to steer me back into the path of the parked cars. Can you imagine? "I swear, officer, it was the car's fault…" It's so sad when positive aspects of any car are pushed down the order of discussion by frustrating electronics.
While I'm in the mood to complain, I might as well get this said: 20 miles isn't enough warning for a required refuelling. Yes, I know I should keep note of the gauge at all times, but I'm rightly used to the fuel light coming on with 40 or 50 left. Fortunately, I was 17 away from the next service station this morning and not 21.
Love it:
Lounging around There are shades of the Honda E to the interior. It's nicely laid out and looks great in cream and light grey.
Loathe it:
Vexing vexillology Those with any knowledge of flags will know why the white, blue and red horizontal tricolour motifs of the Sport Pack feel inappropriate.
Mileage: 5927
#Back">Back to the top
Seeing clearly in reverse - 23 March 2022
It hasn't the highest-resolution camera, but the HR-V's reversing system has a useful extra that's not typically seen at this price point. A graphic displayed over the camera feed warns you if a vehicle is approaching from the side, along with an audible alert. It's particularly useful when I'm trying to exit a tight space where visibility is limited.
Mileage: 5732
#Back">Back to the top
Welcoming the HR-V to the fleet - 2 March 2022
Well, this is a result. Put the aggressively muscular Honda Civic Type R and adorable Honda E electric supermini to one side and I wouldn't have pegged Honda as a particularly style-oriented brand, yet the HR-V crossover I've just taken delivery of is actually something of a looker.
It's certainly a major departure from the old Honda HR-V (2015-2020), which to me seemed to appeal mainly to an older generation of customers – albeit not quite to the degree of the old Honda Jazz (2015-2020).
Not even the HR-V Sport and its 180bhp VTEC powerplant seemed to do much to change its image. But this new generation? This Honda HR-V is unrecognisable from the car it replaces, with a lower roofline, widened haunches and an elongated bonnet that conspire to give it real road presence – even in our arrival's optional Meteoroid Grey paint, which can be a little anonymous in a crowded car park. The slightly sloping rear end gives the car a bit of a Polestar 2 vibe, too, which can only be a good thing.
Inside, it's a similar story, with a spacious layout and modern styling, although not quite to the same tech-led minimalist standard as the Honda E. There are perhaps a few too many beeps and bongs for my liking, which spoil the mood somewhat with their tinny quality, but the driving position, exterior visibility and perceived quality of materials make it an otherwise pleasant place to spend time.
Things have also changed under the bonnet, with Honda ditching diesel engines altogether and selling the HR-V as a hybrid only. The e:HEV powertrain combines a 1.5-litre petrol four-pot with an electric motor for a combined 129bhp and 187lb ft, but either power source can drive the vehicle in isolation.
Our road testers tell me that when driven sensibly, it does a good impression of an EV, right down to the fine-grain control over regenerative braking available via paddles on the steering wheel.
On motorways, the petrol engine takes over for maximum efficiency, but the system blends the two power sources on intermediate routes. Given that I can clock up the miles at an impressive rate travelling between photoshoots, I'm hopeful that the overall economy figures will match Honda's claims – and that the noise created by the e-CVT gearbox's penchant for revs won't prove irritating over long distances.
I'm also looking forward to running a hybrid that doesn't require plugging in. Although the public charging infrastructure has improved greatly around my corner of the south-west, my typical workday rarely afforded me the time to top up the Cupra Formentor PHEV that I ran previously.
Our HR-V is in top-tier Advance Style trim, with no added extras bar the £550 paint, as it's equipped very generously as standard. A powered tailgate, parking sensors with a reversing camera, adaptive cruise control and wireless smartphone charging are all welcome inclusions, and the heating for the seats and steering wheel has already proved its worth after a recent series of long outdoor photoshoots.
So far, I've found the 9.0in touchscreen easy to navigate and responsive to use, to the point that plugging in my phone and swapping to Apple CarPlay hasn't become the first thing I do every time I get behind the wheel. It's also a relief to have actual physical dials for the heating controls, which I find much less distracting than on-screen icons.
The active safety systems seem to err on the side of caution, sounding the alarm whenever an object gets within the general vicinity of the car. But I've noticed that with other new cars, too, so the Honda doesn't feel too jumpy in this respect.
Given that I rarely leave the house with anything less than three flight cases stuffed with camera equipment, I wasn't sure if a compact crossover like the HR-V would manage to swallow it all, but Honda's rear 'Magic Seats' really do help with stowing luggage. They can fold down for a flat load area, or fold up like a set of cinema seats, meaning there's even room for a pair of mountain bikes when I'm not travelling for work. The plastic boot liner also helps keep mess to a minimum.
First impressions? The HR-V has so far been perfectly pleasant to drive. It feels a little softer through the corners than the Formentor, but that was an undeniably sportier proposition, and I actually prefer the Honda's more relaxed nature. The steering is light, but it can be rewarding on the right roads, which I wasn't expecting.
I've largely stuck to the Eco driving mode and let the car decide how best to use the hybrid system, which has so far delivered 48mpg, but it's early days. We will see if I can improve on that figure as the months roll on.
Second Opinion
How much Luc likes the HR-V will almost certainly depend on how he drives it. In Sport mode, the e-CVT loudly holds high revs but doesn't deliver the acceleration to match, which makes it feel slower than it is. With a light foot and the electric motor doing much of the work, it should be much more relaxing.
Tom Morgan-Freelander
#Back">Back to the top
Honda HR-V E:HEV Advance Style specification
Specs: Price New £32,310 Price as tested £32,760 Options Meteoroid Grey paint £550
Test Data: Engine 4 cyls, 1498cc, petrol, plus 2 electric motors Power 129bhp at 6000-6400rpm Torque 187lb ft Kerb weight 1380kg Top speed 106mph 0-62mph 10.7sec Fuel economy 52.0mpg CO2 122g/km Faults None Expenses None
#Back">Back to the top
https://www.autocar.co.uk/car-review/hon...erm-review