05-21-2023, 04:13 PM
Honda defends slow electric car roll-out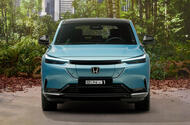 The e:Ny1 is Honda's first volume-oriented electric car for Europe
Honda Motor Europe president Katsuhisa Okuda cites infrastructural limitations as a reason for slow pace
Honda is trailing the majority of mainstream manufacturers in Europe with the launch of its first volume-oriented electric car, the e:Ny1, but the firm's European president has defended the slow EV roll-out, citing the real-world utility limitations of such cars.
Speaking exclusively to Autocar at the reveal of the e:Ny1, new CR-V and ZR-V, Honda Motor Europe president Katsuhisa Okuda said: "The pace of our EV development is just the same as infrastructure development, in terms of public charging availability."
The Japanese marque has long been a front-runner in the hybrid market, but its first production EV, the E supermini, wasn't a volume contender and its second won't arrive in dealerships for several months. However, Okuda estimates that this gradual electrification process will ultimately bear fruit.
"In the end," he said, "we believe that in 2040 or 2050, the infrastructure will be well developed and then our many customers can enjoy EVs. Until then, our plug-in hybrid is a good option for commuting and for longer weekend drives. It's very realistic and practical."
The new CR-V brings Honda's first European PHEV option and signals Honda's intent to match rival Toyota in continuing to offer a range of powertrain solutions in the name of accessibility and broadened appeal.
"What we wanted to do is to offer choices to the customers. This is why we're working on a multi-pathway approach," said Okuda.
He stopped short, however, of confirming whether other Honda models could get a PHEV option, saying only that "it depends on what the customer needs in the future".
https://www.autocar.co.uk/car-news/new-c...r-roll-out