03-16-2023, 11:24 AM
How Japan's small Kei cars could thrive in Europe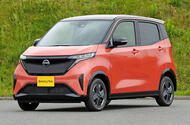 Low-cost, low-emissions Japanese microcars could capitalise on market as European prices surge
"If there was ever a time for kei cars to do well in the UK, it would be now." That's according to Torque GT, one of the UK's leading importers of Japanese cars. 
Demand for these microcars is growing, says the firm, driven by the arrival of "brilliant" new models coinciding with growing concerns about low-emissions zones such as London's ULEZ. 
Kei (short for keijidosha) cars are Japanese market models with government-regulated size and engine displacement limits, first introduced after the Second World War to help get the country moving again.
Tax and insurance benefits, as well as exemption from shako shomeisho rules – requiring motorists to prove they have off-street, overnight parking – eventually spurred on strong demand for these vehicles. 
Despite swingeing cuts to monetary incentives, kei cars today remain among Japan's most popular models. They accounted for more than one in three of the 4.2 million new cars sold in Japan last year, giving importers a huge stock to choose from in the coming years. 
According to Torque GT, "demand [in the UK] is only increasing". Although buyers have historically sought sporting models with a cult following – such as the Honda Beat, Honda S660 and Suzuki Cappuccino – their appetite for more mainstream models is growing. These include the Toyota Pixis Mega mini-MPV as well as the Honda Acty and Subaru Sambar pick-ups. 
Concerns around low-emissions zones such as London's ULEZ are often mentioned by buyers, says Torque GT, although the importer has not yet "seen this as a main driver". However, it said: "We anticipate this to change as more buyers become aware of kei cars." 
A raft of new electric kei cars, undercutting larger alternatives from Western manufacturers, could well capitalise on the demand prompted by the expansion of such zones. 
According to a survey by Autocar's sibling publication Move Electric, the upcoming extension of the capital's ULEZ (to cover all London boroughs) could prompt 39.8% of motorists within its boundaries to switch to an electric car. However, cost remains an issue for many motorists. 
The Dacia Spring demonstrates a clear appetite for affordable electric cars. The Romanian brand's A-segment crossover is smaller than a Ford Fiesta, is capped at 62mph and can drive up to only 140 miles per charge. 
However, priced from roughly £14,000 (in France, with local incentives), it found nearly 50,000 buyers in Europe last year, according to Jato Dynamics. That's more than fully sized and heavily marketed models including the Cupra Born, Hyundai Ioniq 5 and Polestar 2.
The Citroën Ami is cheaper still, priced from £7695 (or £19.99 per month with a £2747.19 deposit). However, it has yet to find success on the scale of the Spring because it is so compromised: a 28mph top speed, a sub-50-mile range and seating for two only. 
This opens a gap in the market for electric kei cars, which undercut the likes of the Spring but retain much more usability than the extreme Ami. 
Few vehicles are better placed to fill this opening than the Nissan Sakura, voted Japan's Car of the Year for 2022-23. Launched last year at just ¥1.78 million (£11,220, including local incentives), it offers seating for four and a 112-mile range, plus an 81mph top speed. 
"The Sakura would do well in Europe," said Torque GT. Manufacturer backing would also be required for such models in order for them to achieve the economies of scale needed to be sold at a competitive price point. 
Torque GT – being a low-volume specialist, often working on commissions through its personal import service – could bring a Sakura to the UK for only "just under £20k". At that price, it would be unsurprising if mainstream buyers instead looked to the full-sized MG 4, which offers a 218-mile range for £26,995 (in SE specification). 
Should any manufacturer offer a kei car in Europe, it will face significant challenges. For a start, the boxy shape legislated into existence by the restrictive kei rules is thoroughly unfashionable among European buyers, who tend to favour more curvaceous crossovers. The kei cars would also have to adhere to strict GSR2 safety regulations. 
All new cars launched in Europe since 6 July 2022 have to comply, and from 2024 existing models on sale in the market will have to comply, via modifications if need be, to remain on sale. 
The technology now required includes advanced emergency braking, driver drowsiness detection and emergency lane keeping, among other systems. Modification is the sticking point for some cars currently on sale. It is unlikely that modifying existing Japanese-market models that lack such tech would be economical for manufacturers. Nonetheless, many newer kei cars do offer advanced driver assistance (the Sakura has Nissan's ProPilot suite, for instance) so may not need significant revisions to be sold here. 
Kei cars would also have to overcome their historical failure in European markets. The only kei maker to succeed in Europe has been Suzuki, with a wider version of the Wagon R. Called the Wagon R+ (having been stretched outside compliance with kei rules and fitted with punchier engines), its annual sales peaked at 119,008 in 2001 (combined with the identical Opel/Vauxhall Agila). Hot cakes compared with its kei compatriots, but far fewer than superminis such as the Renault Clio (492,308 that year) and Ford Fiesta (255,123). 
Whether this trend could be reversed in light of modern market forces will remain untested until a Japanese manufacturer goes where many have previously failed.
https://www.autocar.co.uk/car-news/new-c...ive-europe