05-19-2022, 07:08 AM
How Mahle is getting ready for the electric vehicle shift
#1
" title="99 Tesla in VDC2 front
#1
" />
Tesla Model 3 undergoing testing at Mahle
British engineering firm begins transformation by building EV-powertrain test facility
When car makers search for help to develop new, powerful performance engines, one of their first phonecalls might be to Mahle Powertrain, formerly known as Cosworth Technology, a firm that has long been one of Britain's engineering powerhouses.
Audi, Ford and Nissan have all entrusted important new performance engines (for the Audi RS6, Ford Focus ST170 and Nissan GT-R) to the company, while countless other engines have been tested and developed on its dynamometers and high-temperature and high- altitude climatic test cells.
These days, like every car-industry supplier, Mahle Powertrain is refocusing on battery-electric powertrains. This month, it completed the first stage of its transition with the opening of a £1.5 million battery-electric powertrain test facility, taking investment in the site since 2018 to £14.9m (£3.6m from the government).
For Autocar Business webinars and podcasts, visit Autocar Business Live
The pouring of concrete and connection of miles of cabling are the tangible signs of the shift, but the ideas have been germinating for much longer. Mahle has been pondering its response to electrification, like every UK automotive business, in its capital-expenditure plan for a decade.
Simon Reader, Mahle's director of powertrain services, explained: "We knew in 2010 that we needed to shift our focus, but where was the point when we really needed to invest in new battery-electric facilities? "Back then, there was no talk of ICE bans, so we started out by thinking that demand for electrification services would be a few small projects around 2021/2022 but the bulk of our work would remain ICE."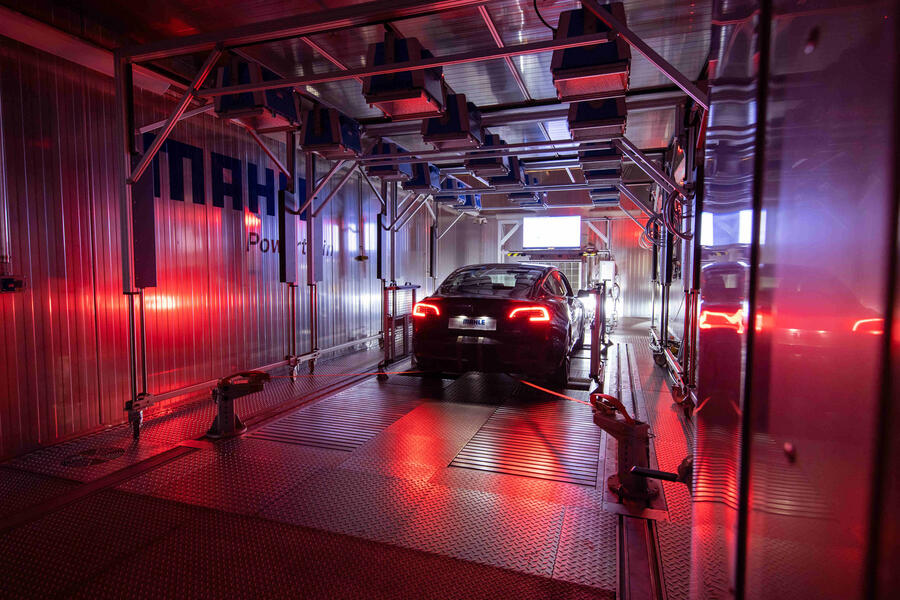 The catalyst for change came in 2020, when the UK government announced that it would ban sales of new ICE cars from 2030. Mahle then brought forward and boosted investment fourfold between 2020 and 2024.
"This requires new facilities completely," Reader said. "In the past, we had to update existing dynos for new test regimes for each new EU emission level, but it was iterative, driven by new test standards every five years or so. But it's not an iterative process any more, it's new facilities."
Mahle had already built a Vehicle Development Centre in 2018 and the new Battery Development Centre is the latest addition. More are likely to follow.
Of course, taking on new work in battery development and testing isn't just a matter of building some new sheds. For a start, the electrical power demand has been increased to 1MW, split between four 250kW inverters for rapid charging of battery packs as they're rinsed through repeated charge/discharge cycles.
Mahle believes it's the biggest power feed to an automotive battery-testing facility in the UK. No wonder there's also a kilometre of new cabling to wire the facility and its five test cells (four for testing packs and the other one likely to receive a new rig for shaking them to simulate road mileage).
There has also been a major focus on safety. Firstly, new handling and storage procedures are needed for prototype lithium ion (li-ion) batteries, which are potentially unstable in a way that prototype combustion engines never were. In the worst-case, li-ion is prone to catastrophic thermal runaway: fire that generates its own oxygen and will only extinguish once the battery is totally destroyed.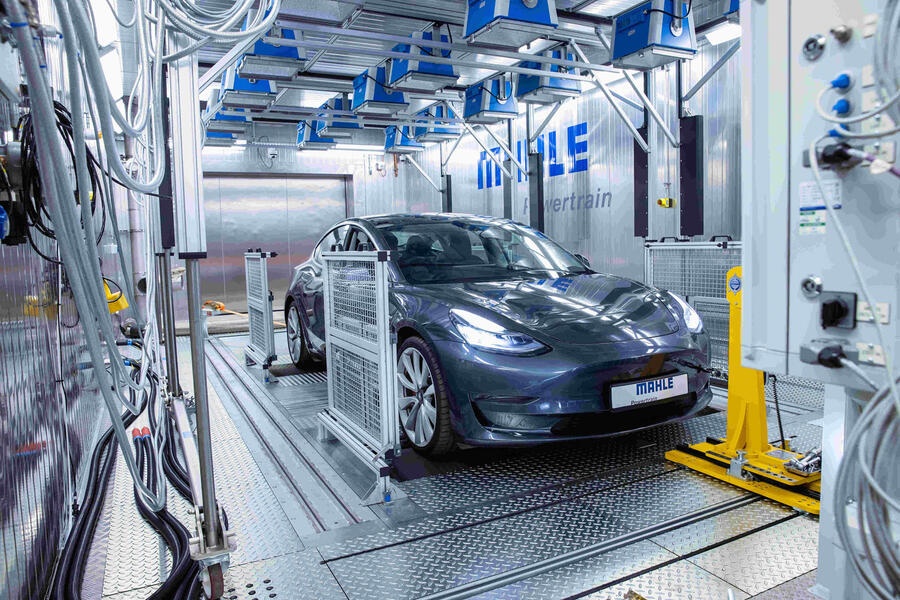 "We operate in a prototype environment, and if you're pushing anything to the limit, which is what we do to get the best results, you're more likely to have a failure," said Reader. "You try to mitigate that with design and computer simulation, but you have to prepare for the worst."
In the early stages of a prototype battery's testing programme, Mahle puts it in a fireproof protective stainless-steel box complete with a plumbed-in fire extinguisher and water- flooding system in case of a thermal runaway.
Although li-ion cells burn even without the presence of oxygen, the water-flooding system does give "some control". In the last resort, the box can be towed out of the test cell into the open air outside the building.
Notwithstanding testing mishaps, Mahle's highly skilled design and development engineers is also having to learn new tricks, as the skills of designing high-output turbo engines morph into the skills of designing batteries. "We've had to develop new working processes for how you develop a battery," said Reader. "Although there are similarities to a conventional engine programme, it's not the same."
Mahle's engineers have the skills, for example, to design a new cylinder head with the challenges of managing 1000deg C peak temperatures next to cooling water and oil flows – knowledge that transfers to battery design.
"I'm a great believer in transitioning our people," said Reader. "I have a bunch of really clever engineers, and there's no reason why they shouldn't move from designing a bit of an engine to a bit of battery. If you're a good mechanical engineer, it's the same challenge."
Batteries may be the future, but Mahle still has strong demand in the Vehicle Development Centre for ICE development and testing, especially while EU7 might be poised to set all-but-impossible emissions targets. In fact, the regulations will require new super-sensitive equipment just to measure the pollutants from the next generation of engines, while dyno cells will need to be modified to deliver a test temperature of -7deg C.
Mahle's ICE business is certainly thriving. When Autocar visits, multiple examples of a British luxury car are on test in the Vehicle Development Centre, some recording Real Driving Emissions (RDE) CO2 output and fuel-economy figures, for which 90% of the test regime is in the laboratory, ahead of the certification test.
The centrepieces of this building are two climatic vehicle test chambers with rolling-road dynos, one of them with the unique-in the- UK capability of simulating high altitudes up to 2500m.
Built inside a concrete cube with walls 600mm thick to contain pressure and temperature, desert temperatures of up to 60deg C (also known as "high solar loading") can be simulated a few miles off the M1, negating the need to travel to Death Valley in the summer.
Mahle has already tested EVs in the climatic chambers to assess the effect of high temperatures on air- conditioning performance and battery range.
Elsewhere on site, there are 11 engine-testbed dynos being kept busy, with one cell modified to run hydrogen- combustion engines.
As the demand for EV testing ramps up and for ICE testing tails off as 2030 approaches, some of these cells will be converted for new uses.
A continuing programme of investment in new equipment for testing EVs promises to keep Mahle very busy indeed.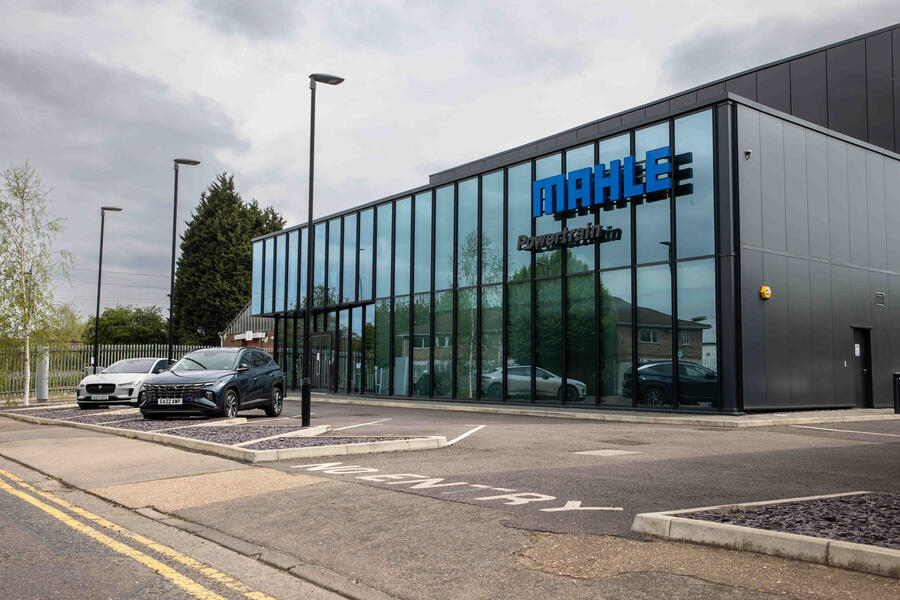 How Mahle Powertrain spawned from a British racing legend
Mahle is a German company, but its Northampton-based subsidiary, Mahle Powertrain, is protective of its British heritage, retaining strong emotional ties to its origins as Cosworth.
The business came to be owned by Mahle after a couple of changes of ownership, first in 1980, then in 1990, when engineering conglomerate Vickers (then also the owner of Bentley and Rolls-Royce) took over.
After eight years of ownership, Vickers sold Cosworth to Audi in 1998, at which point the famous race-engine operation was separated from the road- engine operation, which was renamed Cosworth Technology. Ford took on the race-engine business, then sold it on in 2004.
Mahle acquired Cosworth Technology from Audi in 2005 and rebranded it Mahle Powertrain. Still linking to the glory days of Cosworth founders Mike Costin and Keith Duckworth, the site on St James Mills Road is the same one occupied since 1964, now being one of six in the Mahle Powertrain global network, with the others in Germany, China and the US.
Northampton's workforce is the biggest in the network, at 160, of whom 90% are engineers and technicians, while 190 are spread across the five other sites.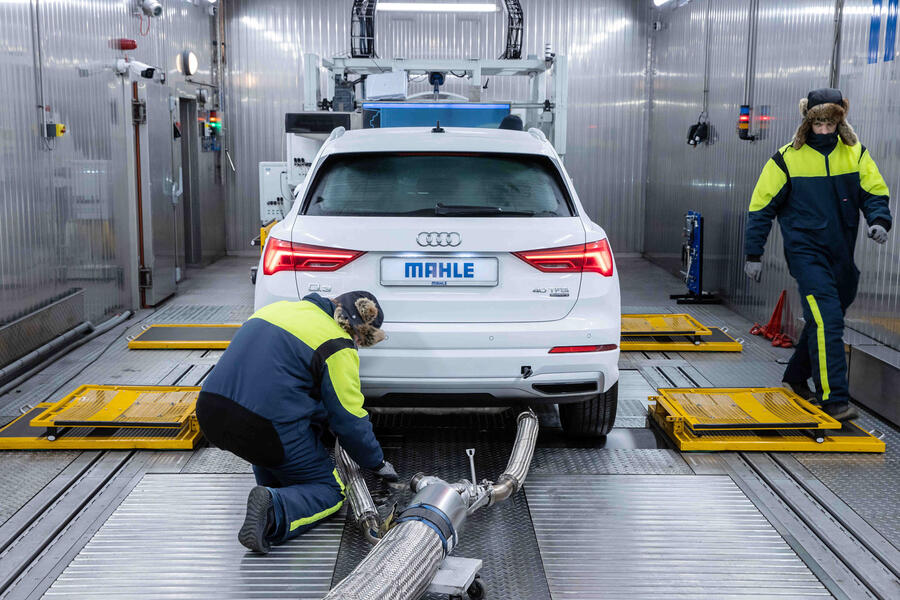 What future is there for ICE globally?
There's probably a general impression that the world is charging headlong towards total electrification and the combustion engine will be dead in 10 years' time.
The view of Mahle Powertrain, however, backed up by contact with car makers in the US and China and close examination of published future emissions standards, suggests that's definitely not the case outside Europe.
"There isn't an ICE ban in China," said Mahle's Simon Reader. "In fact, they're pushing hard for high- efficiency ICEs. They've softened more towards ICEs and are looking at the highest brake thermal efficiency they can get that will allow the efficient ICE to run alongside hybrid and battery-electric."
The Chinese will allow clean ICE vehicles beyond 2035 with fleet-average CO2 of 46g/km, which is in stark contrast to the plans of the EU and the UK.
EU emissions regulations dictate fleet-average CO2 of 42g/km by 2030, with 0g/km following five years later, and despite Brexit, the UK has committed to following the same path.
While the US position is less clear, with clarification on actual targets yet to be given, Mahle still has strong American demand for ICE engineering programmes.
https://www.autocar.co.uk/car-news/busin...icle-shift