03-29-2023, 09:24 PM
How electric cars can contribute to the UK's energy security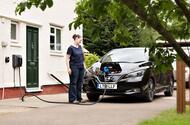 "V2G is an important step, and the evidence is now there that it can work," said Miller.
Trials saw Nissan Leaf owners storing energy in car's battery for use in powering homes
The enormous potential for electric cars to contribute to the UK's energy security means that any pressure to push back the 2030 deadline to end the sale of new, purely combustion-engined cars must be resisted. 
That's the belief of Claire Miller, director of technology and innovation at Octopus Electric Vehicles, who oversaw her firm's Powerloop vehicle-to-grid (V2G) trials, in which Nissan Leaf owners were able to use their cars' batteries to store cheap, abundant energy overnight and then power their homes or return it to the grid during daytime. 
The final stage of that trial, working with National Grid, is now complete, and four years of data is being analysed. 
Although the technology is still being developed for mass adoption, energy analysts predict that the potential is there for V2G to provide 20GW of energy storage, the equivalent of 31 million solar panels. 
"V2G is an important step, and the evidence is now there, via real customers, that it can work," said Miller. "There's more to do, of course, but I would realistically expect for the systems needed to be available on a wider scale by the start of next year; and for the infrastructure required to get the cars and chargers talking to each other and the grid to come much faster as it goes on sale." 
Highlighting the newly created governmental Department for Energy Security and Net Zero's potential role in accelerating uptake and development of V2G tech, Miller said: "It's a fact that every day we push back, we're exposing people to combustion engine pollution that kills hundreds of people every day in this country. 
"I understand the issues the cost of living crisis is causing, but green technology must be seen as part of the solution, and V2G is a perfect example of that.
"Nothing worth doing is easy, but unless the narrative changes to highlight the potential that we can all benefit from, then we're left in a holding pattern. We need to see a plan and act decisively."
https://www.autocar.co.uk/car-news/busin...y-security