11-06-2023, 09:52 AM
How much does it cost to charge an electric car?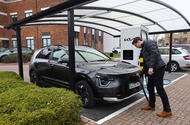 The details of EV charging and the cost of it remain hazy to some; we address the key questions here
If you've been considering a move away from petrol or diesel, the first thing on your mind may well be how much it costs to charge an electric car.
It's a great question to ask because this is where you make your money back. For example, an entry-level petrol Vauxhall Corsa is around £20,000 in cash. Whereas an electric Vauxhall Corsa is more like £30,000.
That £10,000 difference seems like it'd be hard to make sense of financially. But the good news is that if you plan charging ahead of time, and before you buy your car, there are huge savings to be made.
Even amid the cost of living crisis and varying energy rates, charging an electric car at home is usually much, much cheaper than filling a petrol or diesel car. 
Especially when you can top up overnight, when electricity is at its cheapest.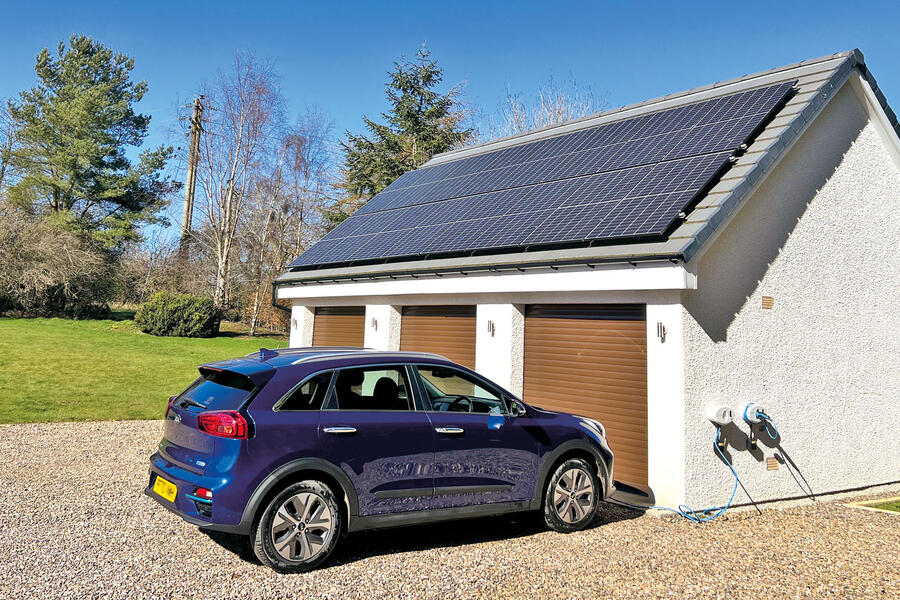 However, the gap between EV and internal-combustion running costs narrows if you need to rely on the public charging infrastructure. For instance, using a public charger you'll pay 20% VAT compared with the 5% for people using domestic electricity – and that's before you factor in the additional cost of using a high-power DC rapid charger. Indeed, filling up using these points can cost almost as much as brimming the tank of an equivalent petrol car. 
Of course, there are cheaper options, but they're not as quick and usually not as conveniently located.
How much will it cost to charge my car at home?
The vast majority of electric car drivers charge at home where it's not only cheaper, but also far more convenient, as it allows you to start the day with a full battery. Obviously, this depends on the car you're charging and your electricity supplier's tariff, but even with the recent hikes in electricity prices, you will still be saving cash on every refill compared with a traditional petrol or diesel car.
For example, when plugging in a Kia Niro EV with a claimed 285-mile range, it should cost around £18 for a full charge, based on the current average cost of 27p per kWh.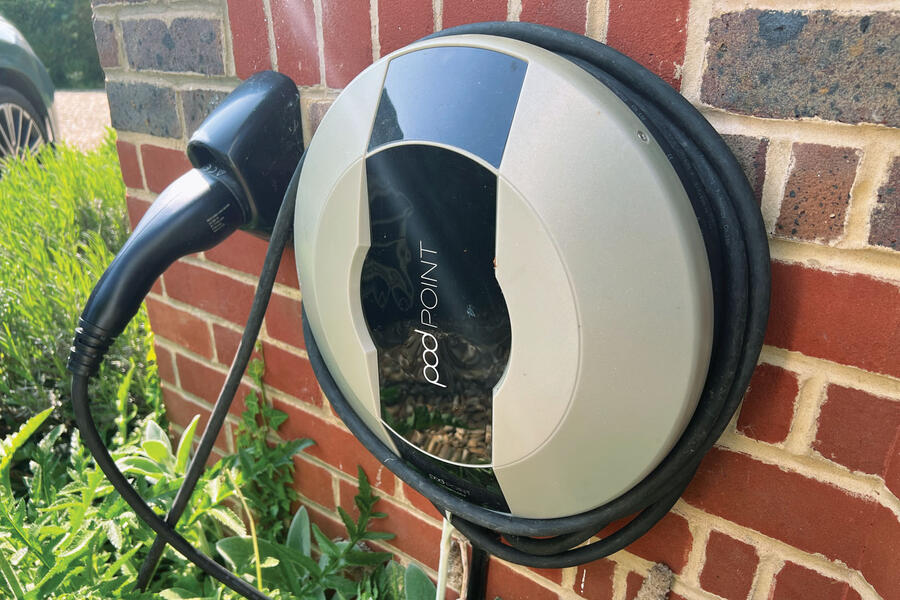 Some energy providers offer special tariffs for electric car owners, providing even cheaper rates for overnight charging. Octopus's Intelligent scheme, which works with select EVs (or any EV connected to an Ohme 'smart' wallbox) gives a minimum of six hours of electricity per night at 7.5p per kWh. If you have a 7kW charger, that means you could recharge almost two-thirds of the Niro EV's battery for just £3.15. If you're able to complete a full 64kWh charge solely on that off-peak rate, it would cost just £4.80 – a fifth as much as on the energy price cap.
Moreover, if your home has solar panels, some chargers can use this 'free' energy to charge your EV, further reducing bills. There are even trials running for bi-directional charging that allows you to 'sell' any surplus power from your EV back to the grid.
Home charging for company car drivers is more complex, owing to the need to prove how the energy has been used. However, drivers can claim 9p per mile for business trips in electric vehicles, which is the easiest way to avoid administrative headaches.
How much will it cost to install a car charging point at home?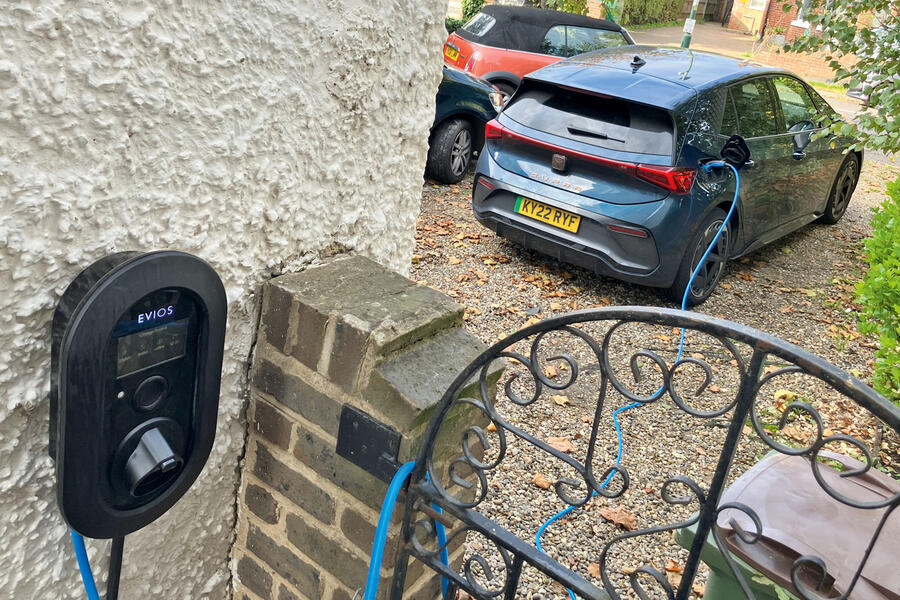 It's possible to use the factory-supplied three-pin plug charger when refilling your EV's cells, but charging times are lengthy and most manufacturers claim this device is for emergency use only. 
Either way, if you're committed to EV ownership and you have access to a driveway or garage, it's always best to use a dedicated wall-mounted unit, which can charge at up to 7kW, more than twice as fast as the three-pin alternative.
There are a number of different manufacturers to choose from, plus a choice of tethered (with a charging cable permanently attached) or untethered (allowing you to choose different sockets and cables for different cars) layouts.
Regardless of which one makes most sense for your EV, you will need a qualified electrician to check your household wiring is up to the task and then to install the box.
Prices vary, but you can expect to pay £500-£1000 for a home charger.
If you live in Scotland, bear in mind that the authorities there offer a £400 grant toward the cost of installing a charger.
Also keep in mind that if you're a home owner in a single-unit property and still haven't bought your EV, a number of manufacturers are still offering a free wallbox and installation when you buy one of their electric models.
How much will it cost at a public charging station?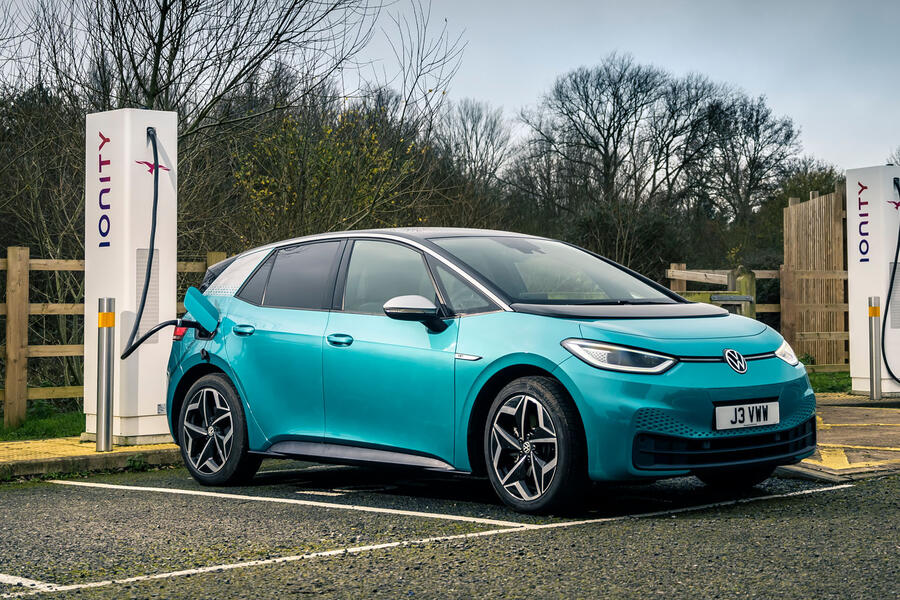 This is dependent on your car and the way you use it because there are numerous options when it comes to public charging stations. For instance, if you only need to charge when out and about infrequently, then a pay-as-you-go method is possible. It generally costs between 20p and £1 per kWh, with DC rapid chargers sitting at the higher end of the spectrum.
Instavolt works on this principle, requiring nothing more than contactless payment as when you need to top up, when it charges 75p per kWh. Other providers will charge an hourly rate (effectively a parking charge) plus a kWh charge for electricity consumed.
If you travel further afield more frequently, providers such as BP Pulse offer a subscription service with a monthly fee of just under £8, which gives you discounted rates (the brand reckons on a 20% saving compared with pay as you go) on many of its 9000 chargers, plus free access to a handful of AC units. 
You'll need a smartphone app to access them (or an RFID card for some of the older units), but once connected, you will be billed at 63p per kWh on the rapid (50kW and 150kW) chargers and 44p per kWh on the 7kW devices. It's also possible to use many of the chargers on a pay-as-you-go basis with a contactless bank card, with a rate of 59p per kWh for 7kW AC chargers or 79p per kWh for 50kW and 150kW chargers.
Rival oil company Shell has its Recharge network, which has been rolling out 50kW and 150kW rapid chargers at its filling stations across the UK. These can be used on a contactless pay-as-you-go basis on a flat rate of 85p per kWh for its 50kW chargers, as well as its faster 150kW and 175kW.
These prices remain unchanged if you sign up to the Shell Recharge account, which bills you monthly for your use but also allows you to use more than 250,000 chargers from more than 250 providers across Europe. It's also worth noting there's a £20 pre-authorisation requirement on your card each time you plug in. Shell claims all electricity for its chargers comes from renewable sources.
Some hotels and shopping centres offer free charging to customers. The widespread use of smartphone apps for all providers makes it easy to see where the charging points are, how much they cost to use and and whether they're free, so you can easily tap into a provider that suits your needs and budget.
Many manufacturers also offer simplified charging by giving access to numerous providers under their own charging scheme. For instance, Audi's E-tron Charging Service account gives access to nearly 20 different energy firms, while all new E-tron models come with a voucher that covers the first 1000 miles worth of charging for free.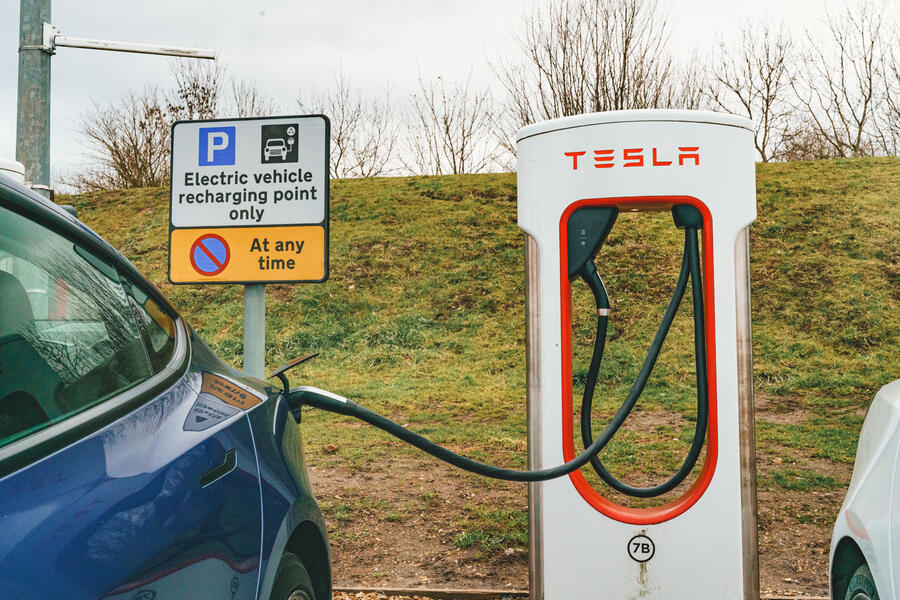 Tesla owners get their own dedicated rapid-charging Supercharger network, plus a number of Destination fast chargers at locations such as hotels. Owners of a Tesla Model S or Tesla Model X registered before 2017 are eligible for free charging, while some owners received 6000 miles of free charging if they bought their cars between 15 December 2022 and 12 January 2023. 
For all other Tesla owners, there will be a charge: 49p during off-peak hours and 59p on-peak. Tesla also charges 'idle fees' if you remain parked up once you have a full battery, to reduce how long it takes for others to get connected. If the Supercharger station is more than 50% full, you will be charged 50p for every minute you're parked in a fully charged car, rising to £1 if the station is completely full. 
Tesla has also made some of its UK Superchargers available to owners of other brands of EV. On 30 August 2023, to mark the 10th anniversary of its European Supercharger network, Tesla made all its charge points in the UK free to use for all electric cars for the day.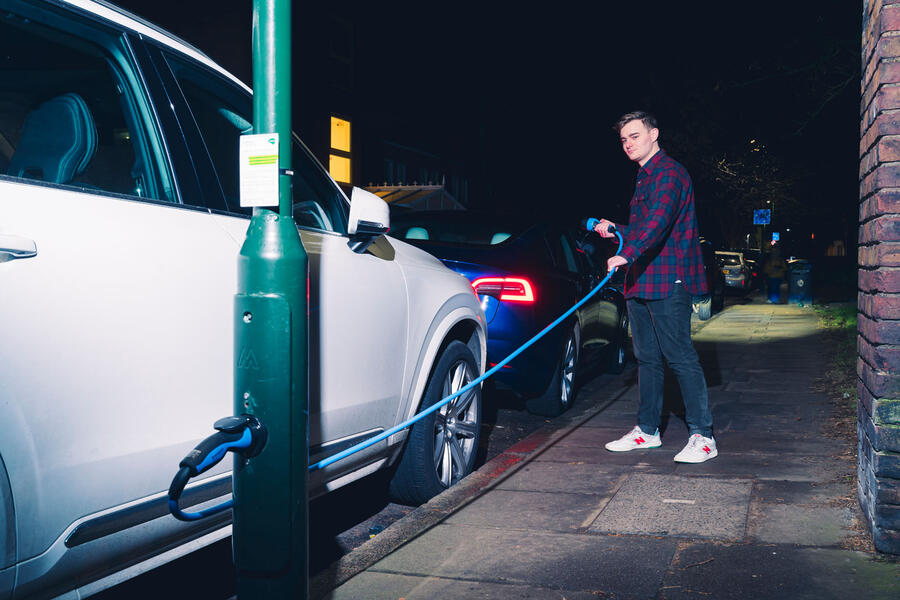 If you need to charge an electric car at an apartment or flat and you don't have access to a domestic wallbox, then the increasing number of lamp-post charging units will be of interest. Shell-backed firm Ubitricity is a major player with 7000 street-side chargers available, making it the biggest network in the UK.
With electricity trickling in at around 5.5kW it's not the fastest, but you'll pay 40p per kWh during the day and 37p per kWh between midnight and 7am. There's a 35p connection charge and a £25 pre-authorisation fee to ensure you've got the funds for a full charge.
How much does motorway charging cost?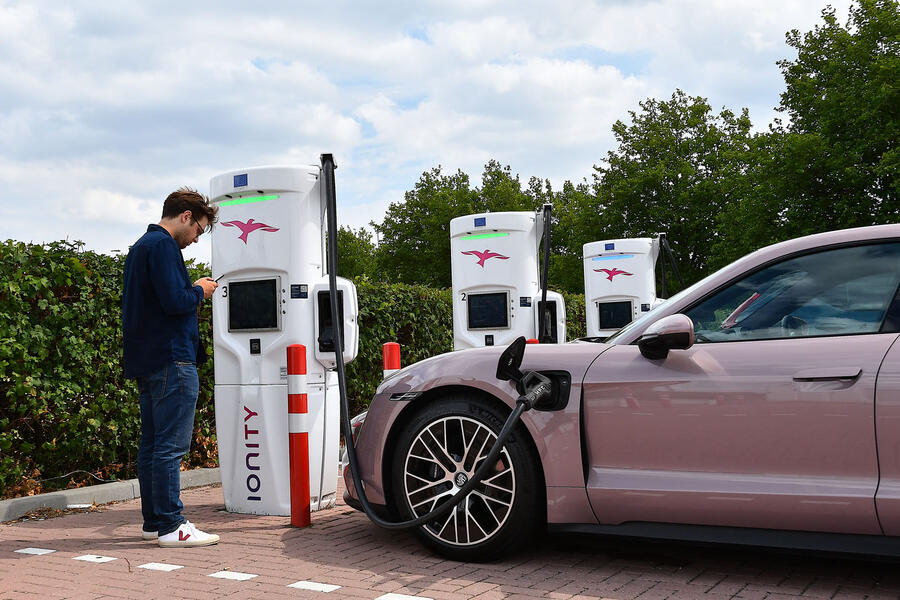 You will pay a little more to charge at a motorway service station, largely because most of the chargers there are fast or rapid units. Until recently, Ecotricity was the only provider at these locations, with around 300 chargers available, but it has now been joined by companies such as Ionity.
In the case of Ecotricity, it sold its Electric Highway network of chargers to Gridserve, which promises greater investment and more 350kW rapid chargers. Over the rest of the Electric Highway network, there's the existing choice of both AC and DC charging options, all with a 45-minute maximum use time. There are only a handful of the 22kW AC fast chargers left, and these cost 49p per kWh. 
The rapid DC chargers offer 120kW, 180 kW or 350kW charging and can be all be used on a pay-as-you-go basis at both its motorway services locations and Gridserve Forecourts, which are essentially stand-alone hubs on main trunk roads and provide amenities such as cafés and newsagents. The firm also recently revised its prices, with all DC charging rated at the same 69p per kWh, although its pre-authorisation requirement has been slashed to just £1, with the exception of its Super Hub and Rugby Services in Warwickshire, where the fee is £35.
Rival firm Ionity costs a little more for pay-as-you-go customers, with a price of 74p per kWh, but commercial tie-ins with EV manufacturers such as Audi, BMW, Jaguar and Mercedes-Benz entitle drivers of these cars to lower rates. On the plus side, all of its units are capable of charging at up to 350kW.
Additional reporting by Charlie Martin
https://www.autocar.co.uk/car-news/advic...ectric-car