06-11-2023, 09:07 PM
How the Hyundai IONIQ 6's smart tech transforms electric driving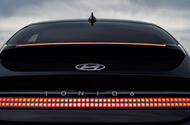 The Hyundai IONIQ 6 is packed with smart tech that enhances range and makes driving easier
We explore the wealth of features that deliver more range, faster charging and make journeys feel even easier
The Hyundai IONIQ 6 rethinks the idea of how electric cars can look, with a sleek, graceful, low-slung saloon silhouette that bucks the trend for large all-electric SUVs –significantly reducing the car's drag and delivering up to 338 miles of range*.
The IONIQ 6 hasn't only been designed and sculpted to look different, though. It has also been engineered to think differently (and think smarter) with a wealth of advanced electric powertrain and always-online navigation and connectivity technology.
All these features work seamlessly together to enhance the IONIQ 6's already impressive all-electric range, while also using ultra-rapid charging** to make top-ups easier, faster and more time-efficient, meaning you spend less time standing still. It also makes every element of driving safer and easier, whether you're in the heart of the city, enjoying open A-roads, or taking a long-distance trip on the motorway.
Combined with the IONIQ 6's near-silent electric drive and cosseting interior, it all serves to take all the stress out of driving, while also contributing to IONIQ 6's five-star Euro NCAP rating, with a 'Best-in-Class' in the Large Family Car category.
We recently took the IONIQ 6 on a journey across Scotland to find out how it's sleeker and smarter in every way, and you can see how we got on in the video below. But we also took the time to explore the 14 ways in which the IONIQ 6's advanced tech is transforming the future of electric driving. Read on to learn more…
Learn more about the Hyundai IONIQ 6
#1 A fast, intuitive, ultra-wide digital dashboard
Sitting at the heart of the Hyundai IONIQ 6's spacious interior is a large ultra-wide digital dashboard that blends a pair of large 12.3-inch high-definition displays to offer a seemingly uninterrupted screen on which driver and passenger can share navigation, car settings and a wealth of entertainment and information apps, using Apple CarPlay and Android Auto smartphone connectivity.
The two screens feature large bold attention-grabbing graphics that make navigating settings, apps and your route feel seamlessly simple – whether you're using the touchscreen or Hyundai's intuitive voice control. You can also pick a traditional black backdrop or – for something a bit different – a stylish modern white backdrop.
#2 Always-online to guide your journey
Hyundai's Bluelink Connected Car Services and Hyundai Live Services turn your IONIQ 6 into an always-online ultra-connected device.
Using live cloud-based navigation that includes real-time traffic, parking and charging data, the IONIQ 6's electric route planner helps you find the best path for your journey – whether it's the fastest roads, or the fastest chargers closest to your route for quick top-ups.
The electric route planner will even pre-warm the IONIQ 6's battery so that it's at the optimum temperature for optimum charging by the time you reach the charging station. That means you can cut the time you're stood still and get to your destination in the quickest and most efficient way.
The IONIQ 6's always-online connectivity also lets you get over-the-air software updates, so your car always has the latest maps and features.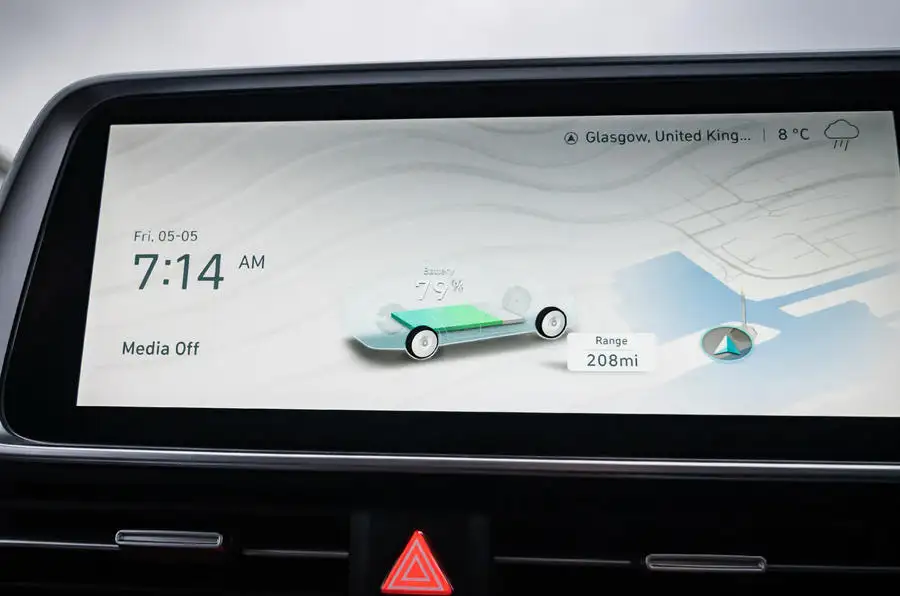 #3 Seamless smartphone connectivity
The Hyundai Bluelink smartphone app connects you remotely with your Hyundai IONIQ 6, letting you plot door-to-door journeys from the comfort of your sofa in advance, before syncing the route with the navigation system in the car.
You can check your battery status, and control and schedule home or on-the-go charging remotely, making sure you've got enough range for your next journey, or letting you save time or cap your spend. At the same time, you can pre-warm or pre-cool the car's air-con while the car is plugged in, so you don't waste any range.
If you forget where you've parked your IONIQ 6 in a busy city (let's face it, we've all done it), the app will guide you back to your vehicle and let you unlock the doors remotely. Then, Apple CarPlay and Android Auto let you use key smartphone apps through the touchscreen or voice control, while the IONIQ 6's wireless charging tray features Parametric Pixels that signal your smartphone's charge at a glance.
#4 A heads-up that keeps you focused
The Hyundai IONIQ 6's advanced head-up display*** effectively turns the windshield into a display screen. It projects key driving information – such as turn-by-turn navigation, local speed limits and lane safety warnings – directly onto your view of the road, letting you concentrate on more of the road, more of the time.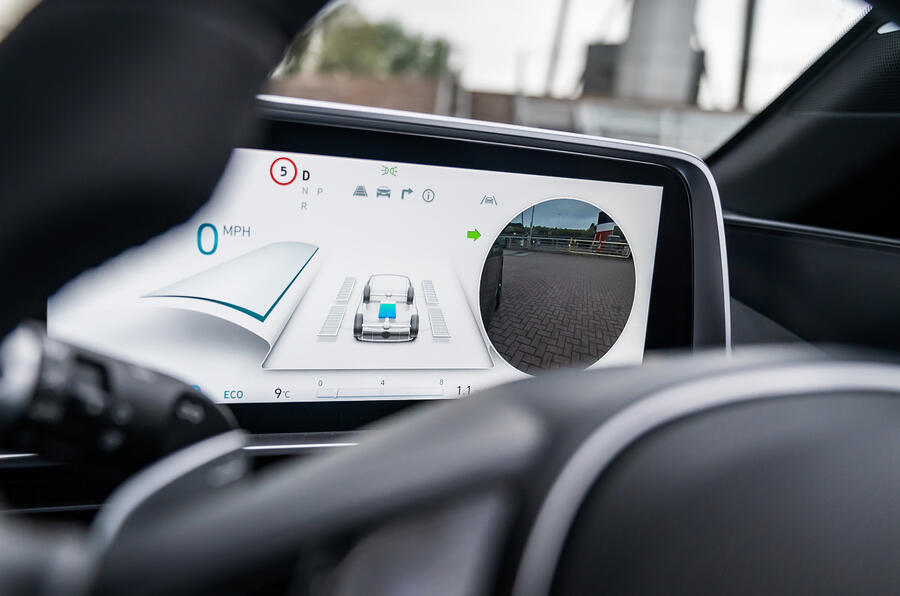 #5 Digital mirrors that offer a clearer view
Available as an option on Hyundai IONIQ 6 Ultimate models, the Digital Side Mirrors use slimline external cameras and two in-car OLED monitors seamlessly integrated into the dashboard. The result: an even clearer view in bad weather, and a wider-angle perspective that helps you see more of the potential hazards around you.
#6 Powerfully intelligent and illuminating headlights
The Hyundai IONIQ 6's Intelligent Front Lighting System uses high-beam assist technology to avoid dazzling other road users after-dark without compromising your view of the road ahead.
Whereas conventional high-beam assists turn off the whole high-beam for a few seconds, the IONIQ 6's Matrix Beam LED headlights are made up of eight segments per lamp. That means the IONIQ 6 only needs to turn off the parts of the high-beam that are absolutely needed, leaving you with plenty of illumination.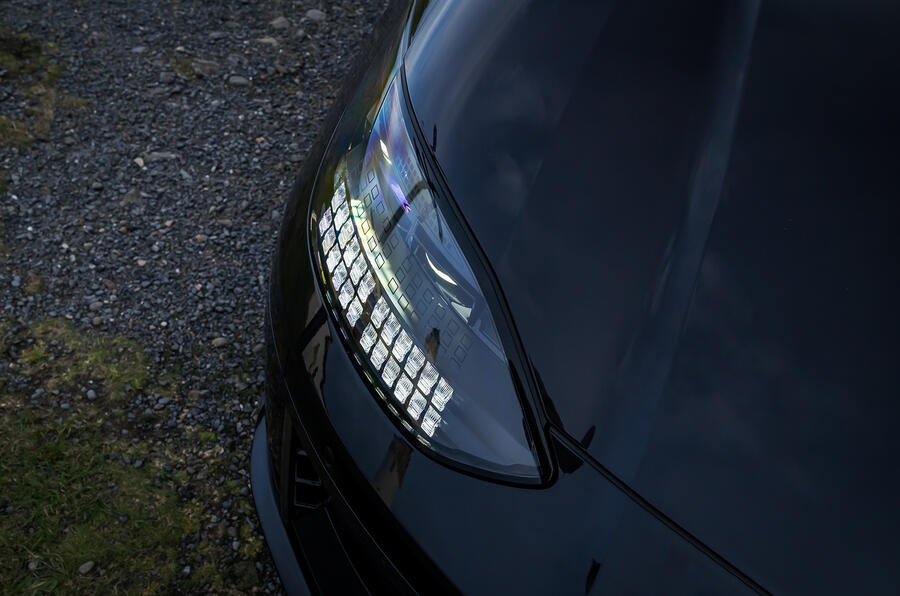 #7 Ambient lighting that can change your mood
The warm cosseting glow of the interior ambient lighting for the Hyundai IONIQ 6 offers some impressive new customisation options that are a first for any Hyundai.
Alongside the 64 highly customisable colours combinations, you can pick from dual-colour themes developed specifically by colour experts to reduce stress, help you focus, or cultivate your creativity.
Equally, on the steering wheel, four Parametric Pixel LED dots*** light up to indicate key functions – including voice control, charging status and your drive mode – while Speed Sync lighting adds an extra dash of emotion, changing subtly to reflect the IONIQ 6's speed and enhance the driving experience.
#8 A new all-electric driving soundtrack
The near-silent powertrains of all-electric driving mean a new soundtrack, and that's doubly true in the Hyundai IONIQ 6. For the Hyundai IONIQ 6's Ultimate and First Edition trim models, Hyundai has designed a futuristic-sounding virtual 'engine note' for the IONIQ 6's BOSE Premium Sound System[3] that helps you feel more emotionally connected with the car while driving – especially on flowing A-roads.
Alternatively, the premium high-performance BOSE Premium Sound System lets you enjoy your music or podcasts with crystal clear precision, while a series of specially-designed 'soundscapes' offer an alternative audio backdrop that's the perfect relaxing accompaniment for a charging stop – whether it's the calming lap of waves from the ocean, the chirps of birds in a quiet forest, the bustle of a busy streetside café or the warming crackle of a home hearth.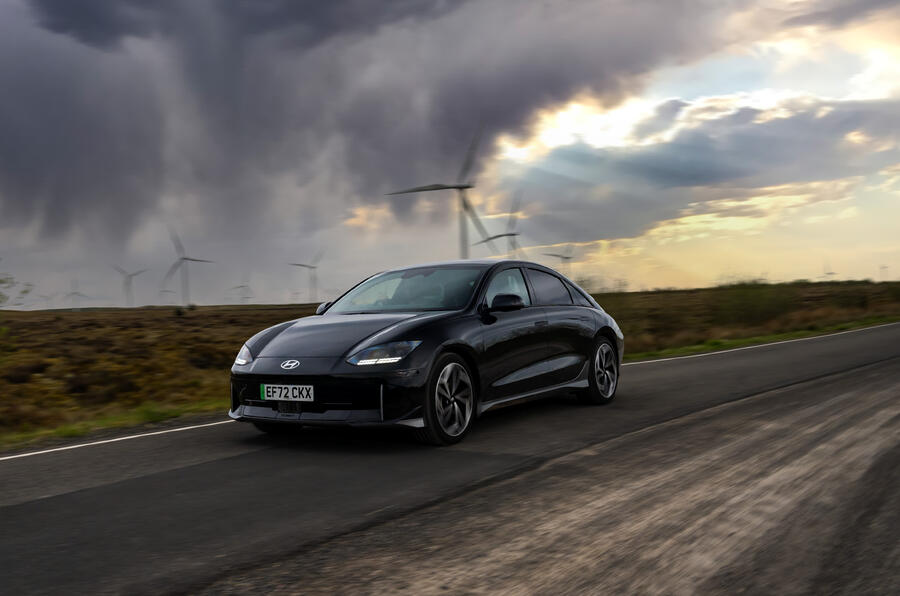 #9 Hyundai Smart Sense assists for safer driving
The Hyundai IONIQ 6 is available with a wealth of semi-autonomous Hyundai Smart Sense assists that make driving easier and safer.
The Hyundai IONIQ 6 features Highway Drive Assist 2 (HAD 2) as standard on all trims. This is Hyundai's highest level of semi-autonomous driving technology. It helps you with overtaking on motorways and will even adjust the IONIQ 6's position in the motorway lane if another vehicle swerves towards the car.
Working with the head-up display, the Blind Spot View Monitor*** puts a rear-facing camera view of the direction you're indicating on the dashboard, helping you spot passing cars or cyclists at junctions and while changing lanes. The Blind Spot Collision-Avoidance Assist adds an extra level of warning, applying the brakes and steering to avoid a collision if needed.
On the open road, the Intelligent Speed Limit Assist looks ahead to recognise road signs and, when activated, automatically adjusts your speed to suit, while the Forward Collision-Avoidance Assist looks out for hazards ahead and can automatically bring your car to a halt if needed.
Finally, the Navigation-based Smart Cruise Control uses the Hyundai IONIQ 6's always-on navigation to anticipate upcoming curves or speed changes, while Lane Following Assist and Lane Keeping Assist keep you on the straight-and-narrow and safely between the white lines.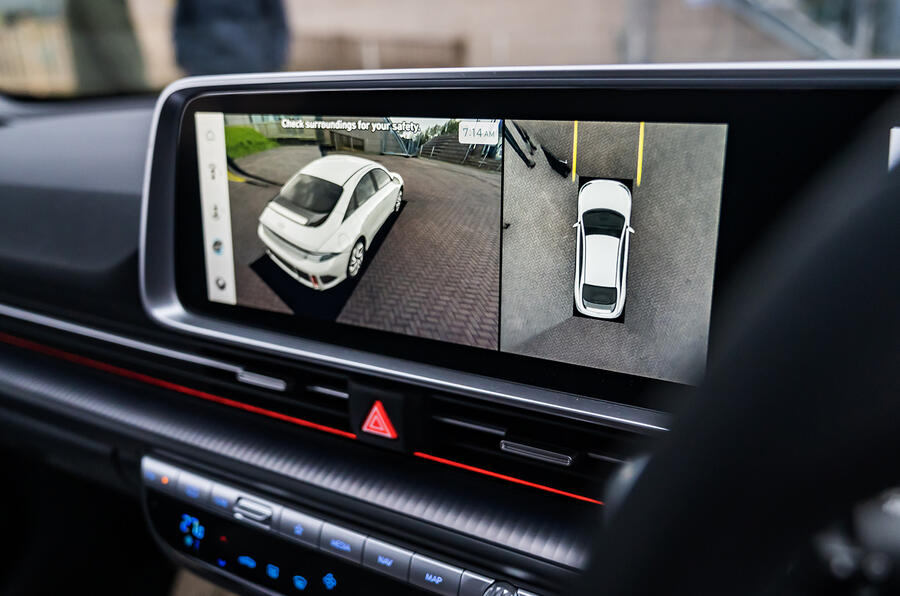 #10 Remote Smart Parking lends a helping hand
Once you reach your destination, Hyundai's remote Smart Parking Assist takes the hassle out of navigating awkward parking spaces, with a Surround View Monitor that presents a 360-degree overhead view of your vehicle and its surroundings to make manoeuvring around obstacles easier and less stressful.
Alternatively, with one touch of a button on the Hyundai IONIQ 6's smart key you can remotely manoeuvre the car into a parallel, diagonal or perpendicular parking space, as well as backing or driving it back out. Then, when you're back in the IONIQ 6 and ready to head off, Rear Cross-Traffic Collision Avoidance Assist keeps an eye out for unseen traffic in your rear blind spot if you're reversing out of a space.
#11 800V charging keeps you moving quicker
The Hyundai IONIQ 6's up-to-338-mile range* is more than enough for most long journeys. But, if you do need a confidence-boosting mid-trip top-up when you're away from home, that's where the IONIQ 6's pace-setting 800V charging** comes in.
It supports charging up to 220kW at ultra-rapid DC public charging stations, giving you access to some of the UK's most-powerful ultra-rapid chargers – including those from the fast-growing IONITY network. Depending on the conditions, these let you charge the Hyundai IONIQ from 10% to 80% in as little as 18 to 36 minutes**.
Alternatively, home charging is undoubtedly the smartest, most efficient way to keep the Hyundai IONIQ 6 topped up – letting you make the most of slower longer charging rates at a time when your car is parked up anyway, while also helping you start every journey with the maximum range on the lowest possible cost thanks to the typically cheaper overnight electric rates you get on a EV-friendly home tariff.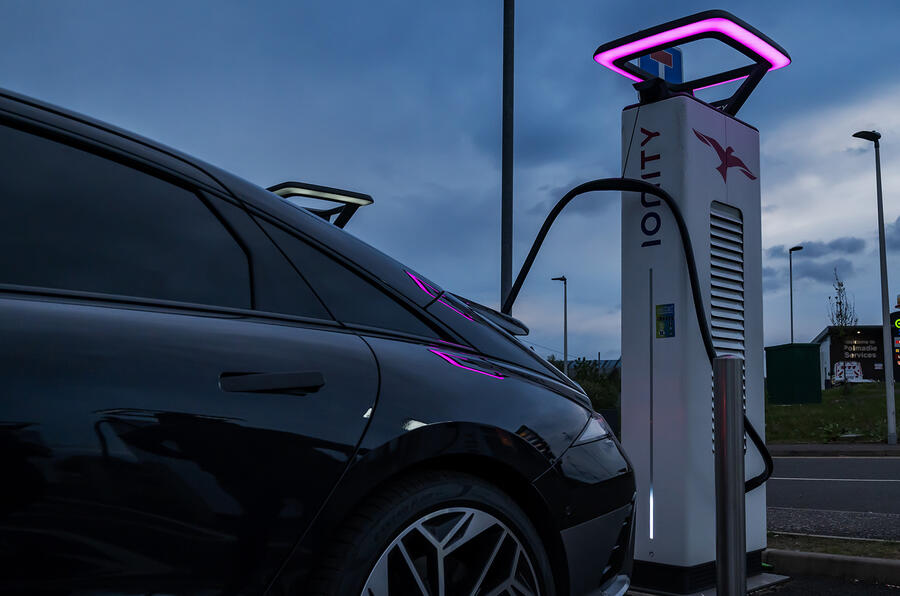 #12 Charging fees, made simple
Hyundai hasn't only thought about how to make charging faster on the IONIQ 6. It has also thought about how to make paying for it easier, cutting the wealth of charge cards, apps and subscriptions down to simply one Charge myHyundai card and app that can rule them all.
The Charge myHyundai app, RFID card and subscription account give you access to over 440,000 public charging points in 30 European countries. So, with just one swipe from one card, you can top-up, relax and then get back on your way even faster – without all that juggle of cards, apps and subscriptions that early EV adopters had to do with their physical or virtual smartphone wallets.
#13 Power your devices (wherever you are)
One of the defining features of Hyundai's IONIQ 6 products is the vehicle-to-load (V2L) functionality. Think about it. In the Hyundai IONIQ 6, you've got a powerful large capacity battery under your seat. Why not use it?
Using the conventional on-board 230V three-pin plug socket located by the rear seats, you can charge portable devices such as laptops and tablets on the move.
Alternatively, by using a converter on the bi-directional exterior charging port when you're at your destination, you can power and charge devices up to 3.6kW – such as electric bicycles and scooters, or camping equipment, turning an outdoor adventure into a high-tech glamping home-from-home.
#14 Fully reclining seats for ultimate relaxation
Finally, the ultimate finishing touch. Thanks to the extra space offered by the Hyundai IONIQ 6's, the front seats can fully recline with the simple touch of a button***, giving you a laid-back way to relax when needed.
Learn more about the Hyundai IONIQ 6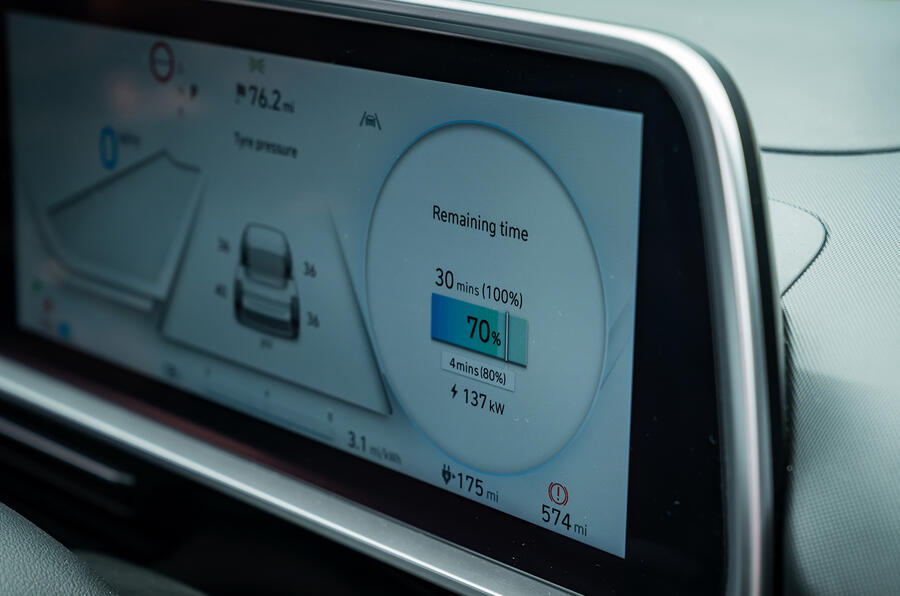 * Fuel economy and CO2 results for the Hyundai IONIQ 6 Premium 77 kWh 228PS RWD MY23: Maximum electric range: 338 miles. CO2 emissions: 0 g/km. These figures were obtained after the battery had been fully charged. The electric range shown was achieved using the WLTP test procedure. Figures shown are for compatibility purposes. Only compare fuel consumption, CO2 and electric range figures with other cars tested to the same technical procedures. These figures may not reflect real life driving results, which will depend upon a number of factors including the starting charge of the battery, accessories fitted (post-registration), variations in weather, driving styles and vehicle load.
** 350KW ultra-fast charger required for quickest charge times. Chargers are currently available on selected arterial routes. See Charge myHyundai map for details. Not currently available in Northern Ireland. Hyundai test data for comparison purposes. Actual time will vary and is dependent on several factors including battery temperature, condition and age, ambient temperature and the power provided by the charger. Charge time increases in cold weather and if battery temperature activates safeguarding technology. In optimal conditions, the latest Hyundai IONIQ 6 is capable of accepting power at up to 236KW.
*** Selected features on the Hyundai IONIQ 6 – including the advanced head-up display, Blind Spot View Monitor, Surround View Monitor, Remote Smart Parking Assist and BOSE Premium Sound System – are only available on Hyundai IONIQ 6 Ultimate models. Please ask your Hyundai salesperson for details.
https://www.autocar.co.uk/car-news/adver...transforms