05-01-2022, 07:38 PM
How to modify an electric car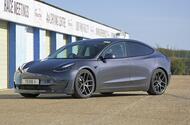 As electric cars begin filling the roads, some people are looking for ways to improve their EV's performance. We find out how...
As electric cars begin filling the roads, some people are looking for ways to improve or make theirs stand out. To satisfy this growing demand, specialist aftermarket suppliers are emerging offering everything from sporty bodykits to automatic frunk-opening.
The only area of the cars that's not so well served is performance. Increasing an EV's power and acceleration is a complex and expensive business with consequences for cooling and warranties, not to mention safety. In any case, car makers' updates can undo software tweaks while most owners agree that in standard trim, an EV's performance is already impressive. 
As the oldest EV (it's been on sale in various forms since 2011) the Nissan Leaf is well supported by aftermarket specialists offering a range of add-ons and upgrades. Muxsan, a company based in the Netherlands, designs and supplies a choice of three supplementary range extending batteries (11kWh, 22kWh and 33kWh) which, depending on the vehicle's age, can provide from 30 to 84 miles of additional range.
The largest range extender adds 160kg to the car's weight which is why Muxsan's price for its 22kWh and 33kWh batteries includes suspension modifications designed to restore the vehicle's handling.  
Cleevely Motors, an EV specialist based in Cheltenham, can install these batteries but founder Matt Cleevely says he's waiting for the firm's improved versions to be available before supplying more.
"The current one is OK but occupies about half the boot space and for us, isn't a big seller. The new one has improved power density and should be more practical." Muxsan's range extending batteries start from around £5000, supplied and fitted, so aren't cheap but Matt says that for people who like and trust their Leaf and want to keep it, purchasing one is better value than buying a new model with a similar range. 
Another Muxsan product is the firm's updated battery charger. The Leaf has an outdated CHAdeMO charger but Muxsan's replacement conforms to the popular CCS standard that enables faster charging at speeds up to 160kW.
The CCS charge port replaces the car's AC Type 1 or 2 port and Muxsan supplies an adapter so you can continue to use your old cables. However, the CCS upgrade will only deliver faster charging in combination with one of Muxsan's range extending batteries. What's more, for faster charging these same batteries need to be equipped with a new thermal management system that Muxsan admits won't be available until next year.  
Another upgrade open to Leaf owners is replacing their existing battery with a larger used one. Sourced from crashed cars, the 40kWh and 60kWh batteries cost around £8500 but according to Matt Cleevely, who has supplied and fitted them, customers consider them to be a cost-effective way of refreshing their Leafs. However, he says they are becoming harder to find and more expensive because they're being bought up by people wanting them for solar energy storage.
Away from batteries and turning to convenience upgrades, Matt fits automatic 'frunk' opening on Teslas. "It's controlled by an app on the owner's phone and is useful when your arms are full of shopping," he says. The application is made by Hannshow, a company based in China whose other Tesla upgrades include a soft-close door function and additional screens. 
Meanwhile, upgraded brake and suspension systems are becoming popular with EV owners keen to improve their cars' performance. "We focus on mechanical upgrades because Teslas have more than enough power," says John Chambers, founder of Tevo Solutions based in Camberley, Surrey. "Brakes, suspension and wheels are Tesla weak spots but it doesn't take much to improve them." 
Especially for trackday drivers, he recommends upgrading the brakes with AP Racing calipers, pads and discs and, for improved pedal feel, braided lines. "They're great on the track but improve high-speed motorway braking, too," says John. If your budget won't stretch to the full brake system, he can supply a front set of upgraded pads only for £215. For a further £96 you can have front and rear braided brake lines and, for £30, uprated brake fluid. Or how about a special bracket for the brake master cylinder that stops it flexing? Yours for £234. 
Turning to the Tesla's suspension system, which John describes as "only adequate", Tevo offers two kits by Ohlins and Bilstein, comprising dampers, springs, rollbars and bushes. John claims they achieve a good compromise between handling and steering sharpness, and a supple ride. A full suspension upgrade costs up to £5000. If that's beyond your budget you can always just fit upgraded suspension bushes. Tevo is working with Powerflex to develop uprated ones for Teslas that can tolerate the cars' weight over a longer period than the standard items. 
Of course, all these suspension and brake improvements are hidden from view; not so the upgraded alloys wheels Tevo can also supply. The fully forged items look good but more important, says John, is that they resist cracking and bending in potholes better than the standard, flow-forged items. In combination with Tevo's hand-laid carbonfibre splitters and spoilers, proven to reduce lap times, your Tesla will look like no other. 
John owns a Tesla Model 3 that he is considering having soundproofed. Aren't EVs already quiet enough? In fact, on YouTube is a video of an independent test conducted on a variety of roads in which a Tesla Model 3 in standard trim is shown to experience between 66 and 71dBA. After a set of additional rubber door gaskets by Goloho is fitted, these numbers fall to 62-69dBA, in decibel terms, a meaningful reduction. 
R Symons, a specialist Tesla dealer based in New Milton, Hampshire, fits a rival soundproofing product from German company, Custom Tesla. It fits to the inside of the car's panels and comes in two versions: Base for regular roads and Pro for bad and cobbled roads. "The gaskets help make the car quieter and improve the sound system and the feel of the doors," says Richard Symons, the company's founder and a keen EV advocate with a popular YouTube channel.  
In addition, he can supply more traditional visual upgrades for Teslas including illuminated door sills, a redesigned 'yoke' steering wheel the manufacturer claims is more convenient and comfortable to use, additional instrument displays, Alcantara dashboard inlays, automatic and illuminated door handles for the Model 3, StarTech bodykits, aftermarket alloys and adjustable suspension set-ups that offer a 40mm reduction in ride height. 
The EV aftermarket is clearly growing. How long before furry, battery-operated dice make an appearance is anyone's guess.
John Evans
READ MORE
Subscribe to the Move Electric newsletter
e-CARS
New Volkswagen ID Buzz: everything you need to know
How efficient are electric cars?
e-BIKES
Ducati expands e-bike range with first racing machine
e-MOTORBIKES
New Yamaha Neo is Europe-bound '50cc equivalent' electric moped
Electric Motion Epure Race e-motorbike review
e-SCOOTERS
Eskuta KS-450 e-scooter review
Taito unveils innovative new three-wheeled electric scooter
e-WORLD
Electric surfboard firm Awake aims to make waves with first e-foil
Volta Zero electric truck can 'dramatically improve' inner-city road safety
https://www.autocar.co.uk/car-news/move-...ectric-car