08-20-2022, 05:46 PM
How to save money on every electric car journey
Knowing how and when to charge your EV can help keep costs down
With sky-high fuel prices and the cost of living increasing, Hive and British Gas have some clever solutions to help you save on every journey
The rising cost of living is at the forefront of everyone's minds right now, and that's particularly true if you own and run your own car.
Take the price of petrol, which – according to the RAC – has leapt from a low of around 105p per litre during the pandemic to over 188p per litre in early July 2022 – that's an increase of more than 79%. As a result, the cost of filling a typical family hatchback's 55-litre fuel tank has leapt from £58 to over £100, which could mean an extra £711 or more spent on fuel per year.
While it's true that electricity prices have also risen by 54%, the comparable cost of electricity vs petrol per mile is dramatic: 17p per mile in a typical petrol family car vs 5p per mile in an equivalent electric car1. That's 70% more for your money and yet another compelling argument for making the switch to electric. Now imagine how much more you could save on top of that if you simply charged at home?
That's why we've partnered with Hive EV Charging from British Gas, which is bringing even smarter thinking to home charging. It starts with a simple, cost-effective, all-in-one installation package which gets you up and running faster than you can say EV. Then, once you're all set up, Hive's award-winning smartphone app puts you at the centre of your own electric car charging hub, remotely tracking and controlling the status of your charging, helping you keep your costs down.
With smart home car charging, knowing when you're charging, and how much it costs helps you to plan the right times to charge in the most cost-efficient way. But there's more to home charging than that. So, here are all the reasons why smart home charging – and Hive EV Charging in particular – makes real sense, helping you cut your driving costs and lower your bills, both now and in the long run.
Find out more about how Hive EV Charging can help you cut your electric driving costs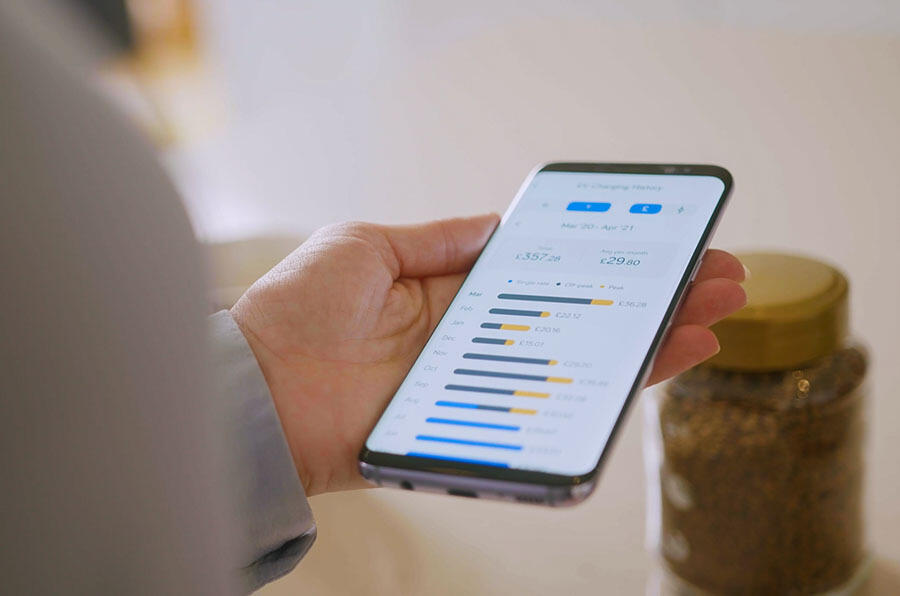 Time earned is money saved
First, why charge an electric car at home when you can charge on-the-go? After all, the UK's charging network offers 32,000 charging devices at nearly 20,000 locations, and those numbers are continuing to grow fast. Well, ever heard the phrase 'time is money'? It all comes down to cost and convenience.
The faster the charger, the more expensive it is to use, with rapid and ultra-rapid charging prices costing considerably more than home energy rates. Then there's time. First, you'll have to interrupt your journey or add in an extra stop or diversion to find a charger. If you're really conscious of cutting costs, you might waste more minutes and miles hunting out the chargers with the cheapest rates. Equally, driving to a charger means you're actually burning energy (and spending money) to buy more charge. Now you've thought about it, it seems ludicrous.
Next, there's the time to charge. Some modern ultra-rapid chargers can deliver around 60 to 70 miles of range in as little as five minutes with some premium electric cars, but most rapid 50kW chargers will take up to 40 minutes to recharge a typical electric car from 20% to 80% range. Savvy drivers will fit this charging around longer activities such as lunch, shopping or a trip to the gym, but charging conveniently at home is ultimately your cheapest and most convenient option – especially overnight.
Top-up public charging or long-stay destination charging certainly has its part in the charging mix to help you go even further. But it also highlights why home charging – like that offered by Hive EV Charging – is the smarter solution.
According to the RAC Foundation, a typical UK car spends 96% of its time parked up, with 73% of that time spent at home on your driveway. So, 'refuelling' an electric car where it actually spends most of its life – at home – saves you time, money and hassle. Simply drive home, park up, plug in, and your car will top up its battery while it's sitting on your drive.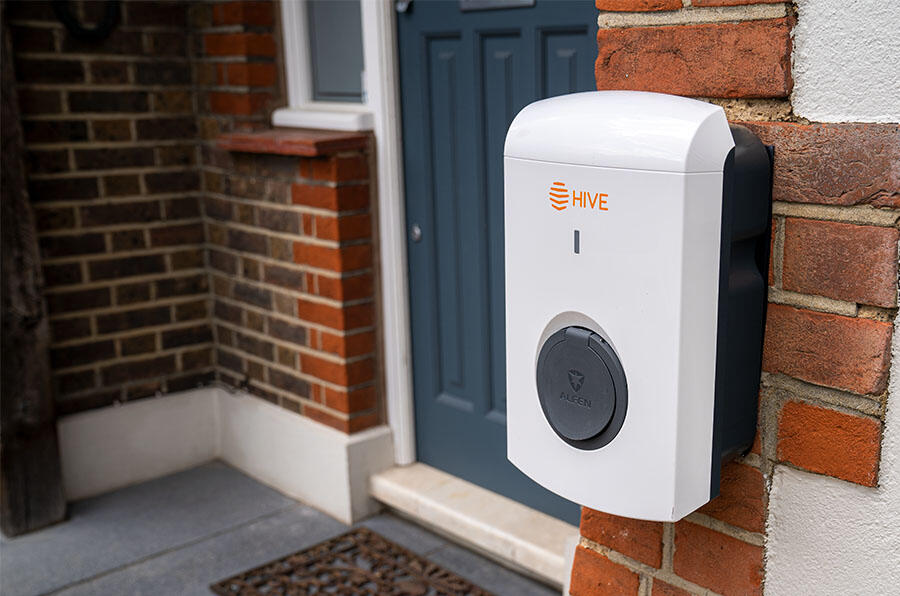 Charge at home to save time and money
Okay, charging an electric car at home does involve some additional upfront costs when it comes to installing a home charger. But that's why Hive EV Charging has not only focused on reducing the costs of day-to-day charging, it's also offering a smarter more cost-effective approach to getting a charger installed.
Hive's all-in up-front cost of £879 (at the time of writing in August 2022) includes the cost of the physical wall-mounted charger, expert installation from a trusted British Gas technician, full use of the ultra-intuitive Hive smartphone app, a confidence inspiring three-year warranty and ongoing technical support – all in one package.Even better, the lower price of home charging rates for an electric car, compared to petrol, mean you'll instantly be making savings on every journey that, over the long-term, quickly add up. The result: your home charger should soon pay for itself.Right now, a typical petrol-powered family car covering 10,000 miles a year will cost £1612.58 a year to fuel. Based on the current April 2022 UK average price cap rate electricity rate of 28p per kWh, a similarly sized electric family car, such as Vauxhall's Mokka-e would cost just £672 per year to run – a saving of £940.582. That's the cost of your Hive home charger covered in less than 14 months.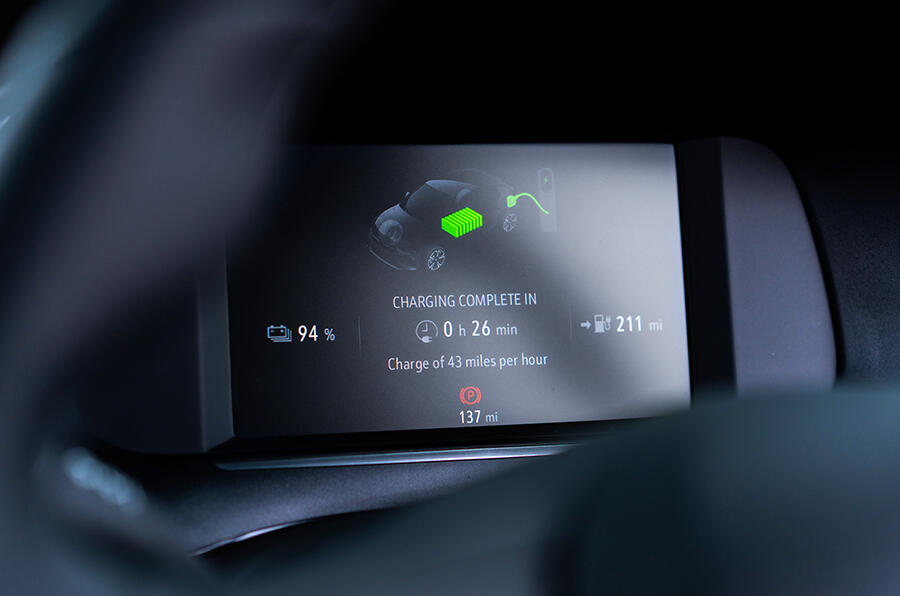 Go smart: cheaper overnight rates; added convenience
When it comes to cutting the daily costs of charging, knowledge is power. Knowing when the cheapest rates are helps you understand the best times to charge to make the best savings. And that's where smart Hive EV Charging gets really clever.
As there's less demand on the UK grid overnight (when your car is typically parked up anyway), off-peak electric rates are usually by far the cheapest way to top-up an electric car – especially when using a dedicated EV-friendly or time-of-use tariff.
Obviously, home energy rates are in a state of flux right now, and will vary depending on your provider and which type of rate you're on. But, based on an typical EV-friendly tariff with an off-peak overnight rate of 15p per kWh3, you could charge the aforementioned Mokka-e's 50kWh battery, while you sleep for just £7.50.
Compare that to the £20.10 cost of recharging on the same EV-friendly tariff's 40.2p per kWh peak daytime rate, or – crucially – the £32.22 cost of 200 miles of range in a typical petrol-powered family car3, and it's easy to see how the savings of smart overnight charging soon add up over weeks and years.
The Hive smartphone app (included in the Hive EV Charging package) lets you remotely check, choose – and even pre-program – your car's charging status to automatically top-up at the most cost-effective times in seconds from the comfort of your couch. That means you can plug in and automatically set up your home charger to only initiate charging sessions at predefined off-peak times.
If for any reason you decide you need to charge your EV during peak hours, the Hive app will provide a cost estimate, helping you avoid any awkward surprises on your next energy bill. The app will even provide you with weekly, monthly and annual breakdowns of your charging history and costs, so you can drill down on your spend and identify where and when you spent more or less. Now that's smart thinking.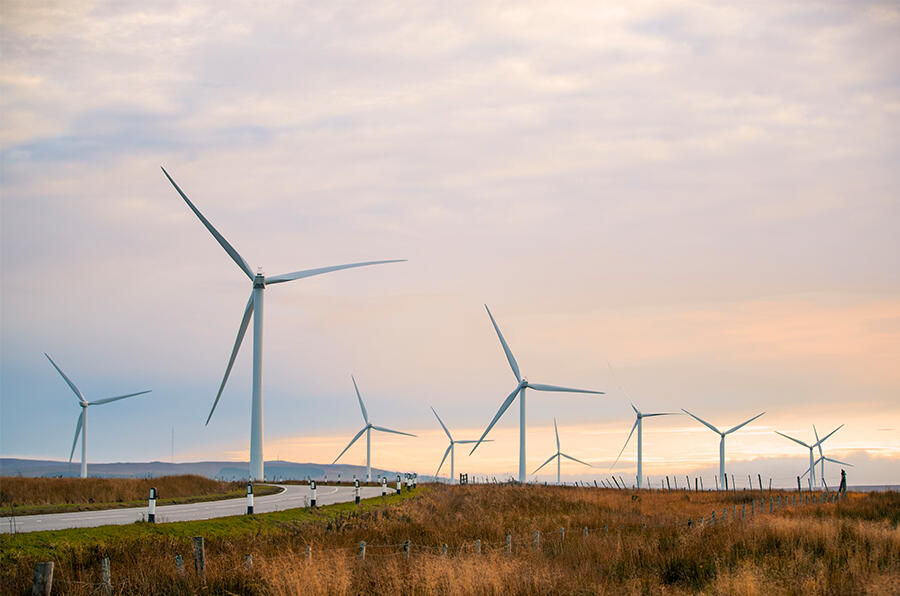 Not just cheaper energy; greener energy
Want more? Home charging doesn't only help you save time and money that you can re-invest in other aspects of your life. As overnight energy supply is typically sourced from lower-impact greener renewable sources, smart home charging also helps you reduce the broader impact of driving an electric car on the planet.
We all want to do our part for the environment and cutting our carbon footprint is just one way we can contribute to a greener world. But how often can you say that you're saving the environment, pounds and pence all at the same time?
Topping-up your electric car during off-peak hours not only puts less strain on the grid – pulling power when it's less in demand – it also uses energy from more renewable sources such as wind, solar and hydroelectric, which would typically struggle to supply energy in such volume.
Since the cost of our energy is being affected by overseas prices, more investment in home-grown renewables means we're also less dependent on foreign suppliers. If we can all start moving towards a future where the electricity we use is 'home grown' and travels less distance, there are great opportunities to save and sustain. 
By seamlessly synching with your energy tariff, Hive EV Charging makes it easier than ever to choose the greener route, providing the charging data you need to build a more efficient routine and the confidence to charge on a schedule that can change and evolve as you learn more about the way you drive. So, whether you're new to electric cars, or an EV veteran, Hive EV Charging from British Gas can help make your day-to-day even easier and, crucially, save you money in the process.
Find out more about how Hive EV Charging can help you cut your electric driving costs
---
[1] Based on UK Government advisory fuel rates.
[2] Average UK electricity rates of 28p per kWh based on latest Ofgem average price cap rate (1st April – 30th September 2022)
[3] Cost comparisons based on a Vauxhall Astra 5dr 1.2 Turbo 110 family hatchback averaging 53.1mpg vs a Vauxhall Mokka-e with a 50kWh battery delivering 209 miles of range. Average cost of petrol: 188p per litre (RAC, June 6th 2022). Typical EV-friendly electric rates of 15p per kWh off-peak and 40.2p peak from lovemyev.com (British Gas Electric Drivers Feb 2024 tariff, May 18th 2022).
https://www.autocar.co.uk/car-news/adver...ar-journey